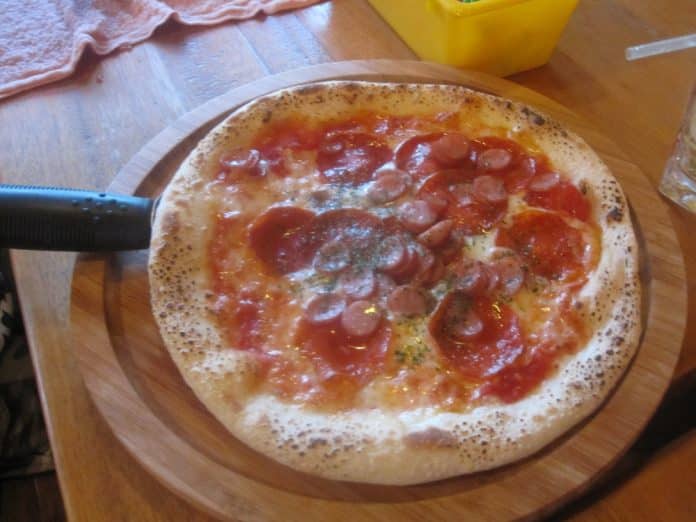 CONTRIBUTED BY MONETTE EAMES

Soul Kitchen Front
I was never a big fan of 'soul food' growing up on an island, but I guess I was just not getting the REAL soul food.  When we moved to Southern Georgia, we were surrounded by 'soul food' types of foods. I grew to love hush puppies, fried chicken, grits, gumbo, collard greens, sweet tea, catfish, and whatever was given to us during hunting season. But before you get excited, Soul Kitchen has none of that.

Soul Kitchen Interior
Soul Kitchen is simple, and though nothing is deep-fried, they have equally delicious and wholesome pizzas. The pizzas reminded me of pizzas in Italy because they are extremely thin and even kind of floppy, with seasonal toppings. Of course in the days of my youth, I expected real pizza to have thick, doughy crusts with lots of cheese and meat, so to me, back then, pizza in Italy was not 'real pizza.'

Soul Kitchen Margherita
However, times have changed and after twenty years, I have come to realize that the pizzas that my kids know of are not the pizzas that the same types that the Romans and Greeks feasted on. The pizzas at Soul Kitchen aren't complicated or elaborate at all, but we loved them. They seem so pure, like nothing was contaminating, if that even makes sense.

Soul Kitchen Cheese
The crust was not heavy at all. The pizzas aren't big here, maybe just a little bigger than a personal pan at Pizza Hut. But they seemed so light and healthy, that we wanted more. There went our Okinawan style of eating only until only 80% full! For a total of six pizzas (we had two adults and seven kids) and appetizers of chicken and fried potatoes, we paid about $40.00.

Soul Kitchen Meat
You almost forget that you were expecting soul food after a meal here. Now that I'm eating a tad bit healthier, I'm glad there's a place that sells pizza the way they're made in Naples and Rome. Just wish they were open for lunch.
Directions: From Courtney's main gate, turn left on 75 and keep going straight. At the corner of Family Mart, turn left. At the next stop light, turn right. You'll find Soul Kitchen's red tarp at the first floor of a grey building.
Phone: 080-6492-2819
Hours: 5:30- 24:00 – Last order at 23:00
Payment: Yen only