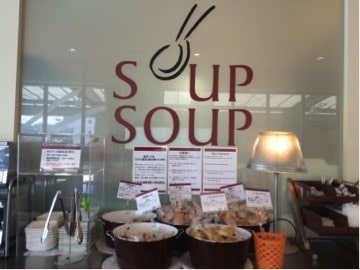 CONTRIBUTED BY ALLI MARTIN
If you are shopping at one of the many furniture shops in the Living Design Square and are looking for a bite to eat, look no further. Soup Soup is a surprisingly bright and open café lined with windows and is located upstairs in the Living Design Square where you will find Grace furniture store. Not only is it convenient, but it is  yummy!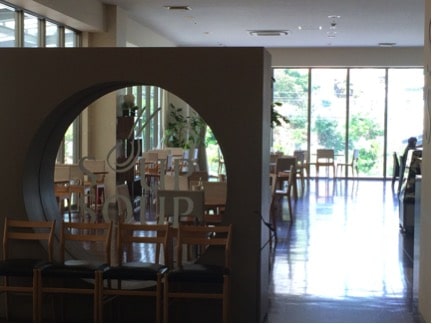 Place your order at the front counter, grab your table, and wait for your buzzer to go off.
We have only been for lunch, but they serve dinner as well. I am not sure what their dinner menu consists of, but they had risotto listed as the special on their menu board, so probably pastas, rice dishes and soup.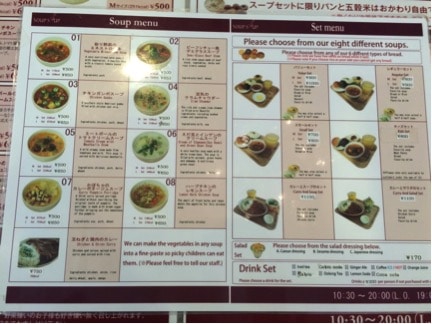 For lunch, we always order the "Regular Set" with a large bowl of soup. This set includes your choice of soup(s), salad dressing for your salad, bread or rice, and a drink. If you are thinking soup won't fill you up, you're wrong! We pack a mean appetite and we are always full after eating here. Trick: if you order the large bowl of soup, you can order two small bowls instead… so you get to try two soups for the price of one.
Here is a picture of our order. The Tomato Cream with Meatball Stew (pictured on top) is the hubby's go-to and I split the difference between that one and the Curry Pumpkin Porridge. Both are amazingly delicious!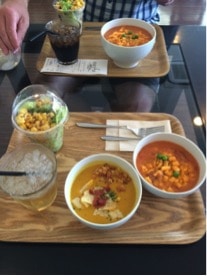 For my fellow carb-loving friends, make sure you order bread (not rice) and head on over to the selection of homemade rolls. They always have a variety of flavors – spinach, wheat, rosemary, Okinawan sweet potato, pumpkin, etc. AND the bread is unlimited! We always grab one of each.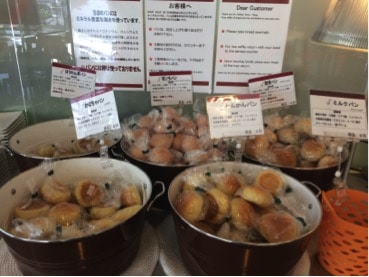 Soup Soup is located upstairs by Grace Furniture in the Living Design Square off the 329.
Hours: 11:00 a.m. – 8:00 p.m.
Payment: Yen and Credit Card
Address: 3-20-1 Yogi, Okinawa, Okinawa Prefecture 〒904-2174, Japan
Coordinates: 26.3073793, 127.81421380000006
Directions:
From Camp Foster:
Exit the Legion gate and continue straight on the 81.
Turn Left onto the 329 and the Living Design Square will be on the right.
Soup Soup is upstairs by Grace Furniture.
From Kadena:
Exit Gate 2 and turn right on the 330.
You will see the big Aeon mall and turn left on the 85 as if you were going to the mall.
Go straight and hit the next major street (after the tunnel) 329 and turn right.
The Living Design Square will be on the left.