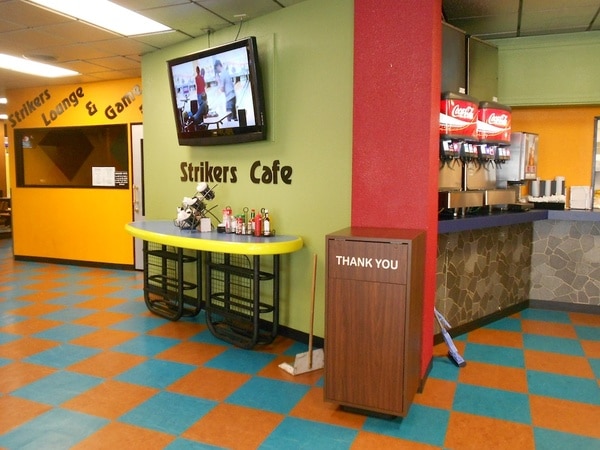 CONTRIBUTED BY AMY MADDOCKS

Strikers Interior
Striker's Café is a little known secret hiding inside Emery Lanes Bowling Alley on Kadena Air Base. At most bowling alleys you find the usual fast-food joints, but here, you get great food, great prices, and an entertaining atmosphere.
Their menu offers burgers, sandwiches, pizza, hot dogs, soups and salads, kids meals, Asian bowls, and yummy root beer floats! You can also get combo meals with either fries & a drink or healthy choices like steamed veggies or rice & a drink. However, the real gems here are their daily lunch specials. Thursdays are always "Soba Day" where you get great Soba plus a drink for only $5.95. These days are the favorite, as evidenced by the line to order by 11:05 a.m. On Wednesday the special is a chicken curry dish, and Fridays are a fish/shrimp favorite. One catch about their specials: they begin at 11:00 a.m. and go until they are sold out! We have arrived at noon before for Soba, only to be turned away disappointed. ☹ If you want to try their specials, plan on being there around eleven! Also, their specials are subject to change, but these are the same ones they've had since they remodeled last fall.

Stirkers Soba
You can also call in your order ahead of time to have it ready. You go to the counter to order and they bring the food to you when it is ready. You can get take-out or dine-in. Their lounge offers plenty of comfortable seating with T.V.'s all around and fun music playing. Also, if you are planning on bowling a game or two, they will even deliver your food to your lane.
They have a breakfast menu, but it is only available Saturday mornings from 0800 – 1100. The lunch special is Monday through Friday only.
Hours: Mon-Thur. 1030-2130
Fri. 1030-0030 959-1896
Sat. 0800-1230
Sun. & Holidays 1200-1930
Phone: 959-3000
Location/Directions: Bldg 113, Emery Lanes. Take Kadena Gate 1 (Douglas) and turn right on the 3rd light (Schriber Ave). Pass the Post Office and Chili's and then you'll see Emery Lanes on your right. If you come into Kadena Gate 5, just go straight through 2 lights and it will be on your left. The café is the first thing you see when entering the bowling alley. Have fun!