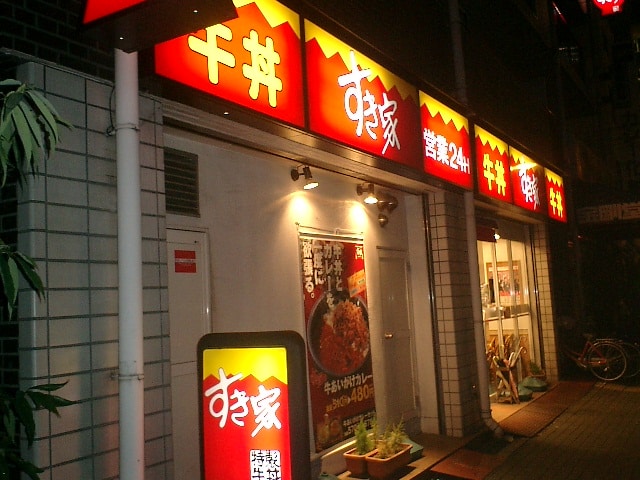 CONTRIBUTED BY LEEANN STEVENS

Sukiya Front
Last night, I felt like I wanted to try some local food. So we decided to go to Sukiya. I have often passed it but never tried it before.
Sukiya offers rice and curry bowls, gyudon (a Japanese dish consisting of a bowl of rice topped with beef and onions) and donburi (a rice bowl with either meat or fish with vegetables).
I was glad they had an English menu (their take out menu). They have some stacked by the register. The food is reasonably priced. They have different sizes of bowls: Small(S), Medium(M), Large(L) and Mega or Double Large (LL).

Sukiya Order
I bought a curry with yakitori (M), which was really tasty. It is a bowl of rice with chicken and some veggies in the curry. Watch out for the chicken skin though, I had a few bits of it on my chicken. I also bought a Kimchi Gyudon(M). Kimchi is a traditional fermented Korean dish, made of vegetables with varied seasonings. My husband got a yakitori bowl(LL) that had some seaweed in it, which was very tasty, too. We paid a total price of 15,400 Yen.
The food came in really good amounts.  And the service was pretty good. From the time I placed my order, our food was ready in 10-12 minutes.  I didn't talk to anyone who spoke English, but with the English menu, you just point and let them know how many of each item you want.
There is indoor seating or you can take your food to go.  They also have a drive thru.
Directions: Sukiya is a local fast food restaurant. You will see them all over the island.  For one near Kadena:  From Kadena Gate 3, go straight. Pass Chibana housing and Camp Shields, keep going straight till you come to a T intersection with 329. (It will be 3 traffic lights including the one at Gate 3.) Take a left at that light. And follow till you see Mc Donalds on your right. Sukiya will be on your left.
Hours: It is a 24-hour food chain
Menu: