CONTRIBUTED BY HAZ NAKAMA
If you're looking for a little taste of Kansai in Okinawa, there's a hidden gem right in the center of the island! Okonomiyaki, or a type of vegetable-and-meat-filled griddle pancake, is a Kansai specialty and one of my own personal guilty pleasure foods.
Sukiyanen (literally Osaka dialect for 'Love it!') is modest-looking from the outside and relatively easy to miss when driving past, but that's part of its charm. The white concrete exterior gives way immediately to a cozy, heavily-decorated interior that could pass for an Osaka family's living room. And for good reason, too – the owners are a wonderfully talkative and welcoming married couple who moved here from Osaka over 15 years ago and have been cooking on the grills ever since.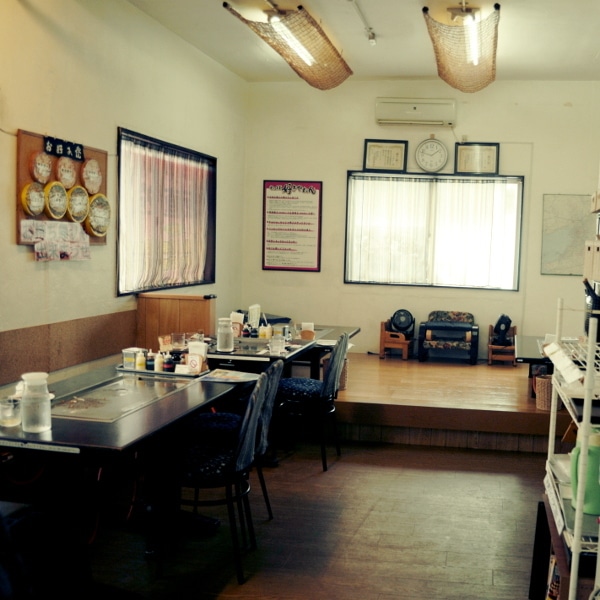 Paraphernalia from baseball teams and manzai comedians pepper every available surface, and a raised floor at the far end of the restaurant houses two tables with floor cushions for those with kids in tow or who just prefer sitting low.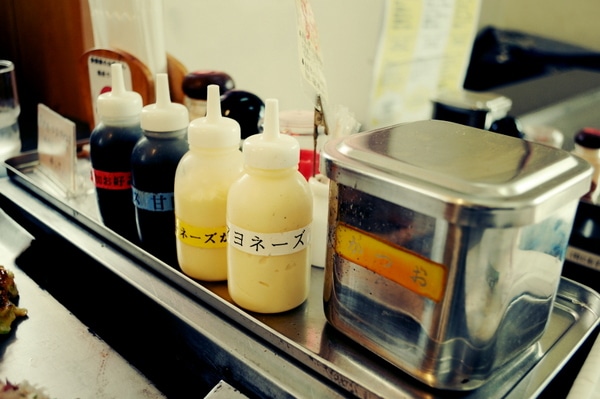 Each table has an array of sauces and toppings available, including a few types of mayonnaise and a sweet barbecue-like sauce that typically is spread over the top. I personally opt out of the pickled ginger (way too strong for me!), but the food is perfectly flavorful with or without. Everything is savory, well-cooked, and very satisfying.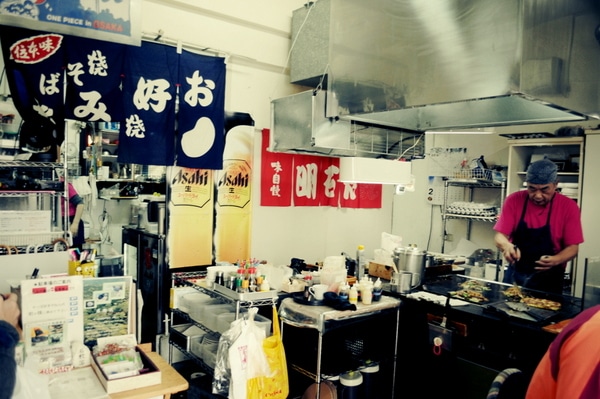 We opted for the lunch combo with the pari pari potato specialty from the menu. It wasn't long before our grill was turned on and the food was brought over, steaming and looking absolutely delicious. It was difficult to resist cutting through the crispy top layer so that I could take a picture first, but the nice crunch of the potatoes was well worth the wait. There's also something about using tiny metal spatulas that make the very act of eating the stuff entertaining.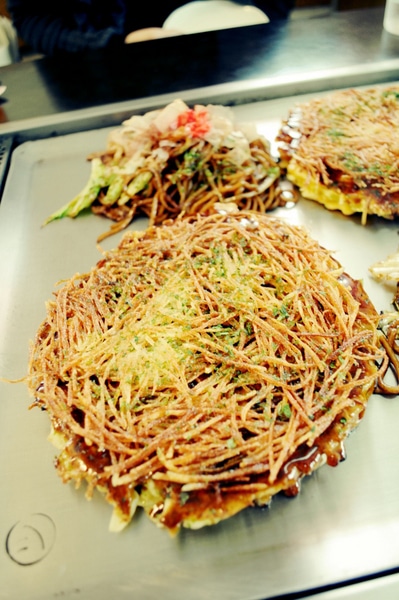 The menu has no bad choices, really! You can either choose from their set specialties (which range from vegetarian to dear-god-so-much-meat) or build your own from the batter up, choosing fillings and toppings to customize. There are also multiple sizes available, and their cardboard replicas are conveniently hung on the wall for comparison.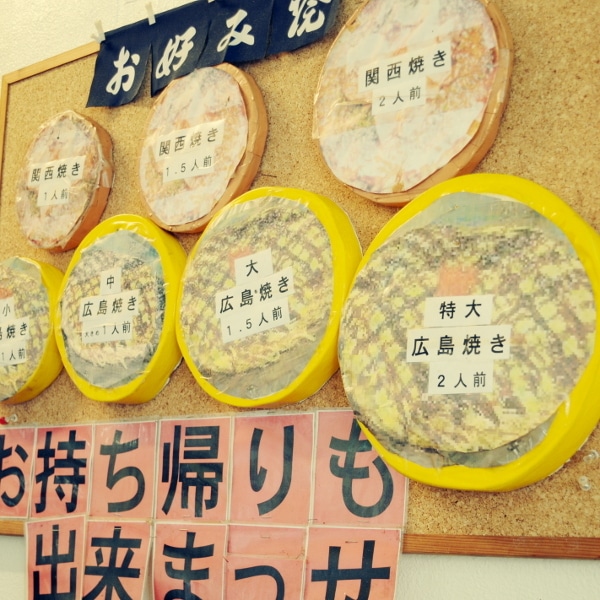 Lunch specials run every weekday from 12-3pm. Each comes with basic pork okonomiyaki and a half-serving of yakisoba as well as a free drink. Other sets are available to add on, such as miso soup and rice or noodles, and you can choose a different okonomiyaki from the menu for a slight extra charge.
This place has become one of our favorite go-to haunts when craving hot food a little outside the Okinawan norm. Highly recommended when you want to relax, dig in, and enjoy some Kansai home cooking.
click to enlarge menus
---
Sukiyanen Okonomiyaki
Hours: Weekdays 12:00 to 15:00 and 17:00 to 24:00. Weekends 12:00 to 24:00. Last order 30min before closing. Closed Tuesdays, major Japanese holidays, and the third Wednesday of each month.
English Menu: Yes
Takeout: Yes
Website: http://sukiyanen.fc2web.com/
Phone: 098-979-5313
Payment: Yen, cash only
Address: 4 Chome-19-6 Takahara, Okinawa, Okinawa Prefecture 904-2171
GPS Coordinates: 26.3202339, 127.81992119999995
Directions: Where the 329 and 85 (the road past Rycom) meet, head north. At the next light, turn left before the big casino. It's about two minutes up the road on the left. Look for a pink awning.