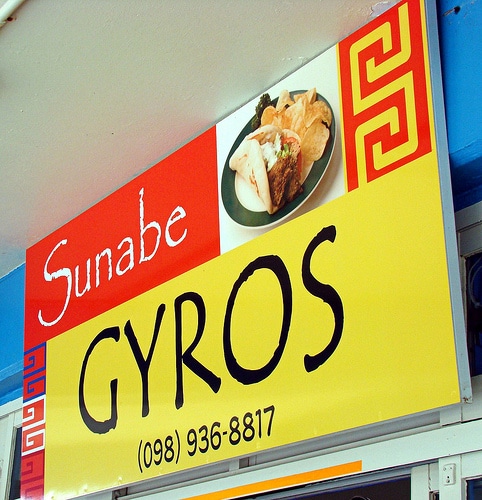 CONTRIBUTED BY ASHLEY
One of the greatest things about Okinawa is the opportunity to find a new little restaurant, shop, or store hiding out in almost every city block. One such new haunt for me is Sunabe Gyros. Gyros (pronounced yeer-ohs, or gear-o, depending), refers to the way the meat is cooked, on a spit upright (from the word gyrate possibly?). It also refers to a darned fine way to eat a Greek lunch on the seawall.
I recommend starting your meal with a falafel set, which consists of fried balls of spicy chickpeas, pepper, and other spices dipped in tzatziki (a cucumber, garlic yogurt sauce) or a spicy salsa. For a main course, try their #1 seller, a Beef Gyro Combo, which you can get with either chips or fries. The sandwich, a mix of warm pita bread, fresh sliced strips of beef, crisp lettuce, tomatoes, and onions, and the tzatziki sauce mentioned above. I also like to add a bit of the salsa, as it "kicks it up a notch". You can also try the chicken gyro which features roasted chicken.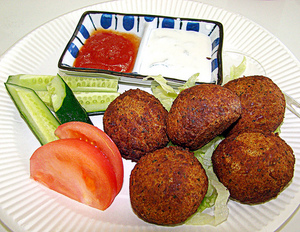 The Falafel Set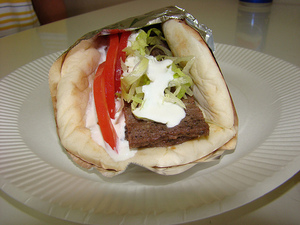 The Beef Gyro
Great vegetarian options include warm pita bread and hummus (a spicy chickpea spread), or Greek Salad, which is a fresh blend of lettuce, cucumbers, onions, tomatoes, and feta cheese with an olive oil/vinegar based dressing.
My favorite way to end this, so I ensure I'm stuffed to the hilt, is to have a piece of Baklava, a pastry made with phyllo dough layers intermixed with nuts and honey. Gyros does it even one better as their version also features a dose of cinnamon. In the south, we'd call this dang good eatin'. Gyros doesn't do complicated dishes using lots of weird ingredients. What they do is rich flavors, clear ingredients, each of which leaves you with a great appreciation of greek food as a result.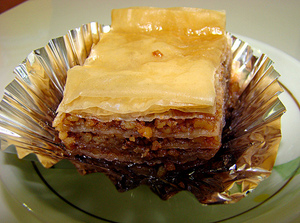 The joy that is baklava
The restaurant itself is small, about 15 seats in all, but they just opened a roof top terrace which offers another 12 seats and a great view of the Seawall.
Hours: 098 936 8817
Address: 2-99 Miyagi, Chatan
Google Maps Coordinates: 26.329265697922008, 127.74433811246627
Directions:
To get the Gyros, take Hwy 58 toward Kadena. At the stoplight right before Kadena Gate 1, take a left. Go through all the stoplights. After the last stoplight, Gyros is about half a block down on the right on the 2nd floor.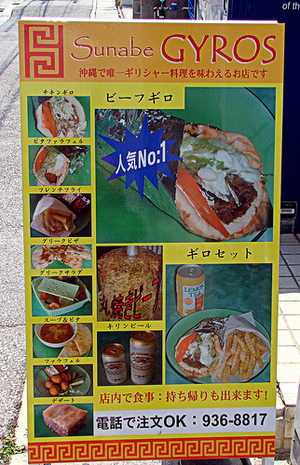 A sign of something good to come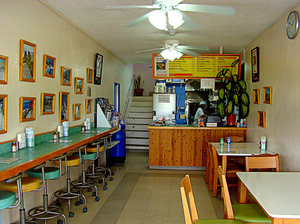 The inside