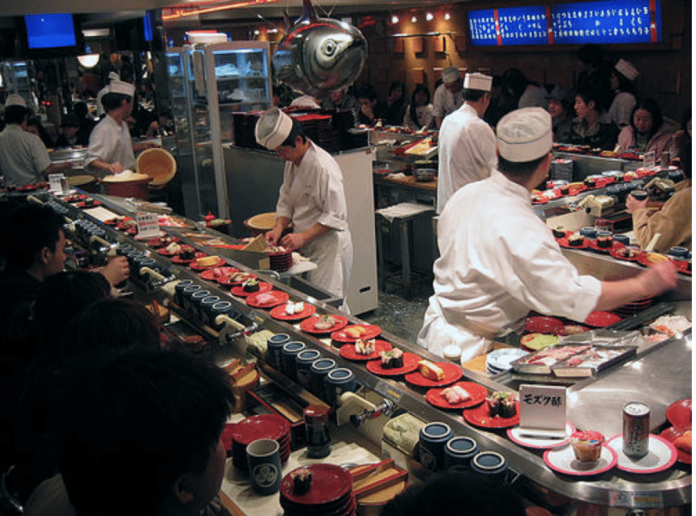 Editor's Note: Ichiban Tei was originally reviewed on Okinawa Hai on May 14, 2007. The post below is an updated take on this restaurant, published June 24, 2015. 
CONTRIBUTED BY MARISSA MATSUZAKI 

Did you know that one of Japan's answers to "fast food" is the sushi-go-round? Kaiten-Zushi is a Japanese phrase that is translated literally as "rotation sushi", and in such a restaurant, the sushi actually rotates around the room on a conveyer belt (https://en.wikipedia.org/wiki/Conveyor_belt_sushi).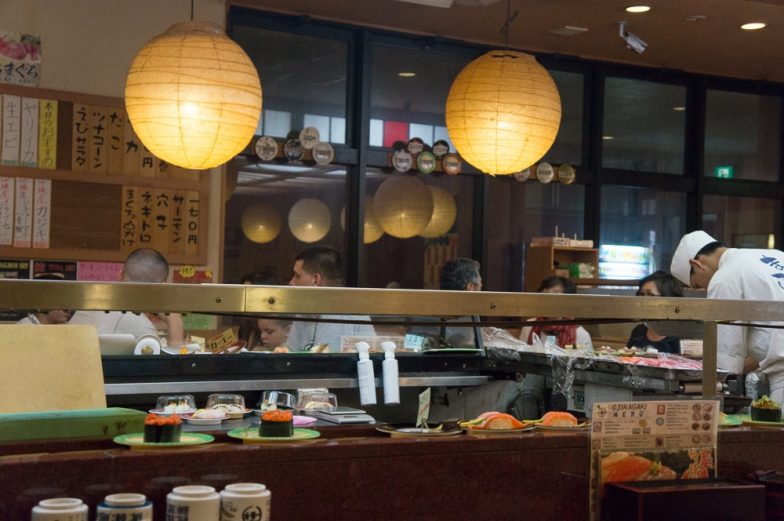 When I first heard of these restaurants, I was intrigued because I like sushi, and I love the idea of food continually rolling out in front of me. I also have a small child, so a restaurant close to where I live that serves good food fast is definitely appealing.
Ichibantei is a Kaiten-Zushi, located in American Villiage, directly across from Makeman (aka The Monkey Store). On the store front there is a sign that displays samples of their creations as well as a price list.
In traditional Kaiten-Zushi restaurants, the plates you collect from the conveyor belt, as well as any you special order, are tallied at the end of your visit. The pricing of each plates is determined by color and design, but don't worry: there is a "cheat sheet" of plates with corresponding prices displayed on the walls of the restaurant. At the end of our visit, it was very gratifying to be indulgent as we piled our plates high. We left feeling pleasantly satiated, and hadn't paid too much to do so. It was a win, win, win for us!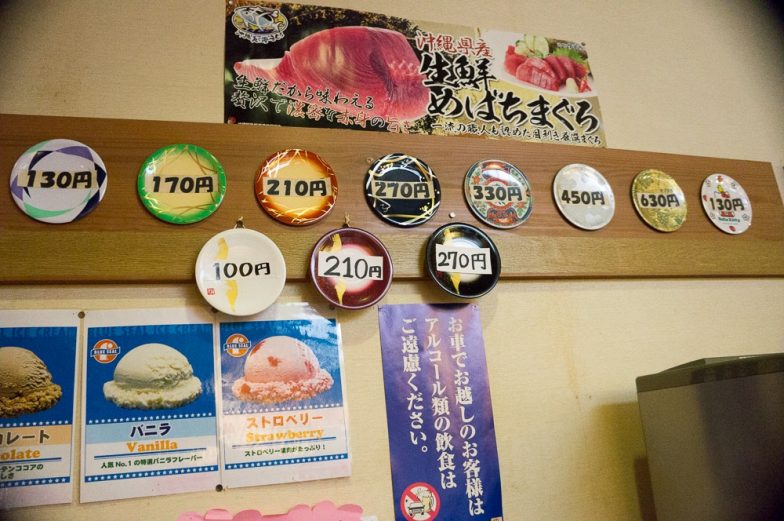 As far as selection of sushi is concerned, most of what comes down the belt is shrimp and tuna- but there are other varieties that come through as well. Plus if you special order any other sushi roles, you'll still get your sushi fast!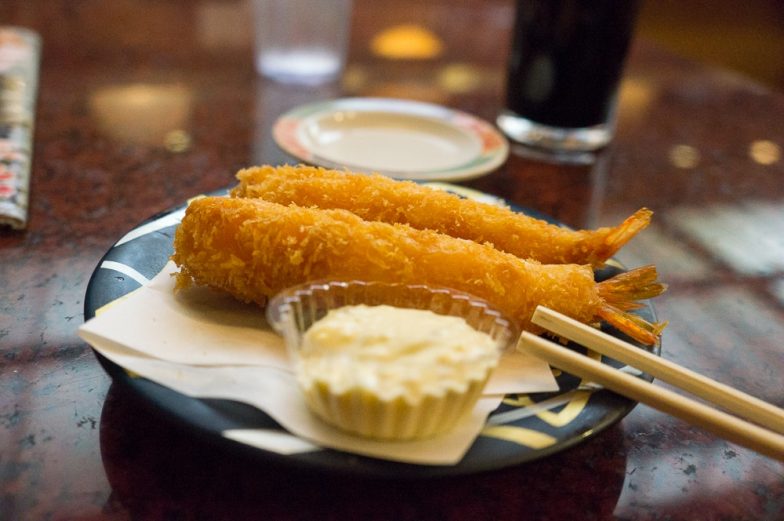 There is a hot water spout at each table with complimentary green teas so you can brew tea to your liking on demand.  You can also order a variety of soft drinks, beers and wine. They also offer curries, chicken nuggets, and desserts, making the restaurant friendly for the whole family. I highly recommend this place for a fun, casual and quick dining experience.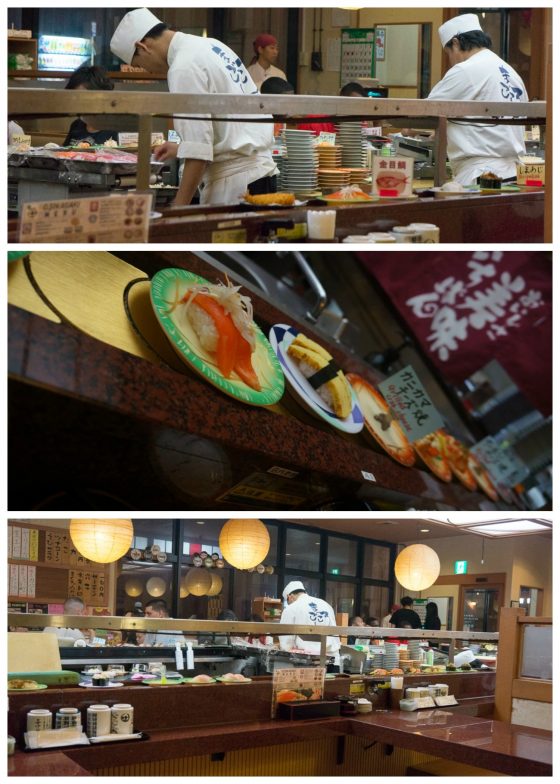 Hours: 11:30am to 10:00pm
Phone: 098-983-7656
Address: 2 Chome-1-6 Mihama, Chatan
Google Maps Coordinates: 26.3154445, 127.76014250000003
Directions: RIGHT out of the Foster Commissary Gate and head north on 58. Turn LEFT at the light outside Camp Lester's Gate 1 and the drive-thru Starbucks. Take a RIGHT at the second light. The restaurant is located on the RIGHT just past the intersection after the JUSCO department store and across the street from Makeman. Free parking is located behind the building.