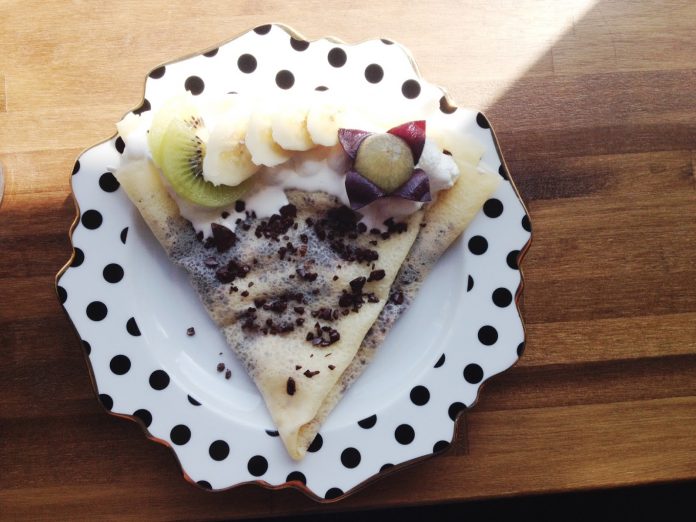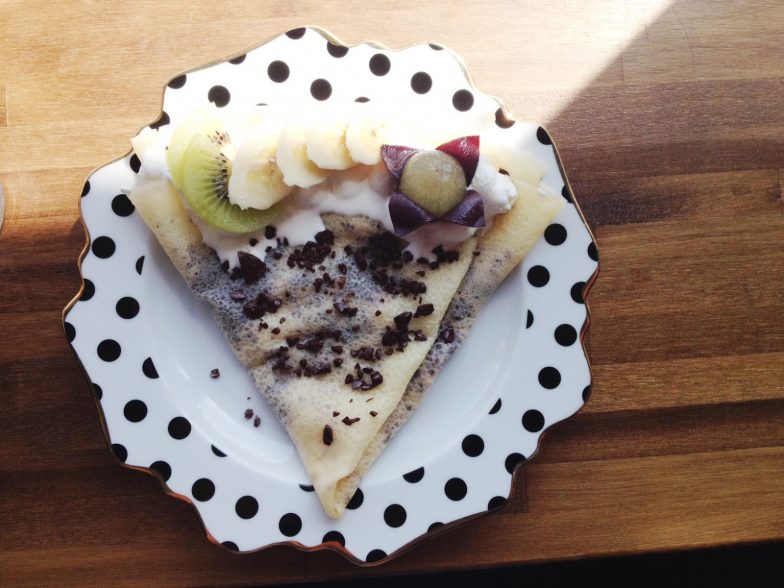 CONTRIBUTED BY KASSIE O'DRISCOLL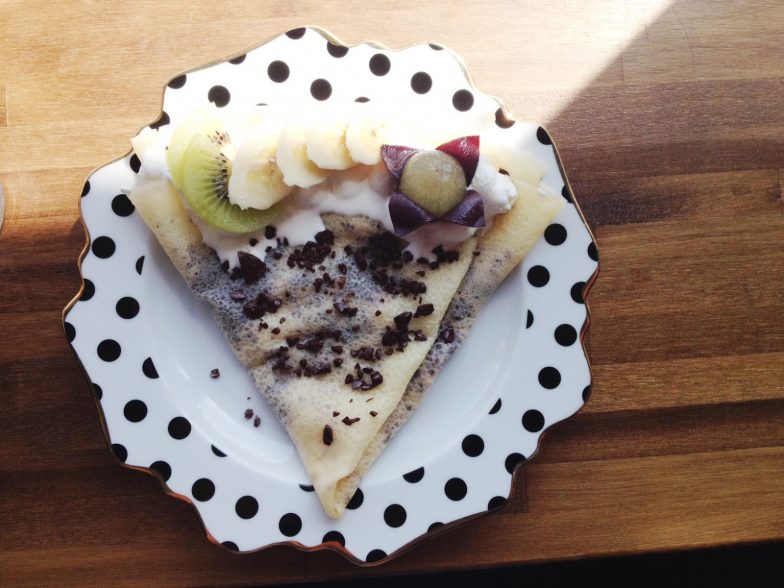 About two months ago, my friend Manami introduced me to her friends, Wakako & Tsukasa. She told me about their dessert cafe in Naha and how it was famous for crepes. During our conversation, we had a pretty intense exchange about the difference between American cupcakes vs muffins. It was both hysterical and amazing, and by the end of the night I knew I had to find my way to their cafe.
Picture this: A month or so later, I was exploring Naha for some handmade goodness and, naturally, I was completely lost. With hopes of finding the street that my map was telling me existed, I turned off of Kokusai Street down a random side street. There it was, the "Sweets Cafe O'Crepe" sign on the side of the road. I'm not even sure how I remembered that that was the name of the restaurant, but I immediately pulled over! It was destiny!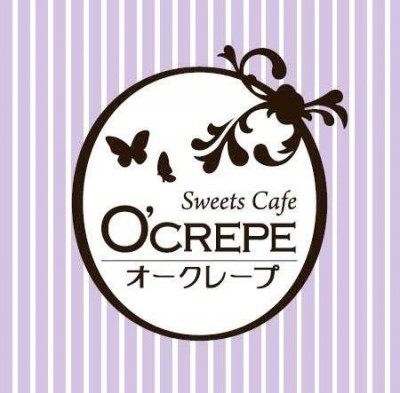 I got a friendly greeting from Tsukasa when I walked in and I took in all that is O'Crepe. It's a charming little cafe on the second floor that's been completely decorated by Wakako. I chose the seat by the big window, where you can look over a small schoolyard and take in the Kokusai area from above.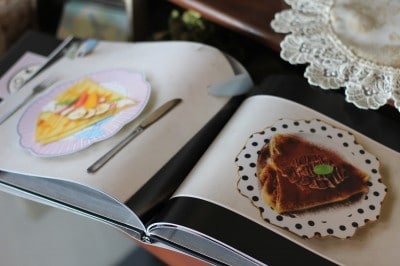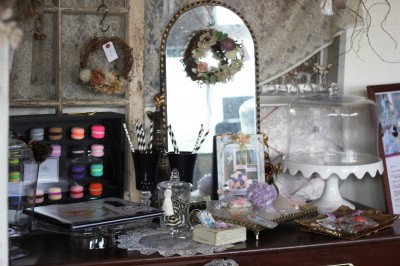 There's a small table right with some handmade goods for sale and a nice book that I think was made for their opening anniversary. While I waited for my crepe, I flipped through the book and saw my two friends, Homary and Manami, were featured in the back and had signed it! Super cool!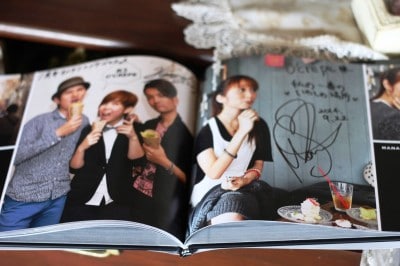 After having a delicious chocolate, rice flour crepe with tasty fresh fruit, I vowed to bring my friends back here the first chance that I got! Luckily for me, that chance came up just a few a week later. Yay for me!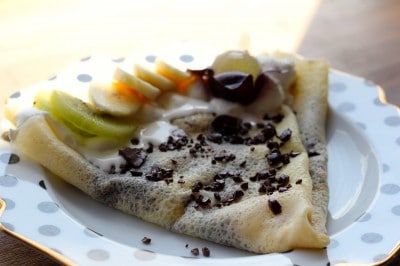 The second time around, we had time to enjoy lunch AND dessert – what a concept! O'Crepe has three lunch set options: a pork sandwich, green curry, and an omelet that are all made by Tsukasa's mother. With the set, we got shrimp spring rolls and a pumpkin potato salad. You can also choose from coffee or tea.
I ordered the pork sandwich, which was a nice combination between salty bacon and fresh veggies. It was on a crunchy baguette with a light mustard and was just enough to leave me satisfied.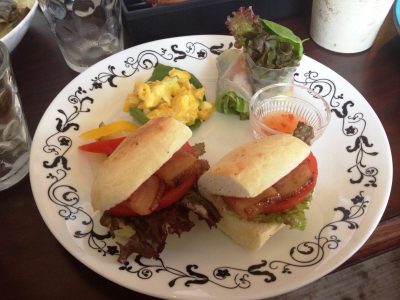 My friend, Michelle, let me try her green curry and I was happily surprised. It wasn't the typical Japanese curry. Instead, it had a coconut milk base (so we think) and was light! Interesting and oishii!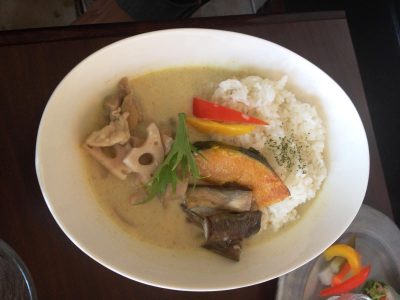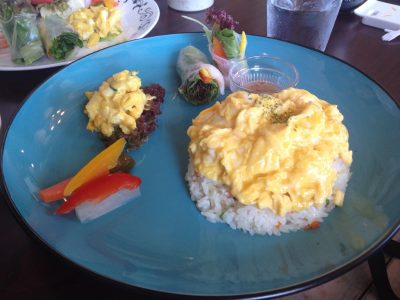 Then, to my delight, everyone was given a miniature crepe for dessert. My friends were surprised that it was a rice flour crepe and loved that there was a little crunch within the filling. Also, can we just talk about how tiny that fork and knife are?! Adorable!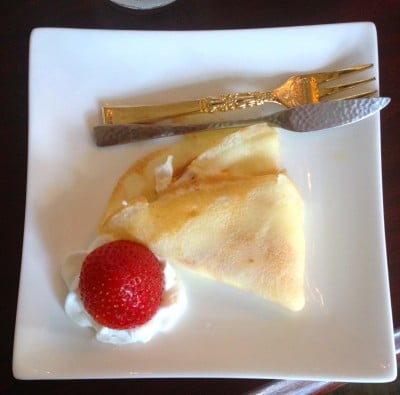 Overall, both trips to O'Crepe have left me happy and eager to return! I will go back every chance that I get!!
Address: 沖縄県那覇市松尾2-6-12 2階
Phone: 098-868-3113
Hours: 11:00 a.m. – 8:00 p.m. Closed Wednesday and the 2nd & 4th Tuesday of the month
Map Coordinates: 26.2146651, 127.68675889999997