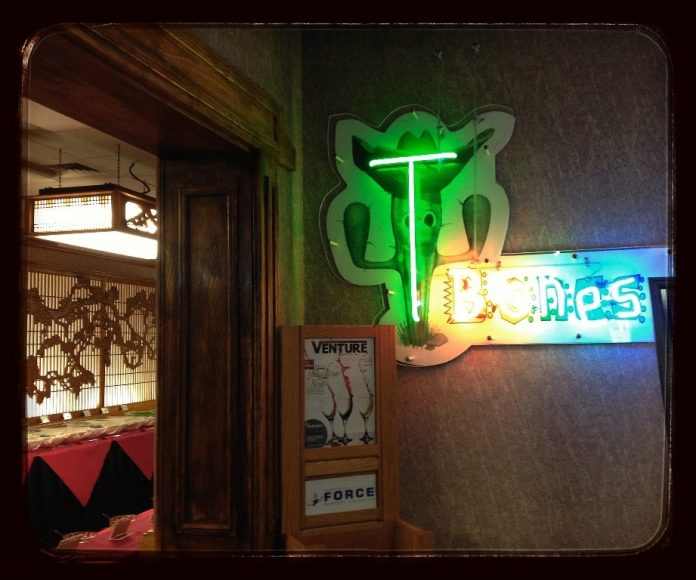 CONTRIBUTED BY SHELL BURGER
I have been to T-Bones at the NCO Rocker a couple of times for lunch, but today when I found out they were having a Mongolian BBQ night we decided to give them a try for dinner.
I have to say, the food was delicious and had me thinking about the Mongolian BBQ places back in the states.
The Mongolian BBQ night at T-Bones appears to be a once-a-month occasion, but I have a feeling I am going to be going to it a lot more now.
The quality of the food and all the various combinations of ingredients you can get make this a fun evening for the whole family. I recommend finding out when the next Mongolian BBQ night is and plan to attend.
The way the Mongolian BBQ works at T-Bones is they weigh your bowl after you fill it up with your ingredients and you pay by the ounce. Once your bowl is weighed and you are given a ticket, you take your bowl back to your table and the waitress picks it up and takes it to the kitchen to be cooked.
Each bowl is assigned a numbered ticket so they make sure the right bowl goes to the correct person. When the waitress is getting your bowl, they will also ask if you want steamed or fried rice. 
The BBQ meal comes with bread, soup, rice, and a cookie.  This makes for a very filling and tasty meal. My bowl tonight weighed 11 ounces before cooking and that came to only $8.25, which is definitely worth the cost.
If you are like us with a pretty picky 2-year-old, I am happy to say that you can still order from the kid's menu on special theme nights. The kid's meals are actually a great deal. For example, we got our daughter chicken tenders with macaroni and cheese. This came with milk and ice cream for dessert, all for around $4. You would be hard pressed to find a better price for the food you get.
There is also a limited menu you can order from if Mongolian BBQ is not your thing. But most of the time the full menu is available.
I was not able to see one of the normal menus, but they offer a wide variety of American food. They also offer breakfast food all day long, which is another reason we love to go there for lunch. So far every time we have eaten at T-Bones we have been very happy. 
Plus, with T-Bones being located on Kadena AFB, it is any easy decision for that day when you want to eat out, but not leave the base.
I have yet to try one of the Cheesecake Factory treats they have, but I have a feeling I will be giving into that calling on my next trip.  Happy Eating.
Hours:
Breakfast & Lunch
Monday-Friday 6:00 a.m. – 2:00 p.m., Saturday 7:00 a.m. – 2:00 p.m., Sunday 8:00 a.m. – 2:00 p.m., Holidays 7:00 a.m. – 2:00 p.m.
Dinner
Monday-Thursday 4:00 p.m. – 9:00 p.m., Friday 4:00 p.m. – 10:00 p.m., Saturday-Sunday & Holidays 5:00 p.m. – 9:00 p.m.
Phone: 098- 959-0740 (on base 959-0740)
Payment: Cash (Dollars) or Credit – if you show your club card you get a discount.
Directions: Kadena AFB, Next to Hagerstrom Pool, behind the Teen Center, BLDG 621.
Address: Kadena AFB, Building 621 – The NCO Rocker