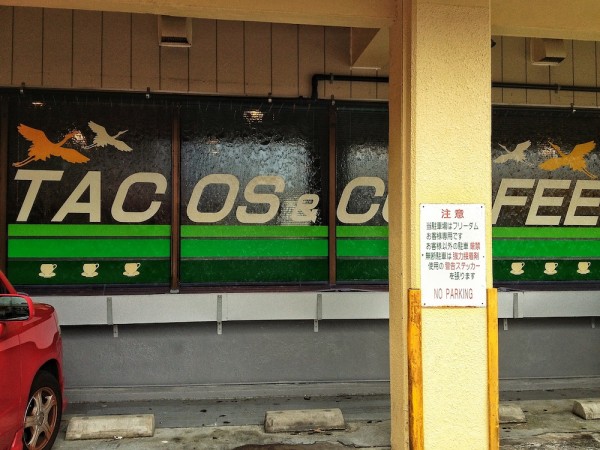 CONTRIBUTED BY SHELL BURGER
While driving around behind Kadena Gate 2 street one day to avoid traffic, I came across an interesting building with a large sign on it stating "Tacos & Coffee."
My first reaction was, "What an odd combination." However, I was intrigued by the waterfall or water wall that covered the entire outside sign.
I decided to give it a try, so I dragged a couple of adventurous co-workers with me.
It was tricky to find again (we were about to give up when we came across it), but if you know where Key Coffee is it is just down the one-way road from that.
The inside is decent-sized and the décor is very eclectic.
You can tell the restaurant is not often visited by Americans, but luckily they did have one English menu that we were able to use to order.
We placed our orders at the counter first, then went and found a table.
The tables actually had gaming machines built into them.
This is the first time I have seen something like it. I have seen machines at tables back in the states, but not where the table is the machine and you eat on top of the screen.
The restaurant appeared to allow smoking as ash trays were on the tables and the people next to us were smoking. Our food arrived pretty quickly.
My co-workers both ordered the Yakiniku Teishoku, which came with a drink, for 850 yen. I ordered the Taco Rice for 650 yen.
The Yakiniku set that came out looked very tasty, and I was told by both guys that they enjoyed it.
One coworker said the macaroni salad was surprisingly very good and the egg was cooked just the way he likes it.
My taco rice was good as well, although I could have used more salsa.
The place had a hole-in-the-wall vibe, but we all agreed this was a place we could see ourselves going back to. The service was good and we were in and out of the place within about 30 minutes. This could be a great alternative lunch spot.
Hours: 11:30 a.m. – 2:30 p.m. (One of the Japanese menus showed breakfast hours, but I was not sure if it was correct as the employees did not speak English.)
Payment: Yen
Directions: From Kadena Gate 2 go straight on route 20, you will turn left on the street just next to Richie Rich, go down approximately 7 streets. You will go past the one way street going left. The next street is one-way turning right. Turn Right. Tacos & Coffee will be on your Right-hand side. There is a small parking section.
Editor's note: We are unable to map this location without a physical address or GPS coordinates. If you can share either, let us know in the comments section and we'll get a map uploaded pronto!