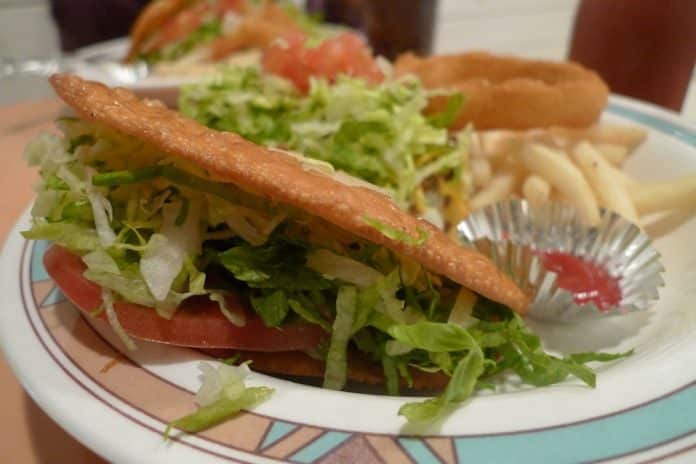 CONTRIBUTED BY ANGI BRZYCKI

Tacos Ya Plate
Located just a block away from the Sunabe sea wall is a tiny little taco shop -"a hole in the wall " called Tacos-YA. The prices are cheap and the menu is simple. There are 4-5 tables, but they also do take-out. I've heard that Tacos-Ya is all over the island, but I personally can't confirm that. I know (for sure) that there are three locations. The two other locations are in Naha; one is on the infamous Kokusai Dori street. The other location is in Shinto-shin.

Tacos Ya Counter

Tacos Ya Plate V
Personally, Tacos YA tacos are my favorite on the island. I love the soft shell; it reminds me a bit of chewy fried egg roll wrappers I used to get at my regular dive-y Chinese take out spot in the States. The tacos are packed with lettuce, tomatoes, ground beef, and shredded cheese. The salsa comes in a squeeze bottle. It's great — simple and spicy. The lettuce and tomatoes and the ground meat are all fresh. I usually order the Tacos-Ya plate. It comes with one taco, taco rice, fries, and one large onion ring. Although I have not tried it, Tacos-Ya also serves hot dogs and some interesting looking taco sticks, fried and filled with meat and cheese. If you're in search of a cheap taco-I'd recommend checking it out at least once.
PS. They serve bottled Corona for 400 Yen.
Hours:  All hours are the same at each location —  11:00 am-10pm (daily)  Eat in or Take Out

Tacos Ya Counter Menu

Tacos Ya Chatan
Sunabe, Chatan location
Address: 904-0113 沖縄県中頭郡北谷町宮城1-5
1-5 Miyagi, (Nakagami Gun), Chatan, Okinawa 904-0113
Phone: 098-936-6866
Directions:  From Route 58, turn onto Hamagawa Street and head toward the seawall. Hamagawa is just south of Route 23, also known locally as Kokutai Road. You will pass a water treatment plant center on the left (large open space) and on the right you will pass a Chinese restaurant, Baskin Robbins, and a very large parking lot. Once you reach the stop light, make a right. Tacos-Ya will be on the left side of the street. There is one or two spots available right in front of the store on the sidewalk, or park on Hamagawa.

Tacos Ya Kokusai
Kokusai Dori location
Address: 900-0014 沖縄県那覇市松尾2-8-13
2-8-13 Matsuo Naha, Okinawa 900-0014
Phone: 098-862-6080
Directions:  If you are heading toward the Starbucks, cross the intersection and go toward the OPA. Tacos-Ya is just a few shops down from the OPA. It is sandwiched between two souvenir shops (see photo). It's a tiny space, but when you walk by it, you'll smell fried goodness.
Shintoshin location
Address: 900-0006 沖縄県那覇市おもろまち 4-12-13
4-12-13 Omoromachi Naha 900-0006
Phone: 098-867-2644