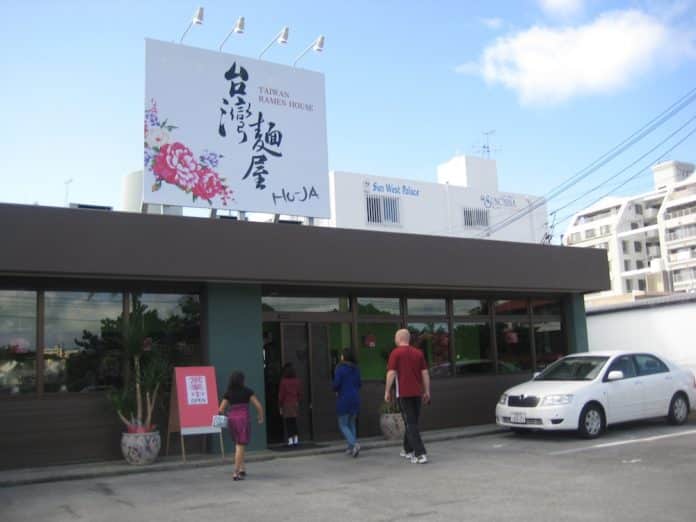 CONTRIBUTED BY CALYN PAQUIN

Taiwan Ramen Front
Oishii! That's what we would say in Japanese when we are eating delicious food in Japan. Now when you eat at Taiwan Ramen House, you can tell the owners who are also the chef and the hostess of the restaurant, "Ho-Ja" which is "delicious" in the Fujian dialect, the most spoken dialect in Taiwan. The couple is Taiwanese but has lived in Okinawa for years. The friendly hostess speaks Chinese, Japanese and English. Their goal is to introduce authentic Taiwanese flavored dishes here in Okinawa. They will be adding more dishes in the future.

Taiwan Ramen Inside
When I first walked in, I can smell the aroma that reminds me of wanton noodle soup that I'm used to in Singapore and Malaysia. The restaurant is very clean with dark wood flooring and furnishing. They only have booths that seats 4 to 6 people so if you have more than that, you'll need separate tables. There are also individual counter seat that faces the open kitchen where you can watch the chef at work.

Taiwan Ramen Bar
Now you would think all they serve are noodles but that is not the case. The extensive menu has pictures of each dish in both Japanese and English. It consists of ramen noodle soups which also come in dried tossed style with many options for toppings ranging from Chinese bbq pork, minced pork, shrimp, tender spare ribs and pig trotters. They also serve many side dishes and one of their most popular dishes is the half crispy chicken Taiwanese style.

Taiwan Ramen Food 1
Every noodle dish can be made into a set meal with a bowl of their flavorful broth with 3 fish balls and pickle for 980 yen. If you order the set for any of the side dishes, they come with the same sides plus a bowl of rice topped with minced pork for 1150 yen.

Taiwan Ramen Food 2
Our group tried the crispy chicken, tonkatsu (pork cutlet), chicken with lemon sauce, spicy fried shrimp and ramen noodle soup with bbq sliced pork. I went back a few days later and tried their fried rice topped with omelet and minced pork and they were all delicious. They do not have a kids menu but they do have small side dishes like deep fried boneless chicken and rice topped with minced pork for 290 yen each just to name a couple. Everyone at our table loved the deep fried chicken and the sauce they were drizzled with. The prices are very reasonable and the portions are just right. When we were there, the rate they were taking was 80 yen to US$1.

Taiwan Ramen Food 4

Taiwan Ramen Food 3
Directions: From Foster, take 58 towards Kadena. After you pass ENEOS gas station and Poco a poco, you'll see Taiwan Ramen House on your left before the GOOD WILL electronics store. If you are coming from Kadena, you will make the U-turn at the traffic lights where ENEOS will be on your right. Parking is right in front of the restaurant.
Hours: 1130 – 2000 daily as of now even though their stamp cards states 1130 – 2400.  Closed Tuesday.
Payment: Yen and dollars accepted. With every visit, you get a stamp on your card. When you get 24 stamps, you get a meal.
Website (Japanese):  www.taiwanramenhouse.com — you can see more pictures of the dishes as well.
Menu:  Click for larger photo




This post was featured in Stripes Okinawa!