CONTRIBUTED BY ORLANDO ANAYA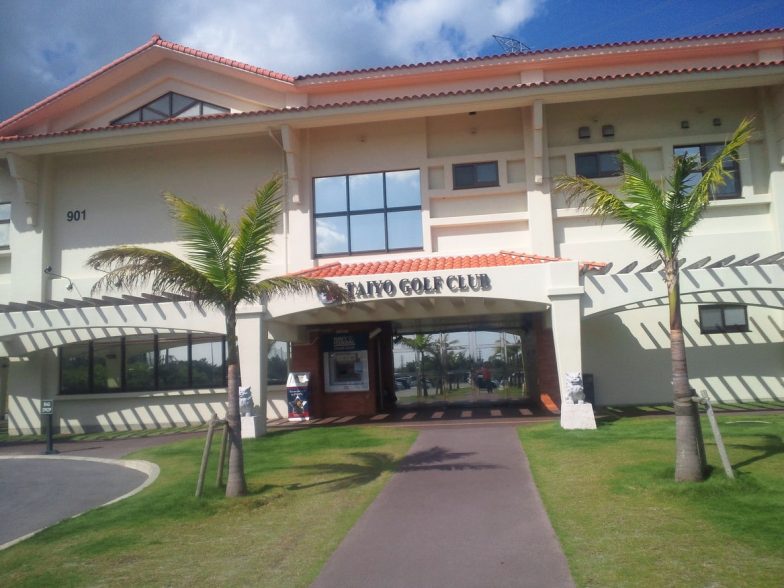 If you are like me and love a great steak, Taiyo Steakhouse is the place for you. I have now been there for dinner with my family and my buddy Mark three times and I can tell you that this restaurant is unlike any in Okinawa. Walking in you can immediately see the difference, the place looks nothing like its predecessor, the Lanai. Every aspect of this restaurant has been revamped to offer a great American style steakhouse experience and in my opinion they deliver.

As we walked in, we were immediately greeted by a well-dressed and amicable host who understands the importance of first impressions. As we were escorted to our table, the staff was warm and welcoming, almost like they were rolling out the red carpet for our arrival. During two of my visits, I had the pleasure of meeting the restaurant manager who was also very warm and welcoming. He clearly sets the example for his staff. As we got to our table and were promptly seated, we quickly realized that although there were other patrons around us, the furniture is set up in a way that we felt a great sense of intimacy and privacy. It's a welcome change from the busy and crowded restaurants we have come to know here in Okinawa.
The menu selections are right up there with any menu that we would find at a top steakhouse back in the States like Ruth Chris, Morton's or Charlie's Steakhouses. The steaks are prime beef; the seafood is fresh, and the bread, freshly baked served with two different types of butter, is delicious. Every time I've been there, I've had the 12 oz. fillet (Yes! 12 oz. and cooked to a perfect medium-rare) with a delicious mushroom and peppercorn sauce and a side of vegetables. I also ordered the lobster bisque soup (which is exquisite with nice chunks of lobster in it), and a bottle of Italian Barolo. The one they carry happens to be one of my favorites (I may or may not have kept the whole bottle to myself).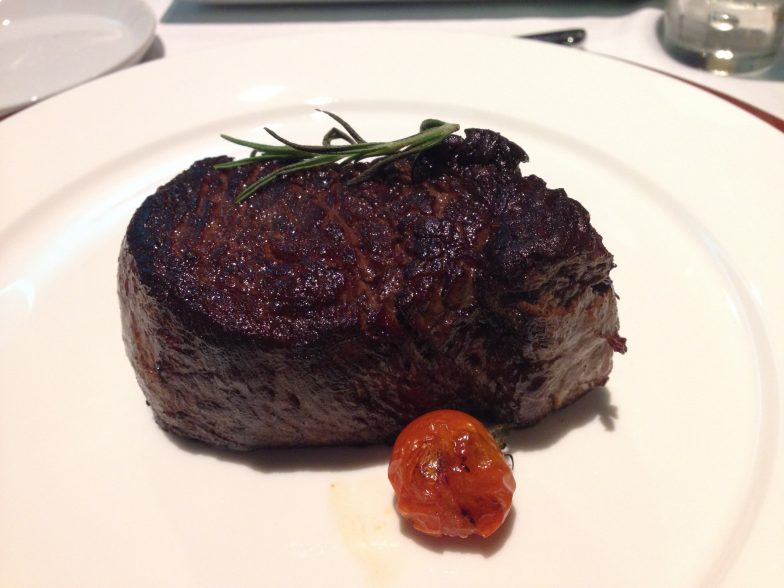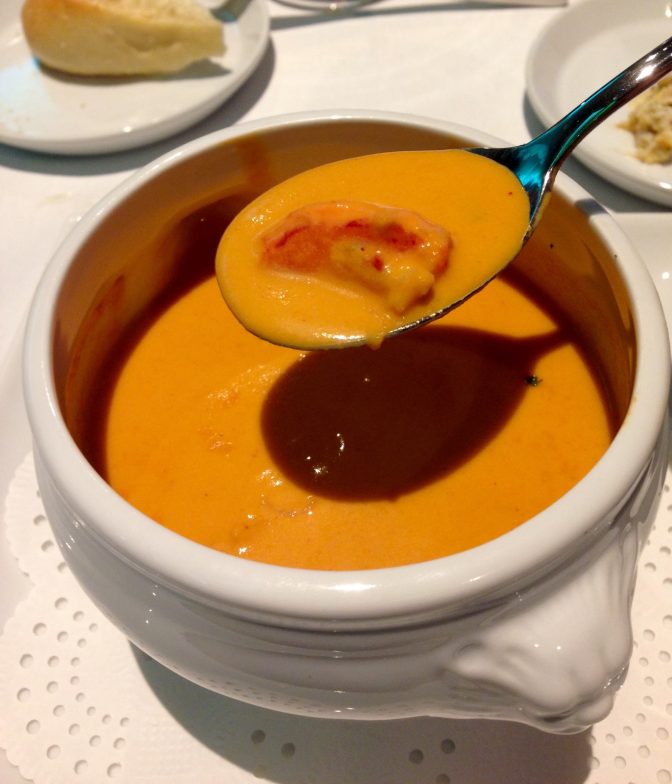 I can tell you that without a doubt, the lobster bisque and the filet were both excellent. As good as you could find anywhere. I am looking forward to trying the rack of lamb next time I go; I've heard nothing but good things about it.
My wife has had the 14 oz. boneless ribeye steak and the seafood pasta on her two visits. The ribeye was good, but I would recommend the bone-in ribeye over the boneless.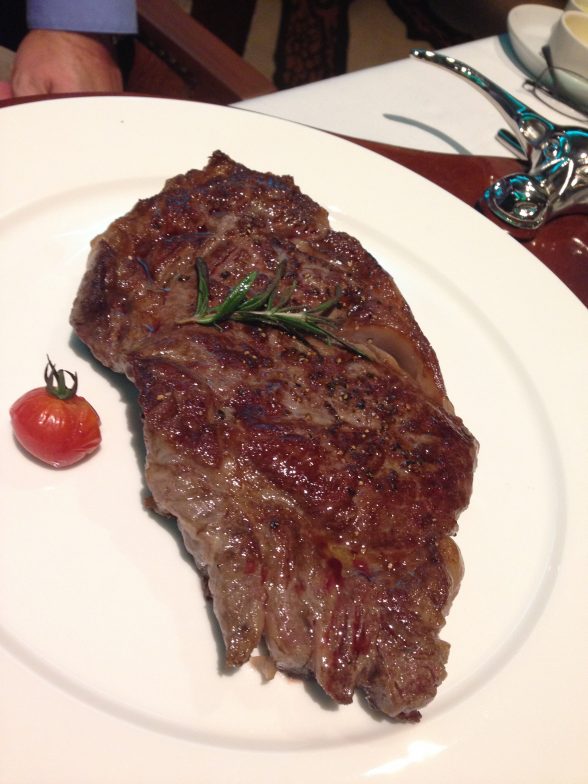 The seafood pasta was my wife's favorite! The pasta had very generous amounts of lobster, crab, and scallops. The scallops, the manager informed us, are flown in from Tokyo and they were massive! I am a lover of scallops and these were great! For appetizers, I would recommend them all. The crab cake was the first we tried and it was good, but the calamari, beef carpaccio and shrimp cocktail were my favorites.
For dessert, they feature six or seven excellent desserts: crème brulee, molten lava cake, chocolate mousse just to name a few. We have tried five of them and all were excellent. Watch out though, the cold orange liquor soufflé may throw you for a loop if you're used to a traditional warm soufflé. If you like rich decadent chocolate the chocolate mousse is just that.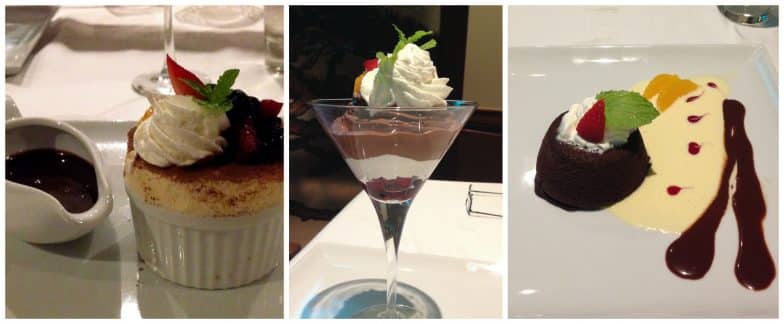 The service is also excellent. The wait staff is attentive, incredibly nice and does a great job. We brought out three year old daughter and she loved their children's menu, although I have to warn you, if you have rambunctious children this may not be the place to take them. For those of you who are price conscious, prices are not cheap, dinner (soup, entrée, dessert) cost about $60 per person, but it's definitely not as expensive as what you would pay at a comparable restaurant and dining experience back in the States.
There is a dress code for dinner, which is really nice given that there are really not too many places here in Okinawa where you can dress up. For lunch and breakfast the dress code is much more "laxed". I highly recommend their Sunday brunch; their Taiyo Eggs Benedict are to die for… The poached egg, the twin fillets, the nicely toasted English muffin. They also have traditional Eggs Benedict, as well as pancakes and all of your breakfast favorites.
Overall, my experiences at Taiyo Steakhouse have been phenomenal. From the food to the staff I feel that they have always gone out of their way to make our visits a first-class experience and for that we will definitely keep going back… and often.
Hours: 
Weekend Brunch: (Reservations Recommended. Call DSN 622-2020)
Saturday & Sundays 7:00 a.m. – 3:00 p.m.
Lunch: Monday – Friday: 10:30 a.m. – 3:00 p.m.
Dinner: (Reservations Required. Call DSN 622-2020)
Wednesday – Sunday: 6:00 p.m. – 9:30 p.m.
Bar is open daily: 10:30 a.m. – 1:00 a.m.,
 Bar Bites Menu served  3:00 p.m. – 10:00 p.m.
Phone: 098-954-2020
Payment: All major credit cards accepted
Address: 〒904-2205 沖縄県沖縄市 うるま市栄野比1183 TAIYO GOLF CLUB 2F
Directions: (Google Maps Link)
 Kadena Gate 3:
Go though the gate light towards Chibana Housing/Camp Shields. You will take the road all the way until it ends at 329 (by the farmers market), make a left at the light. You will take this road about a mile (about 8 traffic lights) past the light for the Okinawa Expressway exit 5 all the way to traffic light with the Kurashiki Damn sign and make a left. Once you make that left you will take the road all the way to the
Taiyo
Golf Course gate and make a right towards the golf course. The restaurant is on the second floor of the Pro-shop.
From the Camp Foster Legion Gate:
Go out the Legion Gate/Olympic Shoppette Gate and straight though the 330 light. Proceed to the next light and make a right towards the Okinawa Expressway Kitanagausku Exit. At the next light make a left on to the Express way and head towards Nago. Take the Expressway two exits to exit 5 Okinawa-Kita exit. Once you pay to toll and get to the light, make a left at the light. You will then go four or five lights to the Kurashiki Damn sign and make a left. Once you make that left you will take the road all the way to the
Taiyo
Golf Course gate and make a right towards the golf course. The restaurant is on the second floor of the Pro-shop.
Coordinates: 26.393897, 127.824602
Website: http://www.mccsokinawa.com/taiyosteakhouse/