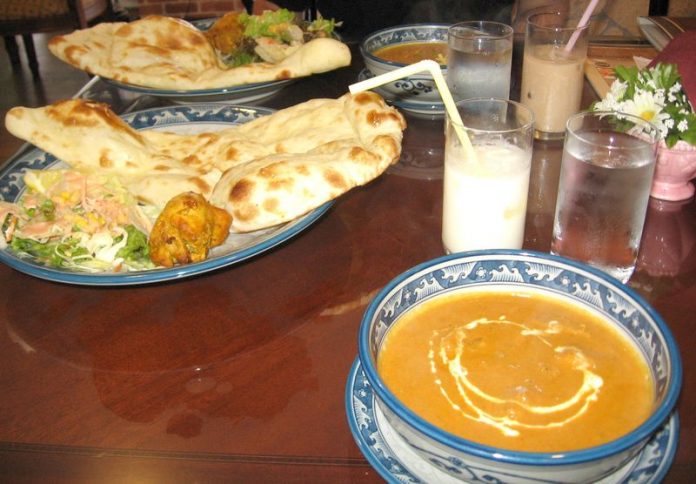 CONTRIBUTED BY SARAH FORTE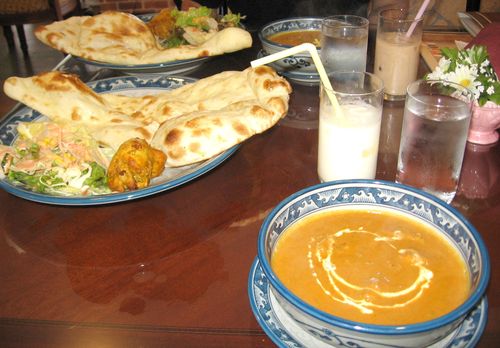 Curry! If you love curry you have come to the right island! The Japanese love their curry and according to one 2005 survey they eat it an average of 125 times a year! Here on Okinawa you can sample a whole world of curry: there are Japanese curry places like Coco Ichibanya, curry buffets likeFAB Curry, Tai curry places like SomChai, Indian curry places such as Krishnas, Nepalese curry places like Kasthamandap and many other restaurants feature curry on their menus, too. If you love curry (please say you do!) you won't lack for the amount or variety of curry on Okinawa!
But there's always room for more! Taj Okinawa recently opened their doors so we went to try it out. Here's what we found:
Taj Okinawa, as you may have guessed, is an Indian-style restaurant that, along with many varieties of curry, offers Indian dishes. They had extensive tandoor selections, naan bread, beverages (alcoholic as well as non) and desserts.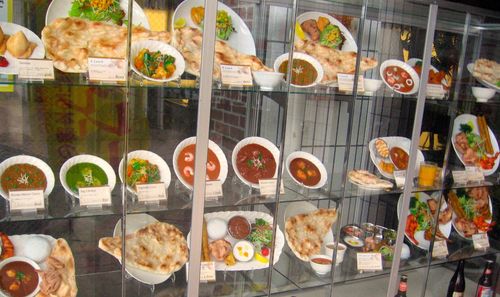 We ate there for lunch and the prices ranged from 600 yen (for the children's set) to 1,100 yen for the largest adult set (which included a beverage and dessert). We each ordered the "C Lunch Set" which included curry, tandoori chicken, chicken tikka, naan, soup, salad, desert and soft drink. We could choose the type of curry and soft drink. My husband choose keema mutter and ice Indian milk tea, while I had the curry of the day, which was pork, and lassi.  The food was very tasty! Their naan bread was huge and made fresh upon placing our order!  The staff were all pleasant and eager to help. The restaurant felt new, clean and spacious. Both menu and staff were very English-friendly.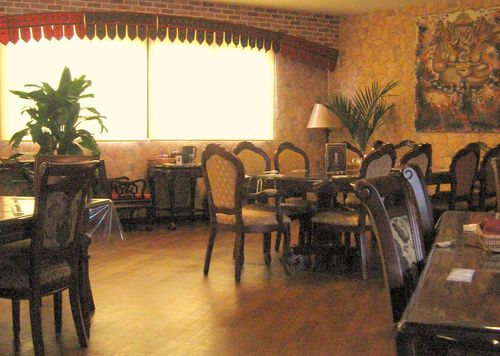 ---
Taj Okinawa
Payment: They take yen, American dollars and credit card.
Hours:  Lunch is served from 1100 – 2200. Take out is available.
Phone: 098-923-1312
Address: 458 Ihei, Chatan-chō, Nakagami-gun, Okinawa-ken 904-0102, Japan
Google Maps Coordinates: 26.327774, 127.76286149
Directions:  One of the best features of this place may be the location. It is easily within walking distance from Kadena's Gate Two, as close as you can get to base on Gate Two Street. This makes it a viable lunch option for those of us who work on Kadena. Go straight out Gate Two, over 85, and take the first left into a parking lot. Taj Okinawa is just around the corner from China Pete's. When we went, we parked at the USO and walked, but there is parking in that lot marked for Taj Okinawa.
UPDATE: Taj has expanded to a second location in Yomitan.
Address: 641 Furugen, Yomitan-son, Nakagami-gun, Okinawa-ken
Google Maps Coordinates:  26.3696887, 127.7463917
Phone: 098-904-0314