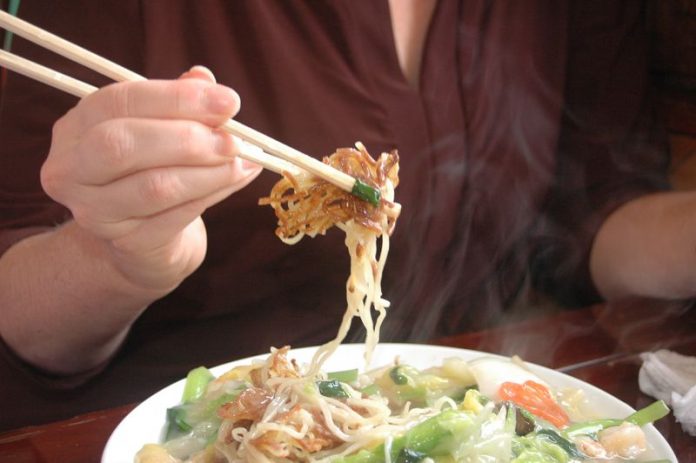 CONTRIBUTED BY LARISSA

One of the many things I love about eating out in Okinawa is that a lot of the restaurant kitchens, in the smaller restaurants, are visible.  This makes for great entertainment if you watch closely.  From our table in Tantantei we could watch the chef fry up our noodles and boy did he make it look fun.  Don't you just love eating fun food?  I was recently told to try Chinese pan fried noodles and I took the opportunity to introduce my friends to this new-to-us food last week.  Growing up, Chinese food was popular in my family so it's all I knew and I accepted that as the most foreign thing to eat.  Fast forward 20+ years and two tours in Okinawa and I realize what I have been missing out on.  Pan fried noodles is one of them.
My friend, Ginger, ordered the pan fried noodles with meat and shrimp for Y762.  The yummy part is where the noodle spent a little extra time hanging out in the huge "frying" pan.  Love this part!

I had the pork with Rice or you could choose pork with shrimp or just shrimp for Y762.
These yummy morsels of Shu Mai are made with pork and served with a spicy mustard sauce for Y381.  If you love dim sum than check out the dim sum lunch available at Hotel Alivila.
We also ordered their yumcha for Y239.  This fun breaded shell is filled with meat and tastes great dipped in soy sauce and spicy mustard.  These can also be found at Mister Donut.
Other popular menu items available are Gyoza (Y381), Fried Spring Rolls (Y381) and Fried Rice (Y667)
---
Tantantei
Payment:  Yen and American Dollars.
Phone: 098-898-4322
Hours:  Closed on Wednesday.  Thursday – Tuesday they are open from 11:30 a.m. until 3p.m. for lunch and then they reopen for dinner from 6 p.m. until 11p.m. Last order at 10:30 p.m.
Address: 2 Chome-29-21 Oyama, Ginowan
Google Maps Coordinates: 26.2740918, 127.7417236
Directions: 58 towards Naha and pass the entrance to Futenma and the Peacock Palace Restaurant.  At the Jimmy's make a left – you will be entering their parking lot.  Go through the parking lot until you get to the back of the lot and can make a right onto the pipeline – nickname for the street that runs parallel to 58.  Go about ½ a block and look for a white building on the left side of the street – no English lettering.  If you pass Garden KiKi then you've gone too far.  Make a left into the alley/small street between the restaurant and KiKi's and go up to the parking lot on the left.