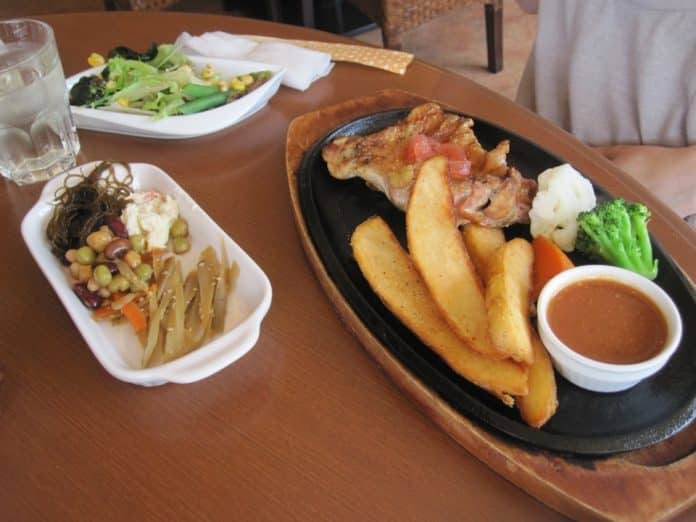 Taurus Food
CONTRIBUTED BY MONETTE EAMES
There was nothing that had anything to do with astrological signs at Garden Restaurant Taurus. Nothing that had to do with Greek mythology where Zeus turned into Taurus, a magical white bull, to seduce Europa. In fact, there was nothing about bulls here. The only thing that came close to a bull was the pictures of steaks in the menus. Oh, well. I wasn't disappointed one bit about that. After all, the last time I checked my horoscope was back in high school when I would religiously buy those teeny bopper magazines. One last thought on this — maybe they named it Taurus because bullfighting is big in Okinawa? Could that possibly be it?

Taurus Menu
Anyway, the restaurant had an atmosphere where you felt like you were sitting somewhere in Italy, complete with the wall of wine at the entrance and the vines of grapes entwining around pillars in one section of the dining room. Then you're handed this menu with a bunch of things from pasta, burgers, chicken, pizza and steak dishes all at a reasonable price, then you're hit with the fact that you aren't in Italy, but just four kilometers from Camp Hansen.
It may be a good thing or a bad thing, depending how you look at it. Good because if there's a desire to meet up with your husband for lunch one day at Camp Hansen, you won't be subject to the typical fare that you get at every base—you know, Subways and Anthony's Pizzas. All you'll have to do is bring an extra set of clothes that he can change out of since those Marines gotta get out of their cammies when stepping off base.
Bad because? Hmm… you're not in Italy maybe? But let's focus on the positive here. With your platters, you can add the all you can eat salad bar for only $3.50. Usual Japanese salad ingredients with different salad dressings. Then there's the soup, Japanese drinks, scones, and ice-cream. There are so many entrees to choose from that it took a while for me to pick something. When I finally decided my son happily rang the bell and a waitress came rushing to our table. Talk about speedy service!

Taurus Pizza
My friend ordered the grilled chicken which came out still sizzling on a hot plate. I ordered the chicken pizza, which was delicious. The kids meals were all reasonably priced also. All the food we ordered was delicious. Pictures that I saw of the restaurant at night looked magical. A great little place near Camp Hansen to have lunch or dinner.
Hours: 11:00- 23:00 daily
Phone: 098-963-2260
Directions: Go on the expressway heading to Nago. Take Exit 8 and turn left. Drive straight as if you're heading to Camp Hansen. Four kilometers past Camp Hansen's gate, you'll see Garden Restaurant Taurus on your right.