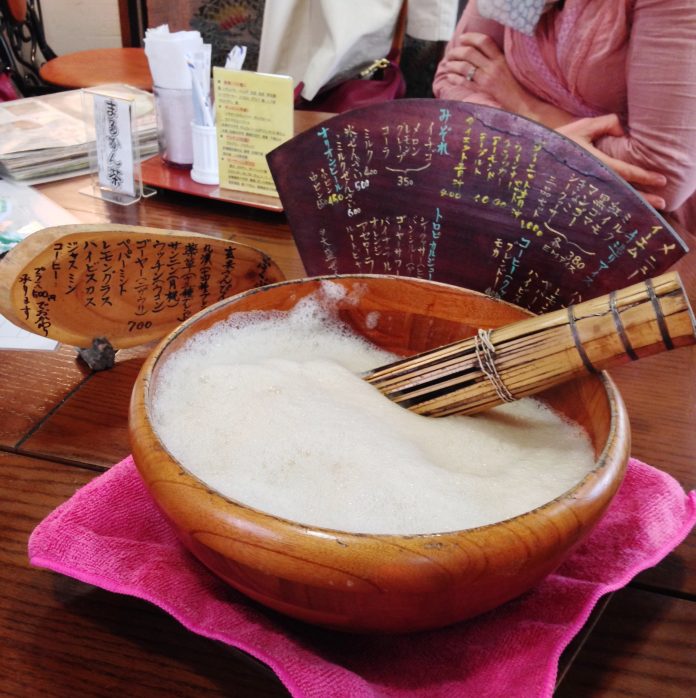 CONTRIBUTED BY EMILY BUREK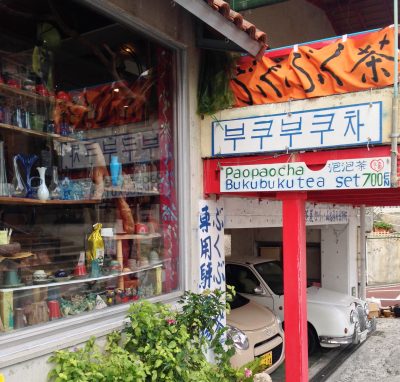 Have you tried the traditional Okinawian tea called bukubuku? According to a local friend, buku-buku means bubbly. This is not like the Taiwanese bubble tea. It is a tea made from toasted rice and jasmine tea served with foam on the top. The foam is made by vigorously whisking a large bowl of tea with a wooden whisk. The bubbles are so small and delicate it is like eating a tea cloud. On top of the foam you can add crushed peanuts making the foam fun to eat and complementing the toasted rice flavor.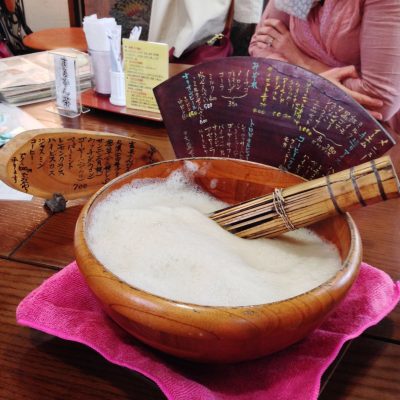 Paopaocha Bukubuku Tea is right around the corner from Shuri Castle. I was with a couple of girlfriends and one had their sister visiting, so this was a great opportunity to show her some of the culture.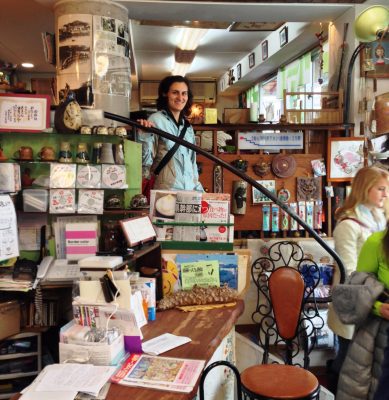 We paid 700 yen each for the set tea menu. Everyone gets their own tray with a cup, a snack, shiquasa gelatin and crushed peanuts.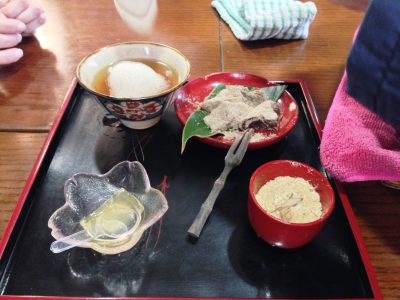 Then the woman brought out a large bowl with a whisk and showed us how to make the foam. You whisk back and forth and then pile the bubbles to the side. This way you end up with a nice collection of bubbles to top your tea!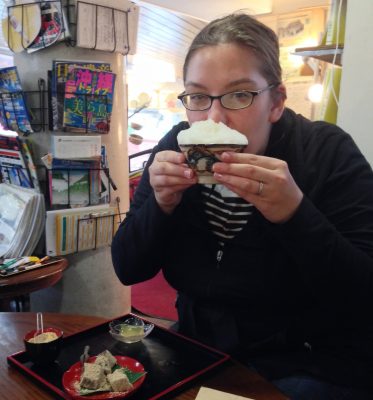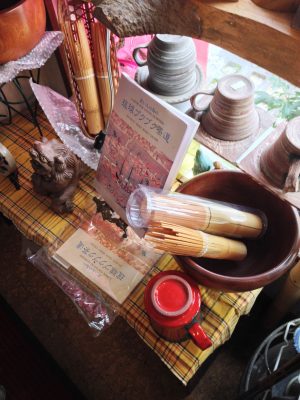 Drinking the tea seems more about enjoying the foam and crushed peanuts. There is a pretty big smile on my face behind that stack of foam. And of course making the foam is an experience in itself- everyone wants their turn to whisk away!
All of the tables had a little wooden puzzle, Japanese books and magazines. At the entrance there are plenty of tea supplies including the wooden whisk used to make the foam.
If you are looking for a place to enjoy the Okinawian culture then I highly suggest Paopaocha. Even if you have just had lunch, the tea and light snacks will not make you feel over-stuffed. The selection of teapots, cups and other accessories are fun to look at and the atmosphere is very relaxing.
Address: 11, Shuriikehatacho, Naha, Okinawa, Japan, 903-0824
Directions: From Shuri Castle, walk toward the 29. Cross the 29 and across the street to the right is a small street, turn left here. The building will be on your left (see picture for store front). You can also park on this street.
Hours: None posted on the door but I assume they are open every day Shuri Castle is open since that is where a lot of their customers seemed to be coming from. I can only imagine they are not open very early or late, something like 9 to 6. When I went it was 3:00 p.m. on a Thursday.
Payment: Yen only