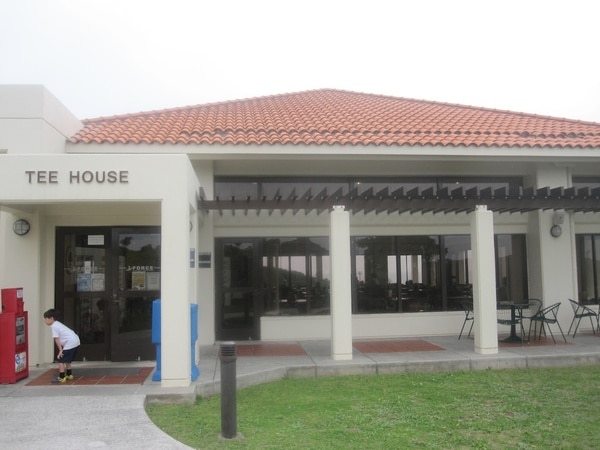 CONTRIBUTED BY MONETTE EAMES
Ever since we moved to Okinawa, ladies I met from a Bible Study class often talked about the Tee House on Kadena. I imagined a cute little tea house where we could have tea parties at High Noon, complete with finger sandwiches, scones, crumpets and different types of teas.
Not until I found an ad for the TEE House did I realize that it was TEE as in striking the ball from a tee in golf! So, there went my dreams of little ladies sharing a pot of tea discussing the warmth and joy of the Lord!

Tee House
We followed the signs to the golf course and found the Tee House waaaay up high on a hill. We trekked up the stairs—my kids racing, me taking my sweet old time. The view from up there was incredible!
They serve breakfast from 6 am to 10:30 a.m. All breakfast dishes come with coffee or tea and for only $5.95, you can get two eggs, hash browns, a choice of meat, pancakes, or french toast. The view of the sunrise must be spectacular here.
They have the kid's menu for $4.50 and Daily Specials for only $6.95 which includes the dish and drink. There is a wide range of cuisines here that include things Asian, American, Greek, and Mexican. As we waited for our meals, we sat right by the windows and watched planes landing and taking off, cars moving along the 58, the stillness of the ocean. It was so peaceful.

Tee House Food
There are so many forgotten, hidden treasures in Kadena and the Tee House Restaurant at the Banyan Tree Golf Course is one of them. Situated at the very top of a hill overlooking the sea, Chatan, and the Kadena Airport runway, you can come up here and forget about the world below, even if only for a little while.
The only teas served here were hot tea and ice tea, but I was happy.
Phone: 959-7509
Hours: (Monday-Sunday) 6 a.m. – 5:30 p.m., Breakfast is served until 10:30 a.m., Closed every second Tuesday of the month from 6:00 am to 10:30 am
Payment: Dollars, Yen, Credit cards
Directions: When you're on Douglas, follow signs to the Golf Course. You'll see the Tee House at the very top of the hill.