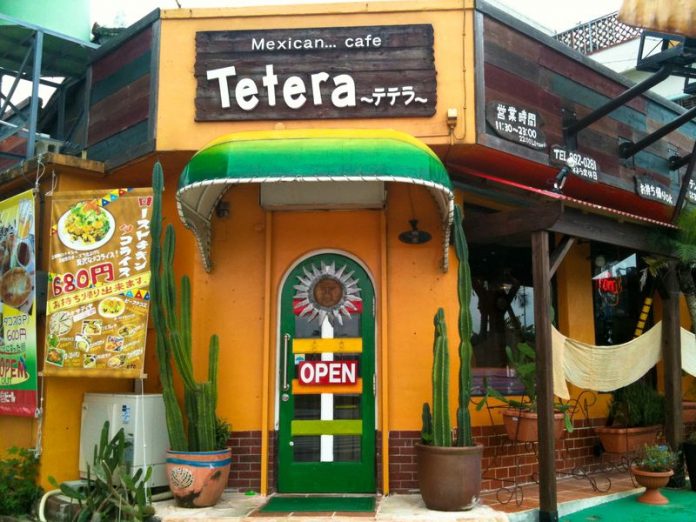 CONTRIBUTED BY JENNIFER MARTINEZ
In a desperate attempt to find coordinating orange and teal ribbons for our dear friend's baby shower, my neighbor Julie and I journeyed out to Shalimar House of 66 Cents.  While this fabric store is fantastic and I could easily get lost for days, this article is about a quaint Mexican restaurant we found on the way.
Driving down highway 339, we couldn't help but notice 3 gigantic tacos in mid air above a small building that read Tetera.  I'm talking mucho grande tacos. It's impossible to miss this place.  As Mexican food connoisseurs, our curiosity was working overtime as we passed by.
After an hour of shopping and chasing my toddler through the fabric store, we were starving and ready to satisfy our tummies and our curious minds.  So we parked under the larger than life tacos hoping they didn't fall and crush the car.  Both Julie and myself had no idea what to expect with Mexican food in Japan so she said, "If it's horrible you're buying lunch!"  The restaurant had just opened for the day and we were the first and only customers.  The authentic music and Hispanic decor provided a proper atmosphere from the start.  Greeted immediately by our waiter he seated us in one of three connected booths that sit just behind a glossy wooden bar.
An English menu was provided for easy ordering offering many options.  Our food arrived quickly and was made fresh to order.  Chips were served with a choice of sweet or spicy salsa.  While not what we're used to it was very good.  The guacamole appetizer arrived with a beautiful, yet simple elegance. The great taste made up for the portion size. Our meals were served in a traditional Mexican style with much larger portions.  So much food, I took most of mine home.  While I wasn't prepared with my camera, I did manage to snap a few photos with my handy dandy iPhone for fellow Oki Hai readers to enjoy.  (My apologies, we had already eaten most of our food before we thought about taking pictures of it!)
The restaurant seats approximately 20 occupants in the building, so I wouldn't recommend taking a party.  However if you're looking for a quiet lunch with good company in a calm atmosphere then my friend and I definitely recommend the cozy Mexican Cafe Tetera.
Hours of Operation: As you can see in the picture there are 2 signs with different hours, so your guess is as good as mine, maybe someone schooled in reading kanji can help us out here!11:30-16:0011:30-22:30
Phone: 892-0281
Address: 2 Chome-44-21 Aragusuku, Ginowan
Google Maps Coordinates: 26.2881128452, 127.767452884
Directions from Kadena Gate 2: Turn RIGHT on 330 towards Foster and Futenma.  Pass the Foster PX and Futenma Shrine Cave.  I did not count the stop lights but if you start looking for 3 HUGE TACOS on the LEFT, you will find it. If you reach the Shalimar House of 66 Cents fabric store you went too far and it's a few blocks back.