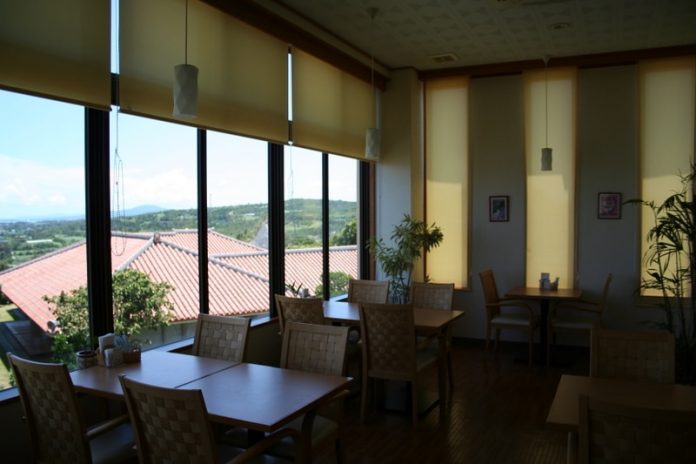 CONTRIBUTED BY KELLYERACE
When I was in the States a few weeks ago, the meals often felt heavy and unhealthy to me — even lunch. It seemed like just about the only light food to be had was a salad, I'm just not that big of a salad eater. I need something with a little substance. But smaller. Which is why I love the cafe ubiquitous Okinawan cafe. You'll almost always find a pasta dish, a sandwich, or a curry in the perfect lunchtime size. And if you get a set (usually a soup/salad, item listed above, desert and coffee or tea) you can even fulfill that chocolate craving of yours. As the desert generally takes three bites to finish, that's only three bites of guilt. Not bad.
Another thing I love about cafes here is that, while the menu items may be similar, still, they all have their individual character. It might be found in the homemade menus, clever utensil holders, or creative use of second hand (sometimes government) furniture … or perhaps the bathrooms. Cafes in Okinawa are probably the only places in the world where I could say a visit to the restroom is a treat, so cute and creative is the decor! (Any favorite Okinawan cafe/restaurant bathrooms, anyone? Do tell!)
A quick Google search of "cafe" and "Okinawa" gave me this: A list of sixty-seven different cafes "on or near" Okinawa, with their google mapped location. So you could go on a cafe exploration this very afternoon.
Or you could try this pretty one. It's in Yomitan, in a tall yellow three story building, the street from Rakuza. "The Cafe" is painted in giant letters on the side. What it's got going for it is the view. Dining here, you'll feel kind of like you are at a resort getaway.
The dining room: (sorry, no restroom shots!)
There are two lunch sets to choose from here: the curry set or this one below — for the indecisive diner. It features pasta, springroll, prawn, pizza, rice and salmon all on one plate.
A tasty scone.
It's taken me a couple of visits to realize that there is a little boutique downstairs. They sell pottery, porcelein, jewelry and the like. The prices for the Okinawa pottery were actually quite reasonable, with prices hovering around $20 for a serving dish.
Hours: Closed Wednesday; Open 11am-11pm
Phone: 098-958-5236
Address: 864 Nagahama, Yomitan, Nakagami District
Google Maps Coordinates: 26.4173588, 127.73878239999999
Directions:
From Route 6 in Yomitan. Pass Torii Station and go towards Zanpa. Pass the intersection w/ Route 12. On your right you will see a target sign on the wall (Mintama's) followed by a gas station. Turn right there. Make a left turn at the second street. (You'll see a sign for "Rakuza"…keep following those signs.) Go down the hill. You'll see an awesome view, a Canadian English school on your right and Rakuza on the left. Keep going, you'll see a yoga place w/ lots of cats on the left. Just after that look up and to your right. You'll see a tall yellow building w/ "The Cafe" on the side. Make a sharp right turn up towards it up a really steep hill. Park across the street. It's up the stairs.