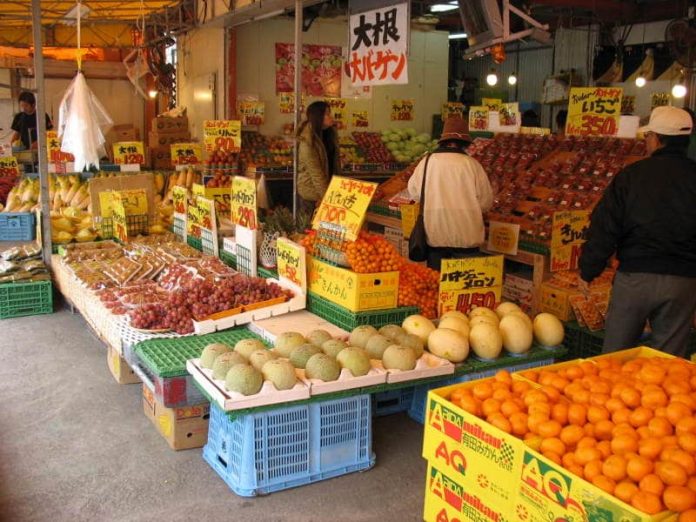 CONTRIBUTED BY JENNIFER
This is for all the folks up by Camp Courtney and McT.  I'm not sure what the official Japanese name of this market is, I think it is commonly called the fruit market.  It's loaded with fresh fruits out in the front, recently there have been beautiful, delicious strawberries.  And I seem to have better luck with the avocados I buy there vs those at the commissary.  Inside the the building there is a large assortment of vegetables and greens.   It is a little hidden.  Coming from Courtney, south on 75 turn right in the little alley immediate after Tsutaya, and you'll be looking right at it.
There is also a little sushi go round located in the Tsutaya building at the end.  In the picture it is shuttered because we were walking by pretty early in the morning.  There isn't always a huge variety there going around, they do a HUGE takeout business and those seem to take priority over keeping a variety going around in the restaurant, although the guys preparing the sushi are pretty fast when you make a request.  We like that it's within walking distance (if you like walking) of the base.
Address: Uruma, Midorimachi, 4 Chome−12 県道75号線
Google Coordinates: 26.376941, 127.854890