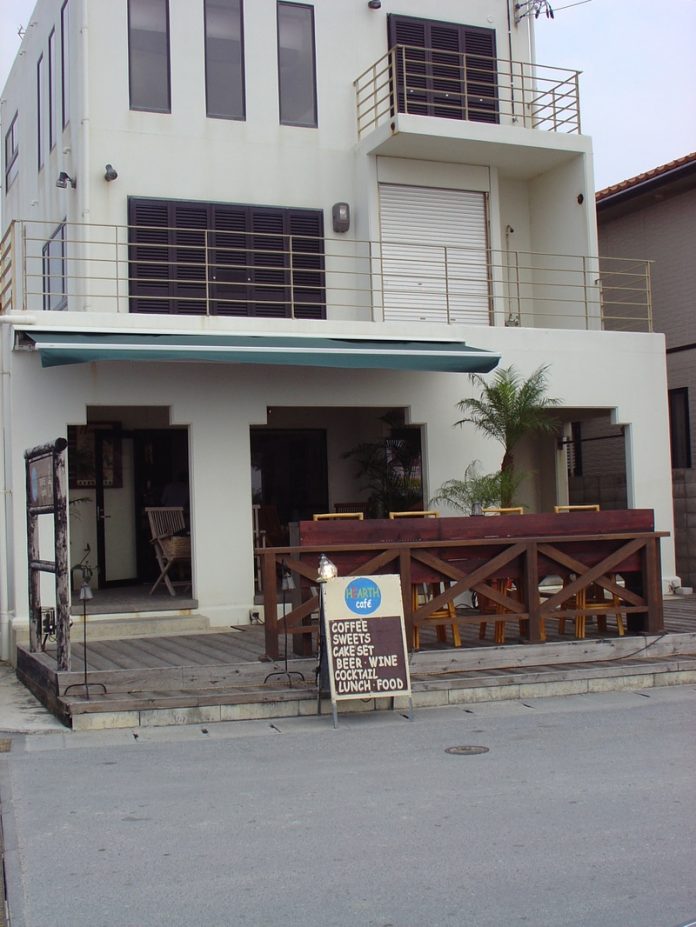 CONTRIBUTED BY SUZY
My husband, two year old, and myself recently stopped by a gorgeous little coffee shop called The Hearth Cafe.  It's located down the road from the Transit Cafe at the Sunabe Sea Wall.  It's the very last building on the right before the road turns into a dirt road at the wall.  We parked on the wall but there are a good amount of parking spots to be found in the area.  The Hearth Cafe is a coffee house/cafe that serves a variety of wonderful items such as sandwiches, pasta, appetizers, deserts, coffee, and pretty much any alcoholic beverage you can think of.  We were surprised at the amount of liquor they had lining their small bar.  The seating is limited inside (consisting of 2 tables and a few stools at a bar) but they also have a bar area outside as well as an additional 2 tables.
We went on a chilly day and were immediately given blankets to keep us warm while we waited for our coffee.  We ordered caramel lattes (which were so much better than any Macchiato that I've ever had at a Starbucks), an avocado cream cheese spread with a baguette (which contained little chunks of fresh avocados, cream cheese, sesame seeds and a drizzle of sesame oil), and the house specialty Hearth Toast.  The Hearth Toast was a unique dessert.  It consisted of 3 pieces of white toast that had either maple syrup or honey (your choice) drizzled over them, a scoop of vanilla ice cream, fresh berries, and whipped cream.  I though to myself…"white toast???", but it was delicious and we ate every bit of it up.  While we didn't order an entree, we could smell a gorgeous garlicky pasta that another customer had ordered.  The menu also had a couple of intriguing sandwich choices that we'll be sure to go back for and something called walnut bread which I can't wait to try.  It's a great little place.  I can't remember exact prices, but it wasn't expensive by any means.
Hours: Closed Wednesdays in winter months
Monday, Tuesday, Thursday, Friday 10: 00am- 10:00pm (last order 9:00 pm) 
Saturday and Sunday 9: 00am – 11:00am (last order 10:00 pm)
Phone: 098-926-0622
Address: 3-177 Miyagi, Chatan
Google maps Coordinates: 26.3329726938, 127.742846484
Directions from Kadena Gate 1:
Take a left outside gate 1 onto 58 and take an immediate right at your first light (this will be the road that takes you by Pizza Inn and GI Bill Pay).  Take this road all the way down to the Sunabe Sea Wall until the road dead ends at the wall.  Take a right at the wall and follow the road until the paved road turns into a dirt road.; take a right on the adjacent paved road and follow this road about a half a mile up past a playground on your left and a baseball field on your right.
Website: hearthcafe.ti-da.net/