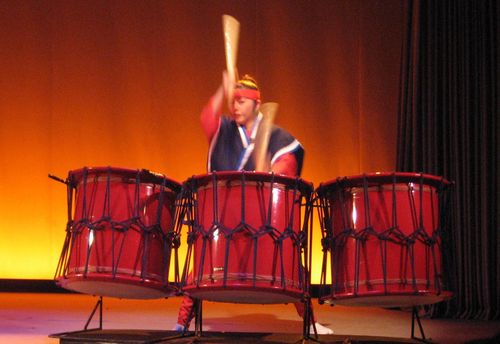 We were recently invited to enjoy a complimentary dinner and show at The Orchid.  Sarah & Tara enjoyed the evening with their families, but the opinions are all ours.
CONTRIBUTED BY SARAH FORTE
When you think of traditional Okinawa what comes to mind? Maybe it's Eisa dancers, sanshin players and taiko drummers pounding out their rhythms on a late Obon night. Or it could be the food that is credited with Okinawan's longevity: goya, fish, seaweed and tofu. Do you think of shisa, either the kind that guard a house or the kind that dance, their split-toe shoes a reminder that two people are really inside? Perhaps it's awamori or the Okinawan dialect, both with nuisanced differences from their mainland Japanese cousins.
Orchid, a restaurant within the ANA Intercontinental Manza Resort, is a celebration of all things Okinawan. Twice a night, they put on a show that includes all the traditional Okinawan players: sanshin, castanets, flower hats, taiko drums and dancing shisa. The show comes with an all-you-can eat buffet dedicated to Okinawan food and drink.
The doors to the restaurant open at 1800. The buffet is ¥4,000 for adults, ¥2,000 for children 7-12, ¥1,200 for children 4-6, and 0-3 year-olds are free. This price includes the dinner show; tea, water or coffee; and a main entrée choice of filet steak, agoo Okinawan pork, or lobster with mango sauce. For ¥1,500 more you can add the all-you-can-drink option. An al a carte drink menu is also available.
The buffet consisted of traditional soups, salads, appetizers, main courses, sides, and deserts. Everything had wonderful Okinawan tastes rich with seaweed, tofu, pork, and seafood. I counted at least three different ways to cook goya (Okinawan bitter melon) and as many offerings of beni imo (Okinawan purple sweet potato). One pot featured Ashitibichi, a soup made of pig's feet and kelp knots. There were also small dishes of peanut tofu.  Even if those things sound scary I think you could find something for everyone with fruit, taco rice, tempura and cake. Besides, a buffet is a great place to try new foods: you decide what and how much you'd like to sample with no guilt if you don't like it all.
Our main entrees came out very soon after we ordered. Among our group we tried all three options of steak, lobster and pork. I don't think any of us would say that it was the best we've ever eaten, but I didn't see any many left-overs either. Of the three options, the pork steak seemed to be the favorite. Later in the meal another non-buffet choice was brought. What says Okinawa better then Blue Seal Ice Cream?!? There were individual portions of chocolate, vanilla and beni imo. Yum!
The all-you-can drink bar was an experience in itself. Again, all fifteen drink choices were uniquely Okinawan: pineapple wine, both dry and sweet; sugar cane cola; an Oki black sugar and ginger drink; local fruit juices; mormomi-su vinegar (better than it sounds!); and, of course, awamori and Orion beer. The Orion had its own pour machine which tilted the glass for the initial pour and topped it off perfectly with the right amount of foam. If you would like to upgrade this option, you could add sparkling wine to the list for ¥1,000 more.
After we all had time to work our way through the different courses of our food and drink, the lights dimmed and the show began an hour after doors opened. It started with a stately flute solo proceeding slowly from off stage and gradually the rhythm and volume picked up with the addition of first one, then many taiko drums. The pace oscillated back and forth from hard pounding drumming to contemplative sanshin accompanied singing. The highlight for many of the children as well as adults in the crowd was the dancing shisa. The two women inside did a wonderful job of transforming into the playful Okinawan guardian. The program also included a Japanese tutorial on the Okinawan words "Hai Sai" and castanets which were loaned to the audience. Before leaving, the audience was invited on stage for pictures with the Shisa and offered CDs and DVDs of the performers.
This experience is very child friendly. There are highchairs and children's dishes for the little ones and the show is upbeat and not too long (45 min). The children from three to thirteen in our group left well-fed, happy and singing Eisa melodies.
The doors for the Orchid reopen at 20:00 for the second show. The prices for the second show are a little less: ¥3,000 adults; ¥1,500 children 7-12; ¥900 children 4-6; this is due to the lack of main entrée choice at this show. This might be a good cost saving option; the show is the same and I'm sure you won't go home hungry. If you would just like to watch the show and not eat, you can come at 20:30. ¥1,000  will cover the tickets for the show and one drink with your choice of Orion Beer, Awamori, Pineapple Juice, Mango Juice, Guava Juice, Coke, Ginger Ale.
Directions: ANA Intercontinental Manza Resort is located just off of Route 58 and is easy to find. Head north on 58 from Kadena, Foster, Lester or Kinser. Drive through Yomiton and Onna. In the northern part of Onna you'll see a fire station on the left. You're almost there. At the next light you'll see a large dark sign with the ANA Intercontinental logo. Turn left. The entire peninsula is owned by ANA. Signs direct you to the hotel with plenty of parking. When you walk in the hotel lobby, proceed to your right. The Orchid restaurant is clearly marked.
Phone:  Reservations are recommended especially during peak tourism season (summer). They can be made by calling 098-966-221 2. You can also make reservations and buy tickets through MCCS, but even adjusting for the current poor exchange rate it would be more cost effective to go directly through the hotel. The Orchid accepts Yen and all major credit cards.
Hours:  The Orchid is closed on Wednesdays.
Website:  HERE
Whether you are new to the island and looking for your first big dose of Okinawan culture or you've been here for awhile and are looking for more, the Orchid's dinner show has a lot to be said for it: easy to find, ample parking, lots to food to sample and a guaranteed up-close encounter with the music and dancing of Okinawa.