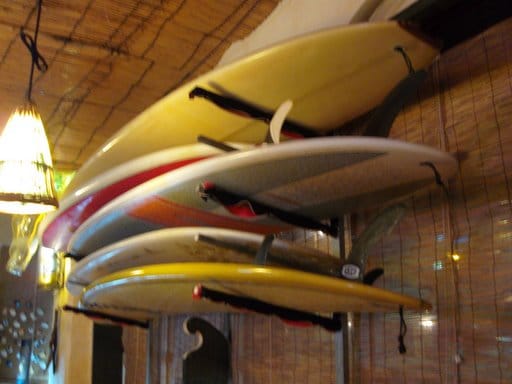 CONTRIBUTED BY JEN PRESTON
One thing my husband and I miss most from home is our local watering hole, Del's Cash Only Saloon.  It was a no-frills, karaoke / old salty dog pub that was in walking distance from our apartment. In LA this was a major plus, as we lived in our cars. We walked in to Del's, everyone new our names, and we could always count on a fun time and cheap beers. Living on the Sunabe Seawall, we are fortunate to have lots of good spots to congregate within walking distance.
One of our favorite low-maintenance bars around is the Tropical Moons.  It's right up the road from the seawall, just down from Kadena Gate 1 which makes it ideal for running home at 11:50 pm before my husband turns into a pumpkin.
I appreciate that there are the Airmen's, Officer's and NCO Clubs…and we definitely frequented them during the "period of reflection," but after a while that starts to feel like a frat party and I am waaay to old for that. And if I witness the Cuban Shuffle one more time, I might have to quit drinking all together.  If you have no idea to what I'm referring, consider yourself sheltered and lucky.
The Tropical Moons is the ideal local bar.  Anytime I've been there, we were the only military-affiliated people in there.  In fact, I am writing this blog in secret as my husband has forbid me from disclosing its name and location for fear that by the Power of Okinawa Hai, his beloved Tropical Moons is a weekend away from gentrification.
The decor: Hawaii shack.  Surfboards hang from the ceiling, bamboo lines the walls.  Surf videos play on the TV (from Sunabe to Malibu, yay!). Pool table. Random yet enjoyable tunes (Queen, Dire Straights, Bobby Brown, Ice T – it might as well be a karaoke bar for all the singing we do there.)
The ambiance: You get the impression that the guy who runs the place does so only because he can't surf at night.  Hawaiian and Japanese surfers in old skool T&C and Local Motion surf shirts. You know that scene in Blue Crush when the native surfer dudes gang up on the quarterback for surfing their local beach?  Yeah, those guys. (Don't deny, you know you've seen it.)
The mascot: A giant albino frog.  Because, why not?  He was unavailable for photos at press time.
Drinks: slightly limited cocktail menu – but it fits the beach shack ambiance.  Think $4 pints of Orion, $5 pints of Grapefruit & Campari.  If you're nice, the bartender usually makes a round of free shots later in the evening, but you didn't hear it from me.
Directions – go out of Gate 1, through the Pizza Inn parking lot, make a right, and it will be just prior to the first light on the right.