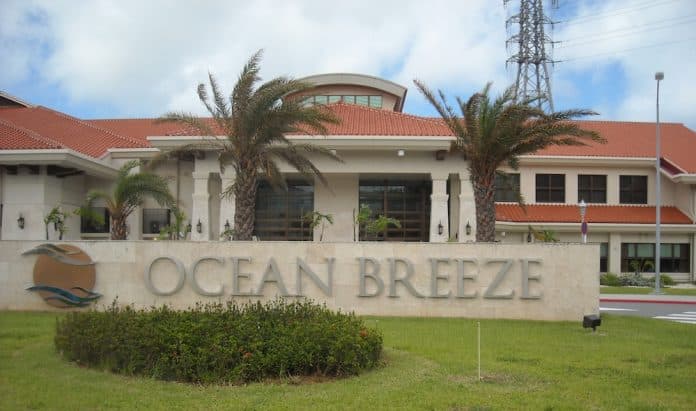 CONTRIBUTED BY LEEANN STEVENS

Ocean Breeze
Ocean breeze is one of my favorite on base restaurants. The two-level consolidated Club is a 44,000-square-foot facility that includes a 165-seat Mediterranean-themed dining room called The Veranda with booth- and banquet-style seating; two banquet rooms, the Northern Breeze and the Southern Breeze, to accommodate private parties and professional functions; a 118-machine gaming area; and both the Enlisted and Staff NCO lounges that retain their historic monikers of Globe & Anchor and Chesty's, respectively.
I have a few lunch dates with my girlfriends at The Veranda and I haven't been disappointed. I have tried the Italian, Asian, Hawaiian lunch buffets.  You can choose from a couple of soups and salads. I have enjoyed the corn soup as well as the green chili chicken soup. This was offered at the Asian and Hawaiian buffet.  For drinks you have the option of ice tea and water. It is self service.  You can also make your own parfait with the yogurt, nuts and granola cereal available.
With the main course, you have a wide variety to choose from. Sometimes there is a fried rice station, where you have chefs to prepare your rice to your liking. The serving is pretty small, but you always get to go back again for seconds!  My favorite dishes were Sesame Chicken (Asian) and Chicken Katsudon (Asian). From the Hawaiian menu, I enjoyed the Hawaiian-style curry.  For deserts you have a simple choice of cookies and brownies.
All lunch buffets are $8.95 for adults.
Here is their weekly menu:
Mondays: Chuck wagon
Tuesdays: Italian
Wednesdays: Asian
Thursday: Hawaiian
Friday: Catfish
You can view their detailed menu here.
The Veranda also offers weekend breakfast buffets. I still have to try them, but I hear they are good. It is open from 9am till 2pm.
If you do not want the buffet menu, you can choose from their regular menu.
Directions:  When you enter Camp Foster from the spot gate, keep going straight. You will see Ocean Breeze on your right at the first stop sign.