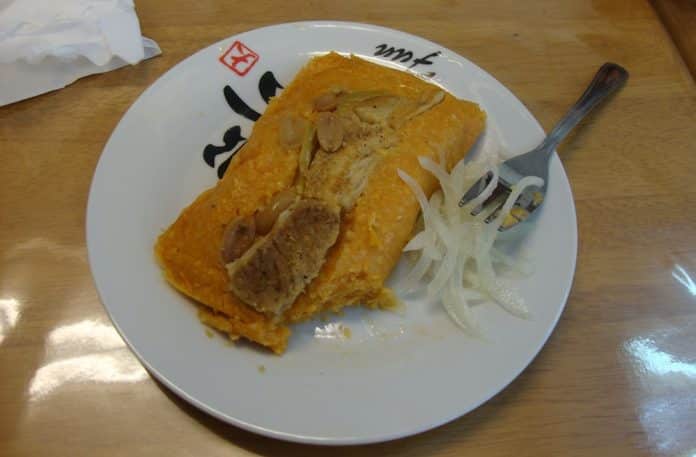 CONTRIBUTED MAYRA B.

We all have our list of the things we miss from the states. For me, one would be shopping malls where I can go browse & find the perfect items and check out, rather than the usual online shopping I do while being on the island. Next would be authentic Hispanic food! Growing up in New York finding diversity in Hispanic cuisine was never a problem. One day it was Colombian food, while the next it was Dominican or Salvadorian. I love me a good plate of Hispanic soul food. When I don't feel like cooking and want something different, eating out comes to mind. But being out here it's either Fast Food on base or some of the food that we can find at our local off-base restaurants. But where's the Hispanic food?
Well, after two years on island I can say I have been to one in Okinawa. After a GREAT recommendation from a friend I walked into the perfect place to meet my desire. I satisfied my taste buds at Titicaca, a Peruvian restaurant off gate 2 street. Titicaca is named after a river that lies between the borders of Peru and Bolivia.
After my friend mentioned this place to me a few times, my family and I, together with some friends, decided to check this place out! After getting lost a little, we found Titicaca. Good thing the Peruvian flag was hanging outside the restaurant! (There's a Bolivian flag up, too.) We had never had Peruvian food before so we stood outside and read their menu to make sure that this is where we were going to eat dinner. To our surprise their menu was in English & Japanese with Spanish dish titles. After getting hungry from reading the menu and looking at the pictures of the dishes, we decided we had to go in.

Once we went in we were greeted and welcomed by the owner and his wife, a sweet couple. After arranging tables and chairs for our big party, he asked us if we knew Spanish. With much delight we all said, "SI!!" Right there we knew this was it, a true mom & pops spot. They have many dishes — twenty-four — to choose from. With so much excitement in us we didn't know what to try. I decided on the Lomo Saltado, which is meat with tomatoes & onions mixed with French fries and served with rice…Delicioso! Within our group other things were tried which were all yummy too.
We also tried their tamales and empanadas. They were so good; we ended up ordering seconds on those. With each meal we had the option of choosing a set, which brings soup & a drink. I ended up getting the set with my meal and tried their blue corn drink, Chicha. It was good, similar to horchata. They also have Inca Soda, their traditional soda, or Coca Cola as a side order. They sell homemade pastries. Even after being extremely full we tried their cocadas, a small cookie made out of coconut. No disappointment there either. They also sell some Peruvian spices and canned foods to take home.
Nothing about the place or service disappointed us. The restaurant is decorated with Peruvian & Bolivian décor & frames. The owner speaks Spanish, Japanese, and we heard him speak some English too, so ordering should not be a problem. Being so far from home it was nice to be able to order our food in Spanish. The restaurant is small but has about 6-8 small tables and there's a section with tatami mats. It is also very kid friendly; I noticed a kid set on the menu.
Their prices are very reasonable and you get plenty of food on your plate to satisfy you. My dish set was 950 yen, without the set it's 800 yen. We love this place. We've been back several times. During lunch hours they do have a set price on certain dishes which includes dessert, with a smaller portion but still enough to have you leave with a smile.
---
Titicaca Peruvian Restaurant
Hours: 11am-8:30pm. Closed Sundays & Mondays
Phone:  090-1344-3688 and they have take out.
Payment:  Only yen.
Parking: The owner mentioned to us that the restaurant will provide you with free parking for an hour in the parking garage located in the left corner before you reach the restaurant, (the parking garage that electronically moves your car up & down). Just make sure you mention it to them before you leave the restaurant so that they can give you a ticket for free parking. Before knowing this we parked on the lot next to the restaurant and paid about 350 yen, not too bad.
Directions:  From Kadena Gate 2: Go straight ahead, you will make the last left possible on gate 2 before reaching the 330, you will see Mayco Optometry on the left corner. Once you make a left continue straight, after a few stores and restaurants, you will see the restaurant on your left, right after a parking lot across a sporting goods store.
From Foster: Exit the PX gate onto 330, make a left and head towards Gate 2 Street. Make a left onto Gate 2 Street and make your very first right possible, you will see the Mayco Optometry on the corner, turn there. Continue straight, after a few stores and restaurants, you will see the restaurant on your left, right after a parking lot.
Menu:  Click for larger view

Titicaca Menu 1

Titicaca Menu 2