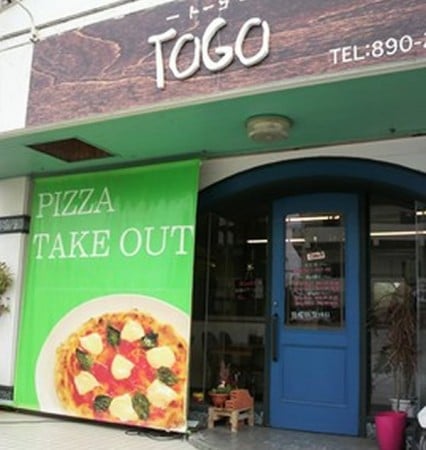 CONTRIBUTED BY TRISH KAPRIELIAN
I was cruising around one day in the area between 58 and the 58 bypass and found a pizza place called TOGO pizza. I had already eaten, but the pizza smelled good, so I ordered one. It was delicious! I took a menu and didn't go back until … I got a delivery menu for TOGO pizza. Yes, you read correctly: off base delivery! I didn't get my hopes up too much though, because the last time we tried to order from delivery menus, they just said "Japanese only" and hung up. Well, this time, English worked!
They deliver to Oyama, Isa, Ginowan and part of Chatan. Speak slowly and clearly, but you'll get what you ordered. I would start off with saying two pizzas, if you want two pizzas. My husband attempted his limited Japanese and we only got one, once. After that, I called and spoke English. Got what I wanted!
Yen only, but with a good yen rate, why pay in USD? I didn't like the four cheese because I'm not a huge blue cheese fan. The spicy pizza is my favorite. You need a minimum order of 1200 yen for them to deliver, but that's what most of the pizzas cost, so you're good. They also charge a 150 yen delivery fee. They deliver VERY quickly, so you won't be disappointed. The pizzas aren't huge, so if you're really hungry, you can eat one by yourself.
Address: 901-2224 Ginowan, Mashiki, 2-13-13
Takeout Hours: 11:00 a.m. – 2:00 p.m. & 5:00 p.m. – 9:00 p.m. Sunday thru Thursday and holidays; 11:00 a.m. – 2:00 p.m. & 5:00 p.m. – 10:00 p.m. Friday and Saturday
Delivery Hours: 6:00 p.m. – 9:00 p.m. Sunday thru Thursday and holidays; 6:00 p.m. – 10:00 p.m. Friday and Saturday
Phone: 098 890-2686
Payment: Yen only