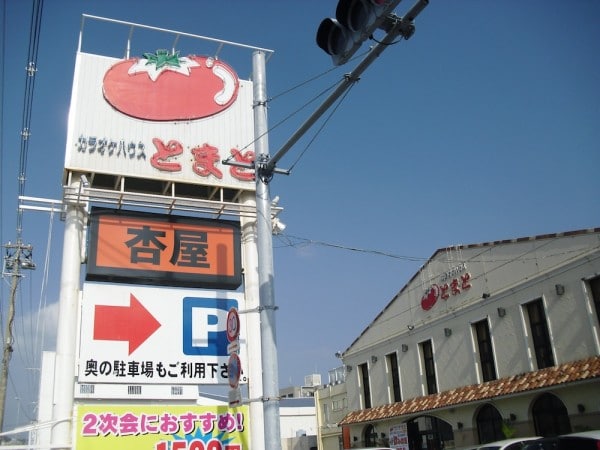 CONTRIBUTED BY DAPHNE SHAFER-REPASS
Have you also ever wondered about the big tomato on your way to Hansen?  Wonder no more.  It's a karaoke and restaurant/bar.  And don't let the bar part  keep you from taking  your kids.  Totally family friendly, with a play area in front and various kids' needs (menu, changing area, cartoons).  In fact, during the weekday lunch crowd, you'll be in good company with the grandparents!
My four-year old daughter and I stopped in for lunch, but I wasn't ready to try the karaoke yet.  (Also, we had to be back home before my son got home from school.)  But for Y290/person (kids free), we'll be back with the rest of the family.  We passed the karaoke rooms to wash our hands (nice big bathroom with several stalls), and saw some groups eating a huge spread of food across their tables: looked like a great time of eating and singing!  Incidentally, you can find English songs and lyrics, if you're not up on your J-Pop.
If you're too shy to sing, you can eat at one of four tables in front.  You order at the counter from a full glossy menu, many traditional Japanese main dishes and sides, also pizzas, salads, French fries, etc.  I didn't see how much drinks cost, but it looked like they do have a full bar.  My daughter and I shared a Japanese salad with big blocks of tofu, yakisoba, and a Korean pancake, which totaled Y1500.  And we took most of it home, there was so much!  It was good food; you get just what you expect.  And I'm a big fan of yakisoba.  The next time you want to make an event out of dinner, give it a try — you may just be humming all the way home.
Website:  www.k-tomato.co.jp
Email:  tomato@wjm.jp
Phone:  098-963-0122
Hours:  Sunday-Thursday 11:00-03:00, Friday-Saturday, and days before a holiday 11:00-05:00.
Payment:  Yen and credit cards only.
Directions:  Take the 75 north towards Hansen.  Make a right at 329, and drive about 3km.  And yes, you'll see the big tomato on the right, across from Family Mart.  You can park in front of the building, or in one of several parking lots down the small street to the right of the building.  (Several other locations can be found on their website.)
Menu: