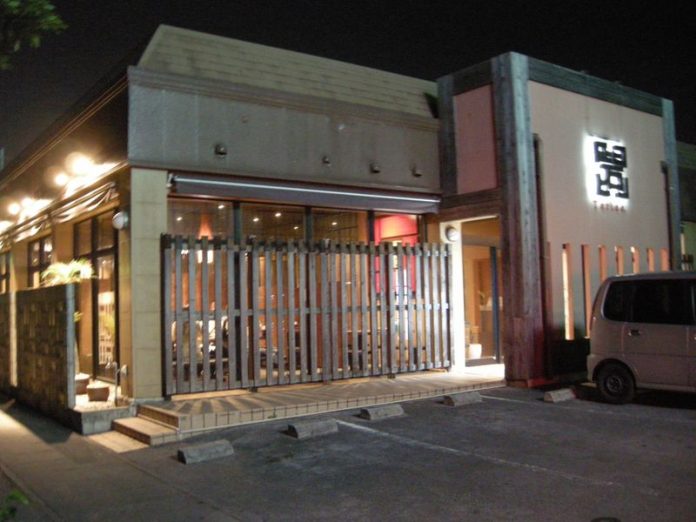 CONTRIBUTED BY JOY BARNES
Located within walking distance from Courtney and McT, I'm always surprised by how few people have tried one of my favorite restaurants here on Okinawa – Toride (pronounced Tori-day).  It is a not so "hidden gem" that seems to be overlooked by many Americans searching for great Japanese food.
I would classify Toride as an izakaya – a relaxing atmosphere to have a few drinks and order a bunch of small dishes to share with your dining partners.  I always think of izakayas as the Japanese equivalent to a Spanish Tapas bar.  And when I say "a bunch of dishes" I'm not joking.  Toride's menu has around 80 items to choose from – everything from sushi to potato pizza to fried chicken skin.  In a previous menu translation the fried chicken skin was called "fried cock skin" – not the most appetizing menu selection to us Americans!

As is the tradition at an izakaya, when you first sit down you are served a small appetizer – at Toride this is typically a few bites of a relish, fish or cold noodle dish.  It is customary at most izakayas to include a small cover charge, that is added to your bill, for this small dish.  At Toride this is Y300 per adult and no charge for children.
I've had more items on their menu than I like to admit but I certainly have my favorites.  The gyoza in spicy soup has the perfect blend of soy and vinegar flavor with a red pepper kick at the end; the sauteed asparagus is tender and juicy and the fried camembert cheese is served with a sweet raspberry sauce.
Of the large selection of yakatori, the wasabi chicken is my favorite.  This menu item is not for the faint of taste buds though.  You have to be a serious lover of spicy foods to enjoy the intense flavor that seems to shoot straight up your sinuses – but in a good way!

There are two items on the menu served in the "hot bowl" – the chicken with cheese and tomatoes and the kimchi pork.  They are both served over rice in a steaming stone bowl.  When the waiter brings the hot bowl to your table he mixes the dish in front of you, melding all the delightful flavors together.  For the chicken and cheese bowl, as the dish sits for a while, the cheese gets gooey and sticky and is absolutely delicious!  Both are excellent choices and offer a heartier alternative to the small dishes.

No meal at Toride can be complete without the beni-imo sticks for dessert.  The traditional Okinawan purple sweet potato is mashed, wrapped in wanton paper and fried.  It's served with a small dish of cinnamon sugar which makes it impossible not to double-dip.

The industrial decor of Toride, complete with plywood tables and rebar, is modern and funky.  Each table is set up in it's own private alcove so it makes Toride the kind of restaurant that can work great for either an intimate date night or for a fun outing with a large group of friends.

We've brought our kids many times but I'm not sure I would classify this as a family restaurant.  The after-work crowd can get a bit loud late in the evenings and I don't think I've ever seen a highchair.  That being said, with the private seating, I've never worried that our fidgeting four year old or fussy baby would bother other diners.  So, whoever your dining crowd may include, you should definitely take the time to try out the great dishes at Toride.  Overlook this great place no more!
---
Toride
Payment:  This restaurant takes Yen only but has a new stamp card.
Hours:  Open everyday, for dinner only, from 5p.m. until 1a.m.
Address: 4 Chome-19-5 Midorimachi, Uruma
Google Maps Coordinates: 26.374796170637303, 127.8559044020734
Directions:  Toride is locatedon Route 8, just 2 blocks east of the Rt. 8 and Rt. 75 intersection.  If you're coming from the McT area, take a right out of the gate and follow on Rt. 8, pass the 75 intersection and Toride will be on the left side of the road.  From Courtney, take a left on to 75 from the Main Gate, then take a left onto Rt. 8 and Toride will be on the left side of the road.