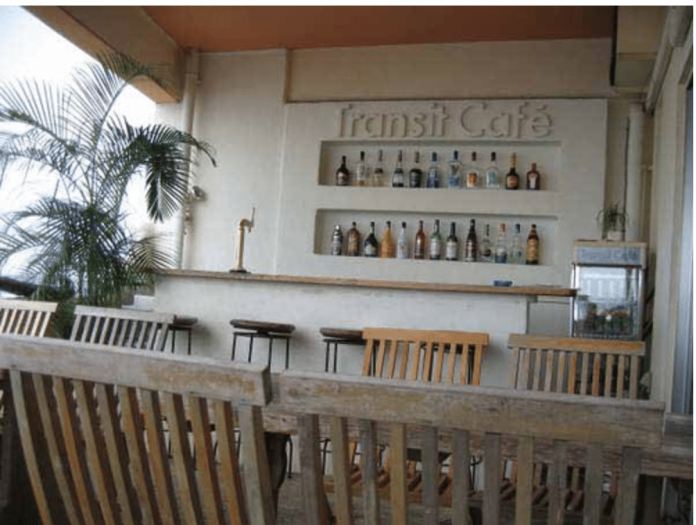 Editor's Note: Transit Cafe was originally reviewed on Okinawa Hai on March 20, 2007; you can read a PDF copy of that original review HERE. The post below is an updated take on this restaurant, published May 20, 2013.
CONTRIBUTED BY SHELL BURGER
I was first introduced to Transit Café by pure accident. Some friends and I were searching for a place to eat after getting pedicures at CocoK by the seawall, and stumbled upon the sign for Transit Café.  We decided to chance it and wandered up the stone stairs.
To our surprise, the place was packed on a Thursday night; even though we did not have a reservation they found a spot for us at the bar. Little did they know that by working us in that night they created a tradition for us.  Now each time we get pampered we end our "girl's night" with dinner at Transit.
The food at Transit fluctuates on the availability of ingredients, but they typically always have certain staple dishes.  One of my favorites is the cheese fondue.  I normally get the large platter that includes meat, veggies, and bread to dip.  Honestly, I can normally make that my whole dinner.  My two year old daughter loves the fondue also; we normally order extra bread and share it.  
The fondue is not all they are known for; their specialty drinks (like a Carmel Mocha) are amazing, entrees are magical creations, and their desserts are very decedent. A few of their deserts are the Brown Sugar Cake, Cheese Soufflé, and Tiramisu.
Luckily some of my co-workers ordered these so I could snap some photos. They told me they were amazing. They also have a fully stocked bar and have pages of alcoholic and non-alcoholic drinks in their menu.
I have now eaten at Transit several times and enjoyed several of their dishes. One of the most unique items I have had is the Quattro Cheese Pizza with honey. Unfortunately, I always dive into it before I remember to snap a photo. I have also had their Caesar Salad, which made me crave more of it. It was probably the best Caesar Salad I have eaten.
Their menu also varies on the time of day you go. If you go for lunch you will be limited to their lunch menu, which, I am sad to say, does not include any of their tasty pizzas or the Caesar salad. They do offer lunch sets and the cheese fondue. They have a few salad options, one of which is not called a salad, but an Open Faced Chicken sandwich. I rolled the dice during lunch last week with my coworkers and tried it. It did not disappoint; it was very tasty and filling.
The ambience at Transit is very peaceful and serene.  Transit Café is located on the seawall, and if you are lucky enough to sit on the balcony (I recommend making a reservation), you will be able to see the beautiful ocean while enjoying a delicious gourmet meal. If you are interested in observing them make their creations, you can sit at the bar inside and watch magic happen. They do make the food to order in the small open kitchen, so be prepared to wait a little while for your food. Trust me though; the wait will be worth it.
Hours: Lunch 1100 ~ 17:00 (OS 1600)
            Dinner 17:00 ~ 25:00 (OS 23:50)
Phone: 098-936-5076
Website: http://www.transitcafe-okinawa.com/transit/index.html
Payment: Yen and Credit.
 Directions: It is located in Chatan on the seawall. From Kadena Gate 1, turn left onto 58. Take your first right (GI Bill Pay and Sunny net will be in the shopping plaza on the right corner).  Follow that road straight until it dead ends at the sea wall. Turn right (traffic will be one way on this street). Transit will be just on your right. I normally park along the seawall.  
Address: 2-220-2F Miyagi, Chatan, Okinawa
This post was featured in Stripes Okinawa!