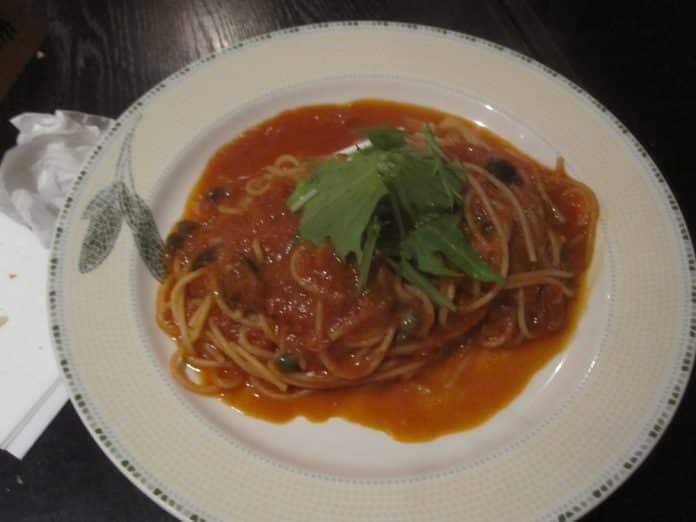 CONTRIBUTED BY MONETTE EAMES
There's just something about walking into a restaurant where the entrance reminds you of narrow cobblestoned streets you can find in Little Italy's all over the world—Canada, Chicago, Boston, Baltimore, and of course, New York. When we walked into Trattoria Ancora here in Okinawa, I immediately thought of our last Little Italy visit in Baltimore many years ago. I thought of the Italians bustling around right before the neighborhood movie under the stars and the scents of cheese and tomato sauce oozing out of pizzas as we entered. It simply excited me to know that such a place exists here in Okinawa.
We were greeted by a whimsical chef made of cold cast resin that you see at many Italian restaurants—you know, the one that's holding a chalkboard with today's specials on it. That's when we realized that we were possibly in Okinawa's Little Italy.

Trattoria Interior
Like many Okinawan restaurants that we've come across, our entrees came in a set. The breads were delicious—fresh, warm, and toasty with a side mixture of cheese and olive oil to dip in. The appetizer was like a fine dining appetizer with some kind of quiche, salad with raw fish, and a toastette with a spread of shrimp paste. All these were very delicious.

Trattoria Appetizer
Then our entrees came, and again, they were just wonderful. To make it even more special, they were a little on the fancier side compared to the meals you get at any Little Italy restaurant.

Trattoria Pasta

Trattoria Dessert
The homemade desserts were also delicious. Nice jazz music was playing in the background which created a special ambiance. The waitresses checked on us every so often, and gave our family specialized attention. They brought more bread for us when she noticed our sons devoured the first basketful in a few minutes, giving our sons 'extras' when we didn't even order them. What more could we ask for?
Hours: Lunch 11:30-15:30 (Last order 14:30), Dinner 18:00-23:00 ( Last order 22:00), Closed Thursday
Phone: 098-934-8182
Directions: Go directly out of Foster's Legion Gate and travel straight on 81.  Go straight for about 5 km, and at that point you'll go through two tunnels. You'll see a San-A on the left. Take a right here. Drive until you see a building with an anchor at the top. Park across the street by the sea wall.
Payment: Yen
Note:  Trattoria Ancora is located just a shop away from Garyu-ya Ramen Shop.