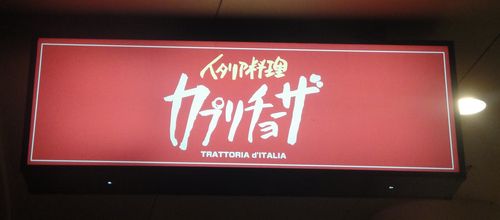 CONTRIBUTED BY LISA
Italian restaurants are by no means hard to find on Okinawa. Everything from lasagna to homemade cannolis are available both on- and off-base. Trattoria d'Italia is located in American Village, just to the right of Tony Roma's. Since this little eatery is somewhat hidden beneath the stairs and sandwiched between the movie theatre and Tony Roma's, it's rarely filled up. On nights when American Village is packed with people admiring the sights, chowing down on a few kilograms of Yogurtland and enjoying the waves at Sunset Beach, this restaurant can be a nice escape from it all.
Like so many other restaurants here on Okinawa, Trattoria d'Italia offers a huge window outside so you can see what their food looks like when it's served-and yes, the calzone really is that big! Unfortunately all of the placquards are in Japanese, which can present a problem for most of us! A huge menu stand is just to the right of the front door with tons of pictures. Beneath each name and description in Japanese are English descriptions in smaller letters. It makes it easy to go back and forth between the showcase and the menu to figure out what's what. All prices are listed to the right of the item.
The interior of the restaurant is very muted, with dark wood paneling on the walls. There are both booths and tables available, all in Western-style seating. A full English menu is available, as are English speakers most nights of the week. If your waiter or waitress cannot understand you, they will go fetch someone who can. There are no push buttons to call the servers to the tables, but at this restaurant they're hardly needed — the service staff is incredibly attentive. For parties of more than two, they often leave a carafe of water with a twist of lemon in it to enjoy while they get your food and attend to other patrons.
We ordered several courses: garlic bread, corn soup, eggplant and bacon (without the bacon!) pasta and four scoops of ice cream for dessert. The garlic bread is made from a baguette, with real garlic and oil baked until crisp. The corn soup can easily be shared amongst three or four people and the restaurant provides bowls for sharing when it is served. The serving bowl easily holds a quart of soup. The pasta is thick and doughy and the tomato sauce has a slight kick, but there was plenty for both of us. The ice cream changes every so often, but that night we were treated to chocolate, strawberry, vanilla and green tea, all of which were sinfully delicious. For those looking for a glass of wine or a simple soda, Trattoria d'Italia has a full wine list and several soft drinks to choose from.
The food is superb, but there is one downfall! A small yellow box on the English menu warns you that they cannot allow you to take your leftover food home with you. This restaurant does not have take away boxes or the ability to take 'to go' orders. The meals are deceitfully small but always manage to fill even the hungriest of people we've taken with us. If you intend to bring your food home, remember to bring a tupperware container from home or purchase something to bring it home in at the nearby Jusco. We have asked if this is acceptable to the staff and they have always encouraged us to do it. We don't waste anything and it gives them less to clean up. And like all Italian food, it's even better after it's been left to cool overnight and be reheated.
On the other hand, if you feel you haven't eaten enough, this restaurant is more than happy to bring you appetizers throughout your meal.
This restaurant allows smoking indoors, but it is very well ventilated. We hardly noticed when the Japanese couple behind us began to smoke. For couples with no kids or those out on date night, you may be in luck. The multiple times we've gone, we've only seen one couple with a child in the restaurant. I also did not notice if they have highchairs.
Hours: Trattoria d'Italia is open from 11:00 until 23:00 every day. The last order is taken at 22:30 so the kitchen can close.
Payment: This restaurant is happy to take Yen, Dollars and, fantastically, credit cards of all varieties-including American Express, Visa, and Mastercard.
Location:  In American Village between Tony Roma's and the Theater.
Menus:  Click each photo for larger image.
**Note from writer:  The full name of the restaurant is Cappricosa Trattoria d'Italia (Whimsical Italian Diner, basically) but the only signs at ground level only read 'Trattoria d'Italia'. There's no mention of Cappricosa anywhere, even though it's there on the side of the building.