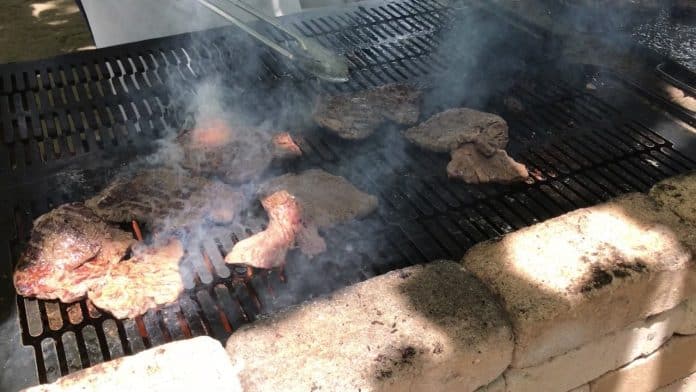 Cafe & Bar Tsuken Terrace at Tsuken Island
Contributed by Louise Dupuy
Video and Photos by Pete Leong
Tsuken is a little known island only a 30 minute ferry ride from Heshikiya Port in Katsuren. Whilst it is possible to visit the island without a tour, it is harder due to limited availability on the ferry for cars, no rentals on island, and very little transport. There are no hotels, restaurants, and only one shop. Grand Mer Okinawa offers a package to allow an easy and pleasant visit to Tsuken via their Cafe & Bar called Tsuken Terrace. Here's a breakdown of how it works.
Getting there
Tsuken is accessible only by ferry. You can make your way to Heshikiya Port, park up and meet your tour guides. If you are a guest at Grand Mer resort you can use their shuttle bus which will take you to the port and back to the hotel afterward. The ferry departs Heshikiya at 9.00am, and returns at 3.30pm (departing Tsuken at 3.00pm). There is also a shuttle bus on Tsuken to take you to the Cafe.
What's included
The package includes shuttle buses, ferry fare both ways, lunch, insurance, and use of facilities including the beach, bar, shaded table, shower, restrooms, and changing rooms. The cost is 7000 yen.
Food and drinks
Lunch is served from 11.30am – 1.00pm and includes grilled vegetables, rice, and grilled steak. It's all you can eat, so have as much as you like. Soft and non-alcoholic drinks are available to purchase, and you can buy alcohol at the bar too if you like. There are also desserts available but this is also extra. Shaved ice topped with choice of mango, pineapple, dragon fruit and ice cream is 1000 yen, and fresh fruit is 500 yen. The food is freshly cooked on a huge brick grill and it's delicious and filling. The desserts are very generous portions, we shared our between 4 people, and ideal for cooling down on a hot day!
Optional extras
If you want to do a little more than eat, drink, and laze on the beach, you can sign up for any one of the extra activities. There's snorkeling (5000 yen for 1 hour), Stand Up Paddle board (3000 yen per hour) and it can be used by your group within that 1 hr, banana boat (1000 yen) and rubber rings. Yen cash only as payment. There are no ATMs on island, so be sure to take money with you before you leave Okinawa.
For the snorkeling, you take a smaller boat from the beach to out by Tsuken port, and all equipment (snorkel masks, tubes, flippers, and life vests) is provided. There are two members of staff with the boat who will do a safety brief and help you with equipment if you are unsure. It's very enjoyable. The cool, crystal waters are a welcome break from the heat, and the marine life is very pretty. Staff will throw food into the water to attract fish, and there is coral close by with many colorful fish flitting in and out.
The highlight for me were the bright orange clown fish! SUP (Stand Up Paddle board) is also pretty fun. If your core strength isn't up to par, kneeling or sitting is also acceptable! If you've ever kayaked, it's pretty easy, and even if you haven't, once you build a rhythm it's quite cathartic.
Looking for a thrill? Try Big Mabel. Big Mabel is a large inflatable chair that seats up to four people and is dragged around behind a jet ski. It's ridiculously fun. Be sure to hold tight, leave valuables on the beach, and take glasses/sunglasses off unless you want to donate them to the ocean like Reggie did!
Other information
The tour can accommodate up to 80 people, which is a very generous amount. They also have English speaking guides to assist you. Finally, the excursion is weather permitting. If sea conditions are poor, it will be canceled. In the event of a typhoon, it will be canceled.
Conclusion
This is a great way to see a little slice of the peninsula without having to overpack, worry about not getting on the ferry due to it being booked up, or struggle to enjoy your time there due to language barriers or lack of transport. Its an awesome choice for a daycation, unlike Izena Island which would take much more transportation time. We had an awesome time on our day trip excursion here and we are glad to say that they are our affiliates as well. For more information, check out the Grand Mer Okinawa's website here: (available in Japanese, English, Chinese, and Korean) or call them on 098-931-1500 and tell them you saw it here on Okinawa Hai. If you would like to book a reservation to Tsuken Terrace please click the book now button below.