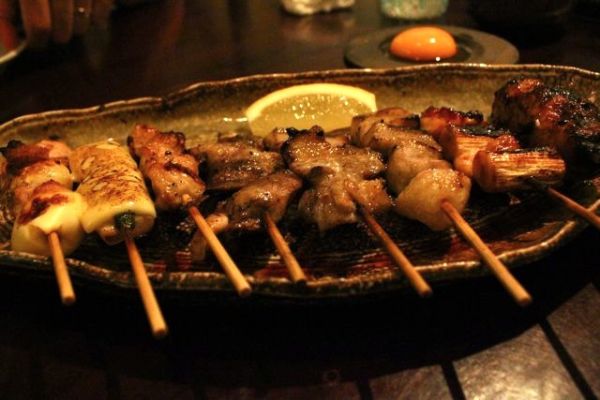 CONTRIBUTED BY CHRISTOPHER DONG

Tsuki Window
It was a clear, crisp night as he journeyed along Hiei mountain route. The twilit sky glowed dark and immense, path softly illumed by the white blushing moon. As he hiked towards the temple, the calm that surrounded him amplified the sounds of his own movements; the deep rush of breath breathed in and out, the crunching and scraping of the gravel underfoot, the shifting of clothing about his person. He had always understood the deep significance that radiated from his hometown in Kyoto Prefecture. His own father was a pottery artisan, and instilled in him the balance of senses, the substance and beauty of simple things. Tonight the moon planted an idea into Yuichiro's head, one that suffused the things he held dear. He grinned, and named this idea Tsuki To Utsuwa (Moon and Pottery).
Located in Chatan, just South of Sunabe, Tsuki To Utsuwa is one of the best Yakitori restaurants on island. Yakitori is a popular form of Japanese cuisine involving grilled chicken or meat and vegetable assortments cooked and served on bamboo skewers. Believed to have originated during Japan's Edo Period, Yakitori (literally "grilled chicken") was served in food stalls as convenient meals enroute to temples and shrines. Chicken meat was expensive, so the more primal parts were often grilled to serve. As with any poor man's food, chicken scraps, skin, butt, cartilage, and liver were made appealing through culinary skill and finesse. Today, these parts are the height of demand.
Not to say that these tasty morsels are the only items you'll find on the menu. Tsuki To Utsuwa rounds its fare with select chicken, local pork, and fresh vegetables. You'll find that this restaurant exudes careful selection and balance; the meats are ordered and prepared daily, while the vegetables arrive direct contract from farms in Kyoto, a region famous for its produce. The wood charcoal used to grill is hand-selected and carefully heated one hour prior to service. "They are living things," Yuichiro says, and as the source of life for his establishment, Yuichiro tends to his coals with loving care. Also note that along with a great selection of Japanese spirits, Tsuki To Utsawa also offers a choice wine list.

Tsuki Appetizer
One of the first things I noticed as we took our counter seats was the weightlessness of the chopsticks. Shapely thin and poised, these balanced utensils set a precedent for the experience to come. I ordered a frosty mug of Heartland Draft. Seldom found in Okinawa, Heartland represents Kirin brewing company's craft lager; clean, hoppy, and refreshing. Perfectly paired with our appetizer, Kyuuriage (deep-fried cucumber), which came scalding from the fry, amazingly crispy and juicy, with a good spritz of lemon. Encore was a soothing sesame tofu, cleansing and preparing us for the main course.
I pressed my face up to the glass that separated me from Yuichiro's grill. Juices bubbled, meats crisped, and smoke enveloped my eight chef's choice skewers. Pork, chicken, liver, butts, cheese, basil, and leeks, each shiny from a coating of sauce, uniformly perched, suspended atop the grill, sizzling and caramelizing. To the left were smoldering tomato, fava beans, pumpkin, and eggplant. The layering of flavors was amazing: salt to sweet, sour to savory, each stick delivering varying sensation. Second wind, and sake was the answer. Yuichiro passed me a basket of cups handmade by his father, a beautiful earthy brown one called to me.

Tsuki Skewers

Tsuki Food
As I dropped the final naked skewer into a wooden jar and tipped back the last drops of sake, Yuichiro asked if there was anything else I would like. "Onaka ga ippai" (stomach is full), I said, and he grinned, as only an artisan would grin, knowing that someone has appreciated his craft.

Tsuki Drink
Eat, drink, see: London Liver, Kirin Heartland Draft, Yakitori chef at work.
Hours: 1800-0100, Last order 2400
Payment: Yen, Credit Card
Menu: Japanese and English
Directions: From Kadena Gate 1 — Turn left onto 58 South, turn right at the first light after the 23.  Then turn left at the 4th road and the restaurant will be on your left — green sign out front.
This post was featured in Stripes Okinawa!