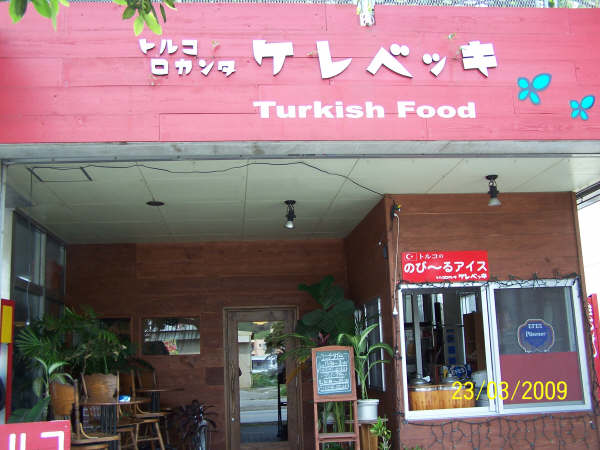 CONTRIBUTED BY DIANA MIDDLETON
My dear friend Julie had to add pages to her passport (yes, I know, poor thing) and my other dear friend, Inanc, highly recommended this restaurant near the embassy. And that's how it all started! Kerebekki–that's the name of this fabulous restaurant (which means "Butterfly" in Turkish)! If you're looking for authentic Turkish food (or even if you're not looking, it's worth trying!) then you need to check out this place. Coming highly recommended by Inanc, who happens to be from Turkey, this place serves the best Turkish food I've ever eaten.
The meals are reasonably priced around 1000 yen per set. With your food you receive free hot tea, a salad, a soup, some beans and then your main course. I tried desperately to write down what everything was with Inanc's help, but you'll have to forgive me if I misspelled or misidentified some of the food. I had a caban salata (Shepherd's salad), ezo gelin (red lentil and bulgar) soup, taze fasulye (green bean type dish with tomato sauce) and for the main course I had the doner kebab with rice. A lot of the ladies I went with had the doner and humus pita sandwich.
After the meal, we purchased some homemade ice cream from the owner who churns it while you wait and provided a little entertaining show before handing it to you (I thought he almost dropped it but he was just messing around). The ice cream was so delicious and it was fun to see how the owner interacted with the customers.
I don't think you will be disappointed with this find. All of us thoroughly enjoyed the food and atmosphere! Thanks Julie for traveling so much and thanks Inanc for knowing about this place. You gals rock!
click to enlarge menu
---
Kerebekki Turkish Restaurant
Hours: Closed Wednesdays. 11:30am – 3:00pm for lunch; 6:00pm – 11:00pm for dinner
Phone: 098-944-4747
Address: 558-2 Onaga, Nishihara
Google Maps Coordinates: 26.2389011, 127.7459748
Directions: To get there, head south on 330 until you reach 241 (it's just past expressway entrance #2 and you could take the expressway to this exit, Nishihara #2 and just turn left on 330). Take the service road to be able to turn left on 241. You'll see the American embassy on your right. Just keep following 241 until you reach 38. Turn left onto 38. Once on 38, you'll see a huge sign "JEF" on the left and a bike shop on the right. The Turkish Restaurant is immediately past the bike shop on the right with a red sign.
Website: http://r.gnavi.co.jp/f260500/