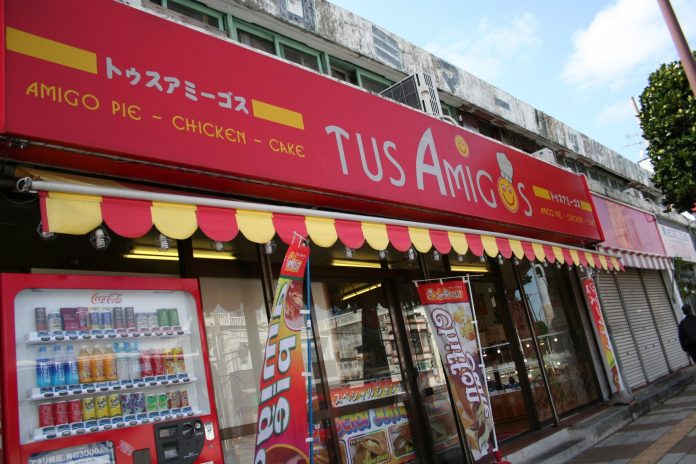 CONTRIBUTED BY KELLY GARCIA
There was a time when my "go-to" foreign language was Spanish. If I needed to speak a language other than English–any language–my brain would shuttle Spanish words up to my lips and out of my mouth. I'm sure I've befuddled many an Okinawan with my Dondes and Por favors. But on a recent trip to Tus Amigos, an empanada/bake shop on 330 near Gate 2 Street, I was confronted by just how much things have changed.
Carmen Yakabi, an Okinawan-Peruvian, stood behind the counter when I entered. I knew she was Peruvian because a friend had told me, but I asked her anyway to break the ice. First I asked in Japanese, which didn't go so well, probably because my Japanese is so busted. Then I tried English, even worse. Finally, I pulled out my Spanish. That did the trick. We were conversing in Spanish! It had been a LONG time since I had spoken Spanish and it felt so good to be back again. But it didn't take two or three sentences before…  My…. sentences…became like…this. Stilted. Choppy… And full of Japanese!  Which I guess is my new go-to foreign language.
Nevertheless, it was awesome speak with Carmen, even if for a few moments.  She's just one of many nikkei (Japanese emigrants and their descendants) who was raised in South America.  Many nikkei hail from Okinawa, and there are large concentrations in countries like Peru, Argentina, and Brazil.  As Okinawa's economy improves though, more and more families have been returning to their homeland, bringing Latin American language, food, and culture with them.
In fact, when I was at Tus Amigos several middle-aged Japanese women walked in, sat down and started speaking to each other in Spanish. Another woman added to the hodgepodge of languages when she started chatting me up in English, telling me about her BINGO habit and how she used to work on base for 10 years.  She must have won that day, because she wanted to pay for my purchases.  (I told her that wasn't necessary and ordered a piece of sweet potato pie for me instead.)
What I ordered was a bunch of fried things.  I wanted an empanada.  It was HUGE.  When I asked Carmen if that's how they do them in Peru she told me Tus Amigos had adapted the size–they were much smaller in Peru, but that the filling was the same (adding, however, that each family has a different filling recipe). The one I got spicy meat and cheese filling.  I also got a fried mashed potato ball with cheese center–potatoes, cheese and fried.  Three of my favorite things.
My favorite thing there though, and what I go back for are the fabulous alfejores–two small crumbly cookies dusted with powdered suger, with a wonderful caramely dulce de leche filling.  I hate to create impossible expectations, but I think they are just terrific.
By the way, I'm not sure, but I think if you ask you can wait to get your items fresh from the fryer.  I didn't do that, but the other ladies were all waiting patiently on the bench while Carmen's husband was frying something in the back.  Also so you know, there is no parking, just pull up to the curb at storefront.  No tables either.  It's like street food with a roof!
---
Tus Amigos
Hours: Open 11:00-20:00  CLOSED Sundays
Phone: 098-930-0168
Address: 1 Chome-1-1 Yamazato
Google Maps Coordinates: 26.3245938, 127.79280970000002
Directions: 
From Kadena – Head out Gate 2 and turn right at the Koza Music Center onto 330.  Tus Amigos will be on your right not too far down from Gate 2, after the Pachinko Parlor w/ a yellow crown and before the Rte 24 intersection/Climbing Gym.  You'll actually either have to make an illegal U-turn after it at the Rte 24 intersection or turn onto 24 and turn around to get back onto 330 and then look for Tus Amigos on your left after the climbing gym and before the Pachinko place.  (Is that confusing enough for you?!)
From Foster – Turn left onto Route 330 going north to Kadena.  Look for the intersection for Rte 24.  There's a Climbing Gym on the corner.  Start looking for Tus Amigos on the left after the gym and before the Pachinko Parlor.  Often there's a taxi or cars parked at the curb out front.