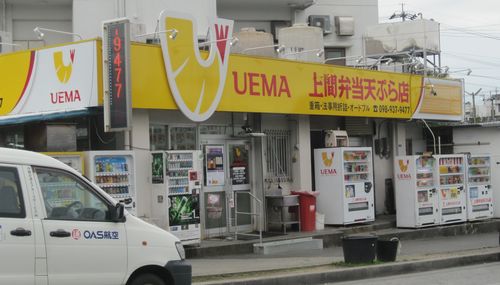 CONTRIBUTED BY MONETTE EAMES
Every morning, if you're driving on the 36 from or to Expressway exit 5, you may find lots of Japanese construction workers in their baggy pants trickling in and out of a building with a huge yellow sign with the word Uema.
Sometimes they emerge with a white bowl stuffing their mouths with soba or tempura.  Sometimes you'll see them eating in silence at the covered old, shabby, but clean outdoor area.  There are also the guys who eat in their work trucks.  Then there's me, amidst the sea of gray and seafoam blue uniforms–a little American getting my share of tempura, bentos, and soba for my family.
Back home, we called these places Okazu-yas.  Okazu meaning side dish and "Ya" meaning shop.   They're restaurants that serve carry-out foods where you pick and choose what you want from the plethora of side dish platters.  At Uema, you get some tongs, a plastic bag or tray and pick your food to your heart's desire.  Most of the food at Uema is tempura style.  Squid legs, fish, shrimp, chicken, vegetables, are just a few selections to choose from.  The great thing is, the prices for tempura range from Y50 cents to a Y100!
In addition to that, there are bentos, cone sushis, rice balls, Okinawan donuts and bowls of soba.  There's no sign for the soba, but you'll see them all stacked up neatly for the morning rush.  A soba bowl is Y100.
No one speaks English here, but right next to each platter, there's a tag that tells you what it is in English and Japanese.  The lady who is usually at the register is really nice and she tallies everything on her calculator then shows me the total.  They also sell party platters at reasonable prices.  If you're in the area, stop by.  I'm sure they'd love to see new faces besides the usual morning construction crew crowd here!
Hours of operation: 5:00 am to 8:00 pm
Payment Types:  Japanese Yen
Telephone Number:  098-937-9477
Address: Okinawa, Noborikawa, 3 Chome 県道36号線
Google Maps Coordinates: 26.374056989438042, 127.82311947510652
Directions:  From Exit 5 on the expressway go straight.  Uema will be on the right.  Look for a bright yellow sign and lighted scrolling neon sign.