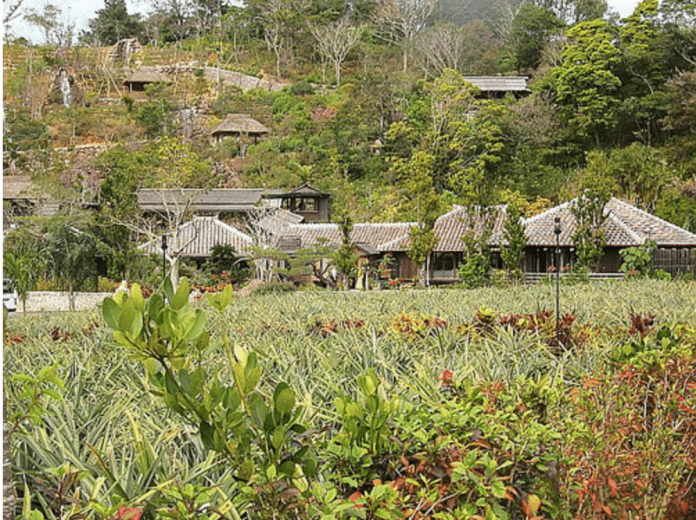 Ufuya, originally uploaded by okimamas&papas.
CONTRIBUTED BY KAHO (March 2007)

Ufuya means a "big house" in the Okinawan dialect. This is a great restaurant to go if you're in the Nago area or to stop by before or after visiting the Chura Umi Aquarium in the north. We always go there after our aquarium visit. They do not take reservations on weekends as it gets very busy.  We've waited outside of the restaurant with our 2 year old and it is not a hard to place to wait with kids as there is a waiting room, water fountain, wooden swing, and a pineapple field outside.
If you have out of town visitors, they will enjoy this restaurant very much. We've seen families with kids at the restaurant and we've always felt comfortable taking our child. They have private rooms, so if you go there as a big group, it is possible to get a room if it is available. They mainly serve Okinawan soba, but some other dishes are also available and the prices are very reasonable. There are inside and outside seating. If you are seated outside, you'll be able to view a nice waterfall.
The restaurant is open all year round.
UPDATE DECEMBER 2011, BY JULIA POOLE:
[The original post] was written in 2007. I have no idea if anything has really changed with the restaurant since we just got here but what we encountered was certainly different than we expected.
We pictured a nearby place to eat some yummy food and be surrounded by beautiful scenery. We went at dinner time and taking note from the post we knew Ufuya would be closed from 5-6pm to prepare for dinner. We actually got there a little after 5pm but sat in the parking lot waiting for them to open, we were that excited to try it out! As it grew closer to 6pm the place really came alive. All of the sudden beautiful torches were lit and a few cars started to pull into the parking lot.
We began to realize that maybe this place was a bit "nicer" than we had figured. Nothing about price or dress was mentioned in the post, just that people went there for lunch and [Kaho] took [her] toddler. As we saw people going in we noticed that they weren't exactly wearing jeans and t-shirts like we were. We debated staying or leaving. By then it was dark and had started to pour rain so we went inside.
It was a gorgeous place! We were asked to take off our shoes (next time we won't be wearing flip flops! socks would have been more comfortable) and were escorted to a small private room next to a waterfall. We were seated on the floor and given the menu. We knew Ufuya only took yen so we came prepared. However, we weren't expecting dinner to be 3,100 to as much as over 7,000 yen per person. We had only pulled 5,000 yen out of the ATM and wrongly assumed that it would be plenty to get dinner with. After some awkward conversation with our waiter we ordered a set that seemed to include several different things for my husband and I to share. Luckily it ended up being just enough, especially since we had just made our rounds at
the Pineapple Park
, but it certainly made for an awkward moment.
Our food was brought to the table and some things we liked, some we didn't care too much for. I'm sure the food was fabulous to someone who was familiar with what exactly was on the tray. I still have yet to figure out what everything is that I've been eating since we got here! We had no idea how to eat with chopsticks and from what I could tell there wasn't a fork to be found. Luckily, everywhere we go my 3 month old is given her own bowl, fork and spoon. Yes, we used the baby silverware. I'm so glad they put us in a room away from everyone else.
At the end of the evening, we had a wonderful time. Yet I wish I would have known a lot more about what to expect when visiting Ufuya. Maybe instead of a place to go after a nice day at the aquarium, it would be more of a place to go on our anniversary or just a dinner date without the baby. I understand a place can really transform from lunch to dinner, and that might have just been the case.
Payment: Yen only
Hours: Day 11:00 – 17:00, Night 18:00 – 22:00
Phone: 0980-53-0280
Address: 90 Nakayama, Nago
Google Maps Coordinates: 26.6209963, 127.96367170000008
Directions:
From the Kyoda interchange on the expressway, head north on Highway 58. turn left at Shirogane Bridge onto 84. Pass Nago Pineapple Park on your right and make a left turn at the second traffic light after Pineapple Park. Make another left turn immediately and follow the winding road for approximately one mile until you see the Ufuya restaurant and parking lot on your right side.