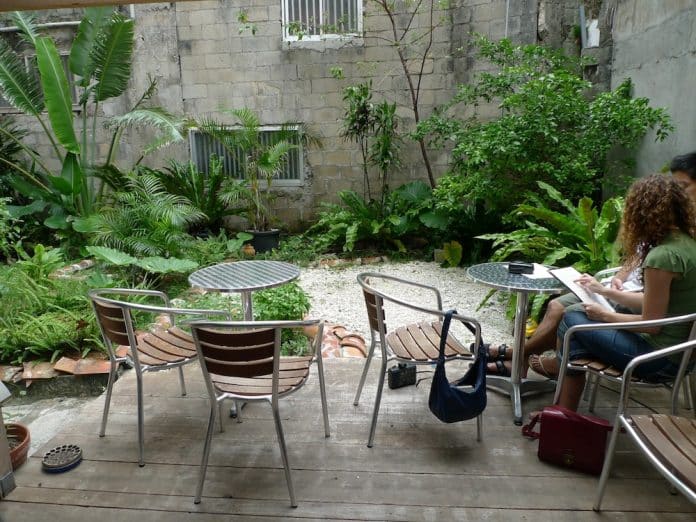 CONTRIBUTED BY ANGI BRZYCKI

Ukishima Front
Prior to moving to Okinawa I lived in LA for 7 years. I got used to the "organic" food phenomenon and vegan restaurants 'a-plenty. When I moved here, I figured there would be just as many 'healthy' style restaurants in Okinawa. After all, I heard my friends from the states raving about the 'Okinawan diet' and how natives live until well over 100. I can't lie, I had high expectations for the food and I was a bit surprised to find out that there were not fresh organic farms/gardens on every other corner. I was even more surprised by the prices of non-organic fruits and vegetables in markets.
Recently, I heard about Ukishima Garden (Floating Island Garden) from a friend who is allergic to gluten. She has to be picky about what she eats for health reasons, so when she recommended this restaurant, I knew it would be good. Ukishima Garden praises itself for being 100% organic, vegetarian, micro-biotic cuisine. All fruits and vegetables are locally grown; no meat, fish, eggs, or dairy are used in most of the dishes.

Ukishima Inside
When I walked in, I immediately loved the place. We sat on the back patio and enjoyed the relaxing atmosphere of the rock garden, the incense burning, and the music playing.

Ukishima Patio

Ukishima Cheese Plate
I have to admit, we were slightly disappointed by the limited lunch menu of a few specials, vegetable/cheese plates, and bread, but we made up for it by ordering the organic wine and champagne. The portions were very small, but delicious. It was obvious that everything was made with a lot of thought and consideration.

Ukishima Bread
We went back for dinner so we could try the main dishes. We were glad to see that the portions were a little bit larger. I highly recommend ordering a bunch of dishes to share. We ordered the taco pizza, a pasta dish, and a bean and grain salad with lentils, barley, quinoa, and assorted vegetables.

Ukishima Pizza

Ukishima Veg Pasta Salad

Ukishima Pasta
The taco pizza reminded me of the vegetarian chili from Whole Foods (but better) and the crust was excellent. I've missed quinoa-so that was such a treat for me. Overall, everything tasted wonderful and we enjoyed every dish.
Don't worry about speaking or reading Japanese while you are there. The staff speaks English and are very friendly. The menu is also in English in print and online. The restaurant also offers a private room upstairs for parties of 30 or more with a reservation.
Directions:  Ukishima Garden is located on Ukishima Dori. It's just off kokusai Dori. The most recognizable location would be the lawsons on Kokusaidori. The only problem is that It's a one way street. You can't drive into it, only out. It's best to find parking on kokusai, walk and turn on that street… take a right if the lawsons is north / left if it is south. It's a great narrow street with little shops and boutiques. There will be a little 4 way intersection. Continue and ukishima garden will be on the right hand side.
Address: 2-12-3 Matsuo, Naha, Okinawa
Hours: Daily 2 pm – 12 am, Closed on Tuesday.  Lunch: 2:00 – 6 pm, Dinner: 6:30 – 12 am 
Phone:  098-943-2100