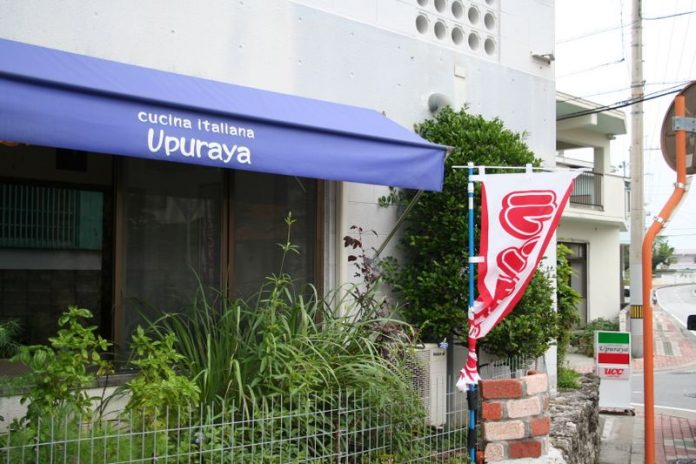 CONTRIBUTED BY KELLY GARCIA
Crispy breadsticks!
Hearty Pasta!
Upuraya is a good gosh darn restaurant–one I'm adding to my rotation of regulars.  For even on a gloomy day when my body and soul felt like a wadded up kleenex, it provided me comfort–in its homey atmosphere (aahhh…the warm glow of the fake fireplace); its rich and satisfying food; and that most comforting of fragrances… garlic. As soon as I opened the door garlic pulled me inside like an old friend.  Practically pouring me a glass of red wine.  Heck even, Upuraya's name, translated to me as something like "Big Person Place" in Hogan, makes me feel welcomed.
If you haven't noticed from the pictures, Upuraya is an Italian restaurant. The couple times I've visited Upuraya it's been pretty jumpin' with customers.  Always a good sign.  The dining area is small, maybe seven tables, with an open kitchen and a little room off to the side with sliding doors, presumably for private parties.  At lunch you can choose from a variety of sets that include an assortment of fresh salads and antipasti from the buffet.
The day I took these pictures I had chicken and spinach pasta with cream sauce.  It was REALLY creamy, which I like, and with a nice kick of pepper.  It came with a tomato soup and that gorgeous cake/ice cream combo which had that typical more beautiful than tasty quality.  But I think it gets extra points for presentation, no? Oh, I've also had the herb chicken which was mighty delish.
Doggone it if I didn't forget the lunchtime set price.  I'll dig around for it.  It was about 1000 yen.  The same set for dinner is 1750 yen though, but you can also order a la carte; things like mushroom and gorganzola pasta, chorizo pizza (920 yen), "nyokki omlette" (gnocchi?) (900 yen), sauteed whitefish with balsalmic sauce and salad( 900 yen).  That was all from the dinner menu, but there is a whole lot more.
Upuraya isn't kid friendly in that they don't have high chairs or kids meals.  It is kid friendly in that they will give you smiles as your child toddles around and even present him with a special plate of fresh potato croquettes.  (Kinda doubting that's standard.  Maybe my unbathed harried look made them feel sorry for me?)  Next time I go though, it'll be for a date night.  My husband is not into fancy restaurants, but to me, Upuraya is the perfect compromise between the "five forks to choose from" kinda place and the "read the menu from board over the counter" place.  Will it pass the hubby test?  I'll get back to you and letcha know.
---
Upuraya
Payment: Upuraya accepts $.  They also have a special menu for parties!
Hours: Closed Tuesdays.
Lunch:  11:30am-3pm,  Dinner 6pm-11pm  (last orders 30min prior)
Address: 110 Hamagawa, Chatan
GPS Coordinates: 26.32771, 127.75150370000006
Directions: From 58 heading south: Pass Kadena Gate 1. Turn RIGHT at the light where you see the Toyohanten Chinese restaurant and American Restaurant (it's the road w/ the Hamagawa Lodge). Make an IMMEDIATE RIGHT after that where there's a Lawson's on the Corner. (If you are turning right at the light w/ the Pizza Jr. on the corner, that's one too far). Go down the street and up the hill passing some tombs and a Pepsi sign painted on a building side. You'll see Upuraya on the left after that w/ a purple awning and a sign w/ an Italian flag. Parking is VERY limited — only three spots. I parked in the street in front and was okay, but I'd consider carpooling if it's a group.