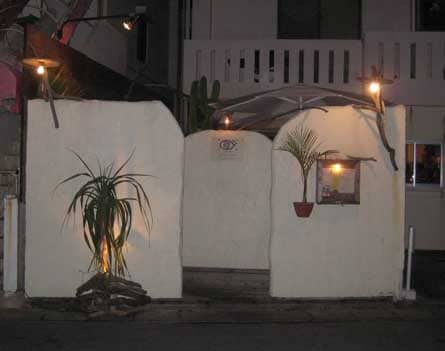 CONTRIBUTED BY JEN PRESTON
Today, I'm sharing one of the Seawall's best kept secrets. Okay, it's not that well-kept, but it is one of my favorite evening rendezvous spots. Uroko Cafe.
Uroko's is just next door to the ever popular Transit Cafe (another fantastic place to get a great meal and cocktails). Uroko's is a bit more hidden, totally worth checking out. You will be greeted warmly by Katsumi, one of the owners. She is so warm and welcoming, and very graciously allows me practice my Japanese with her. The vibe is white-walled, Southwestern, complete with dream catchers and steer-skulls. Beta fish hang in glass bowls from the ceiling and swim beneath the glass outdoor table tops. They serve a mean pizza – the crust is actually filo dough, so it's kind of like a savory pastry. We often find ourselves just going their for drinks, when we feel like sticking in the neighborhood. Uroko's also hosts a live singer/guitarist once a month, named Hitoshi. He doesn't speak English, but does really great covers of American classics (Bob Dylan, Beatles), sung in phonetic fashion. This is highly entertaining. He's playing July 5th, but you need to get there early to secure a seat as it does get packed. After Uroko's one evening, our friends dragged us, kicking and screaming, to the infamous Gate 2 street – a stark contrast.
So I've been here for 6 months and this was my first time there. My perception of what I would find – raucous, misbehaving youth – was pretty accurate. Yet, once I geared up for it, and stopped thinking like a stuffy old lady, we ended up having a really fun time.
We went to Fujiyama, which was like stepping into another dimension – Picture it: 1998 or so, college, frat boys, posters on the ceiling, absurdly loud band playing and fist-fulls of Coronas. I knew when I saw all the regulars had brought their own earplugs, we were in for trouble. It was jam-packed with Americans, and had a pretty good cover band playing….Sublime, Red Hot Chili Peppers, Blink 182. I did get a certain nostalgia for the States while I was in there, and if you're looking for that slice of Americana, I would definitely check it out. Two very different spots – doable in one evening. I love this island. Uroko's – from Kadena Gate 1 take the road all the way down to the seawall, make a right , Uroko's is just past Transit Cafe on your right, about 1/2 a block north. Fujiyama's is just out Kadena Gate 2….about 2 blocks down on your right. Bring earplugs and have a wonderful time!