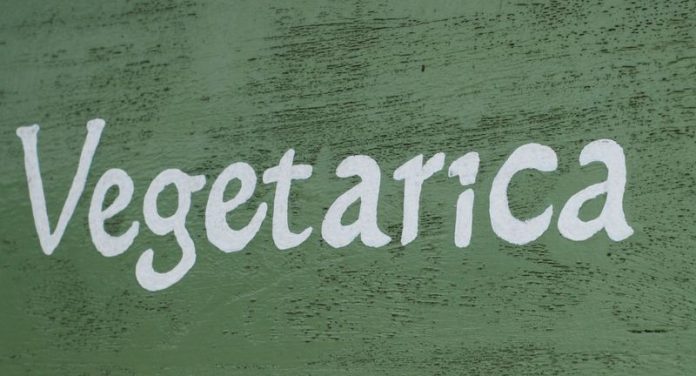 CONTRIBUTED BY REBEKHA SMITH

Following up on a tip from a local friend, my coworker and I took a long lunch one slow summer afternoon and wound through the hills of Nanjo city searching for the signs that would direct us to a locally-famous cafe: Vegetarica. Don't let the name trick you, however — this is not a vegetarian cafe, but is so-named to emphasize their passion for fresh, home-grown vegetables which they use in every dish and side salad.
Vegetarica is worth the drive if only for the views. From its prime spot perched on a hilltop, this cafe offers an expansive view of, not the sea, but the countryside.

Even on the grey, overcast day that I visited, I couldn't tear my eyes away from the view… until the food arrived.
For lunch, there are three set meals to choose from: beef curry, omelet rice, or spaghetti. Each set costs 1000 yen and comes with iced or hot coffee or tea, green salad and desert. I ordered the omelet rice while my friend got the beef curry and both were generous helpings loaded with fresh flavors. I haven't made it for dinner yet, but I've heard they offer set meals such as steak and chicken. I will have to make another trip soon!
Another thing I loved about this cafe was the decor. The interior has a slightly rustic farmhouse feel with antique lamps and jars, plants of all sizes, and shelves lined with carefully arranged nick-knacks.
Also, the service was superb. The owner served us personally and made sure we had everything we needed, including a large pitcher of water for the table. She took our orders, promptly cooked up our meals, and served them in no time.
Whether it's a rainy day, a sunny day, or even a blistery day, I think Vegetarica is the perfect place to enjoy–or escape–the weather while relaxing with a yummy meal.
---
Vegetarica
Payment: Yen only
Hours:  Closed Monday, 2nd and 4th Sunday of every month
Lunch from 12:00 – 2:30 p.m.
Tea Time from 2:30 – 4:00 p.m.
Dinner from 6:00 – 9:30 p.m. (last order is 8:30 p.m.)
Address: Itokazu-17 Tamagusuku
GPS Coordinates: 26.152655, 127.75924800000007
Directions:
From the North: Take the Okinawa Expressway south to the Airport Expressway (don't go toward the Naha exit). Take exit A2 (Haebaru Minami) and turn left onto the 507. Look for signs for the 48 and take the ramp to go left on the 48. Follow the 58 for 5.1 km then turn left before "Toyo Tire." From here, follow the signs to wind through the neighborhood to Vegetarica (you're nearly there!). It takes 17 minutes from the airport expressway exit to the cafe. You can also view a map with routes here.