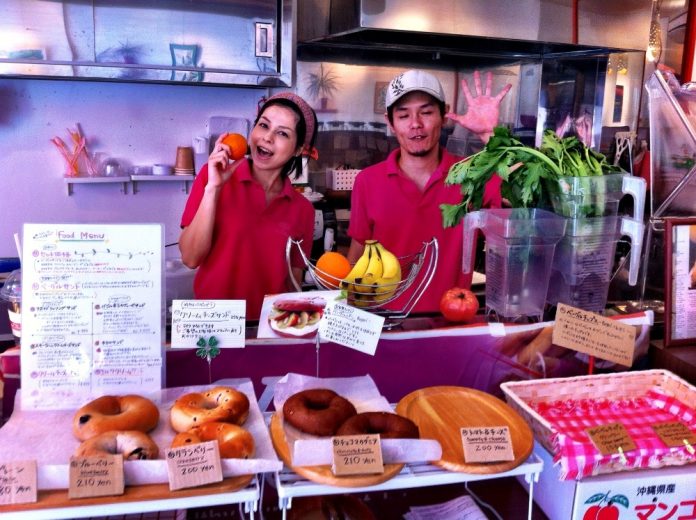 CONTRIBUTED BY QUENTIN RICHARDSON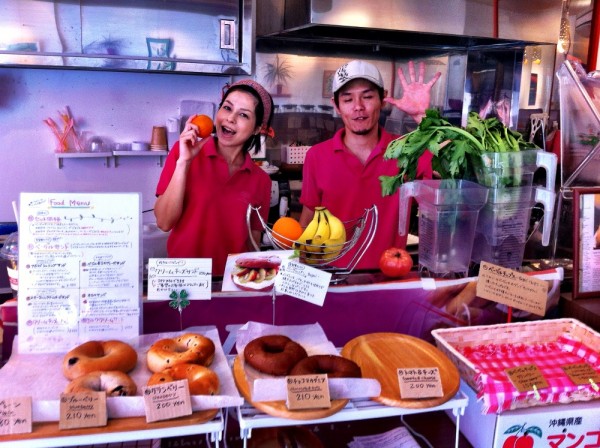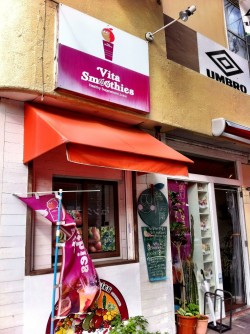 Just off the noisy, often crowded stretch of Kokusai Street passing by Miebashi Station runs a much quieter but busy road. This lovely restaurant immediately caught my attention after it was first shown to me by a friend. The friendly staff, a local couple, greets you as you enter their small but cozy establishment. As soon as you sit down at any of their tables you are served a small glass of ice water and soothed with the soft sounds of jazz while you place your order.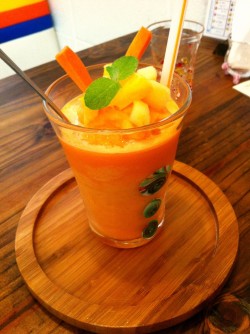 There are three different menus, as of right now, all in Japanese. The first and smallest menu is always the specials. The specials consist of what the staff highly recommends or the seasonal pickings. The second menu includes pre-selected combinations of popular smoothies, the food selection (cake, bagels, sandwiches) and other drinks (coffee, tea, etc.). The third menu is what I personally prefer and always make my selections from—this is the build-your-own smoothie menu. 
From the third menu, your first option is to pick up to four main ingredients for the mix, whether they are fruit or vegetable, fresh from their friend's farm or the market. Next, you choose the base: yogurt, a juice, or tea. Finally, there are options to add on more sugar (usually not needed) or toppings such as dried fruit or granola (my favorite topping). They are very quick and professional in their service, even when they are super busy. You also have the option to order the treat to go and there are plenty of seats outside along the street.
Important note: there is also a Basic English menu and another English menu in the works. However, if you're the type who likes to ask a lot of questions before ordering, you may want to consider visiting this place only if you have a local friend or someone who can read and understand Japanese.
Along with the smoothies, I usually order a bagel sandwich or even a small piece of cake. The food is up to par with the smoothies. I would strongly suggest a visit here, especially during the hotter months as a break from the heat when visiting Kokusai Street. I have been there about four times already and the service and quality is always excellent! Please bring yen and a local friend!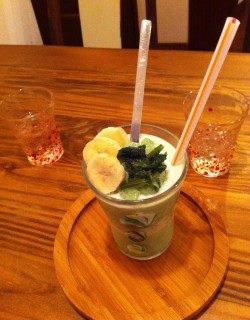 Payment: Yen
Phone: 098-863-3929
Directions: On foot on Kokusai Street, at the 3-way crossing where Starbucks rests at the corner, facing east down Kokusai Street turn left (follow the road on the Burger King side). The road has numbered concrete posts every few meters. About a 10 minute walk later you will be standing across from the Junkudo department store. The restaurant is at post #29 and is across the street from the edge of the department store and its parking area facing Miebashi Station. Look for the big pink sign and banners.
Driving down Highway 58 in Naha, immediately after passing by Tomari Port, turn left at Maejima intersection. Follow this road passing under the monorail and past Miebashi station. Continue forward and you will see Junkudo. Just across the street from Junkudo department store there will be temporary parallel parking along the road. Park there and look for post #29, then the pink banners.

Website: Vita Smoothies Facebook Page
This post was featured in Stripes Okinawa!