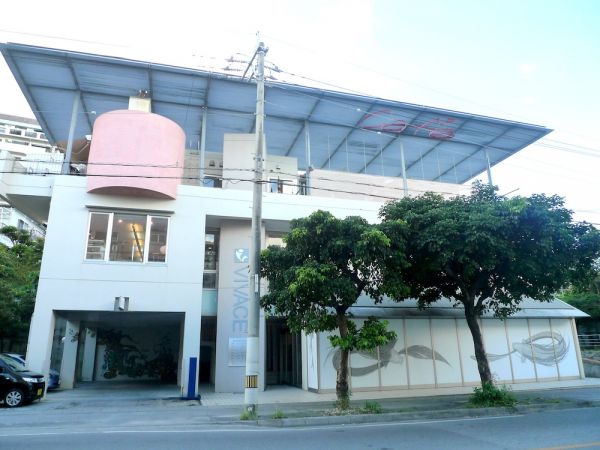 CONTRIBUTED BY ANGI BRZYCKI

Vivace Exterior
The Vivace building is rather large and difficult to miss. It is on the edge of Naha and Shuri on the 241. The first floor has a high quality spa that offers facials and a variety of relaxation treatments. On the second floor there is a high end boutique. VIVACE also offer healthy eating workshops by Kae Izena and ceramic workshops by ceramic artist, Atsushi Izena. The Vivace Cafe is located at the top of the building – the 3rd floor.

Vivace Entrance
The cafe has a nice atmosphere with a lot of windows and a terrace that allows in available sunlight. Vivace Sunday Brunch is an all you can eat buffet. The brunch is very welcoming to families and has a discounted price for children and babies. The brunch hours are from 11:30 am until 3 pm with the last call to walk in at 2:30 pm. The set price for adults is 1380 Yen, 700 Yen for kids and 350 Yen for children under 4. After you are seated you are free to get your food and drinks. You pay when you are finished – at the register toward the entrance of the cafe.

Vivace Brunch Prices
The drink station includes hot/iced coffee, hot/iced tea, carrot based fruit juice, and water. Next to the drinks are usually an assortment of delicately prepared meats, poultry, and fish. Usually there is a pasta dish as well. The main salad station has an assortment of pickled vegetables and local Okinawan vegetables: goya and mozuku (a type of seaweed salad), lettuce and colorful carrot based dressing.

Vivace Salad
To the right of the main counter there is table with hot stew/curry/soup and two separate rice cookers filled with white and kuromai rice (which is known to lower cholesterol and have weight management properties).

Vivace Buffet
Vivace also has a refrigerated glass case filled with unique desserts. A variety to choose from including sweet red beans salad, miniature cakes, and fruit jellies.

Vivace Dessert
The buffet has a few staple items, but the dishes tend to change (which keeps it interesting). Everything served feels healthy and has a refreshing taste. Small portions are presented on the buffet arrangement, but it is carefully monitored and replenished by the staff often. You will see that all the food is prepared fresh and will never sit out for a long time. Everything is prepared with your health in mind. In addition, the fresh juice and salad dressing are made from carrots harvested in Tsuken Jima, Carrot Island Okinawa.


Vivace Interior

Vivace Sign
Payment: Accepts YEN only
Hours:   Sunday Brunch 11:30 – 3 PM.  Lunch 11:30-3:00 PM, Tea time: 3:00-5:00 PM, Dinner: 5:00- 12:00 AM (Last order at 10:30 PM)
Website: www.vivace-life.jp/
Address: 沖縄県那覇市首里石嶺町 4-318-3階 
(4-318 Shuriishimine town, Naha, Okinawa)
Phone: 050-5831-5164
Directions: VIVACE cafe is located on the 241 on the edge of Naha and Shuri. The 241 is accessible from the 330.