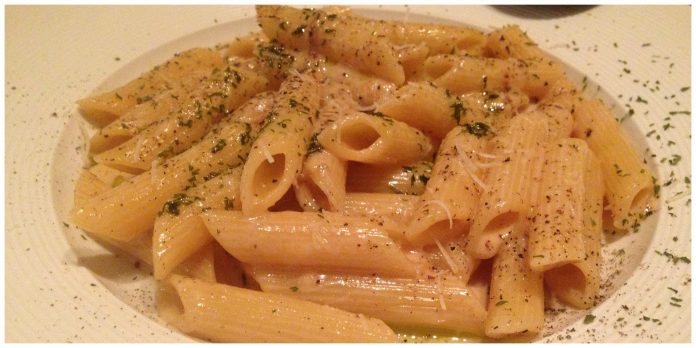 CONTRIBUTED BY ALEX
If you have despaired over finding authentic Italian food, this review will give you new hope. For over a year, my wife and I were on a quest to find that very thing (Italian food, not hope). We tried all variety of restaurants in search of Italian food that was worth Skyping home about. Credit for our discovery of Volare must be given to my wife. She read about it on a group called Okinawa Food Critics. After hearing how numerous Italian-Americans described Volare as an authentic Italian restaurant, I was determined…our next date night was going to be there.
Every day for a week I called the restaurant to make a reservation, and every day the phone just rang and rang. We considered going somewhere else, but something urged me on (no, not perseverance, just my stomach). Finally, on Friday afternoon someone answered. We were in!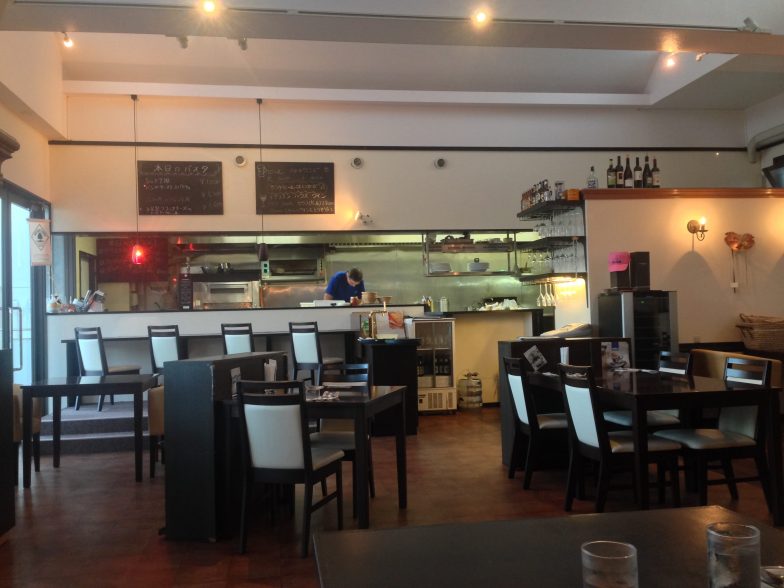 My wife and I arrived 30 minutes early to find an empty restaurant except for the chef and some soft music. The chef greeted us and let us choose our table. We sat near the kitchen for a closer view. We began to peruse the menu, which was written in Italian and Japanese. The chef asked if we spoke Italian and we chuckled. He proceeded to translate each item on the menu. Between his patient explanation and the Google Translate app, we made our selections.
First, we shared a cheese antipasto. This included five varieties of hard and soft cheeses interspersed with little pieces of dried mangoes and figs. I combined these with the bread to make little cheese sandwiches. While quite delicious, this was merely a warm up for the food to come.
With so many tasty options, we settled on three main dishes to share. Don't judge; my wife is pregnant and eating for two. Anyway, our choices were gorgonzola penne, four cheese pizza, and black truffle tagliatelle. All three were amazing! I also ordered a glass of red wine, which is practically a requirement when having Italian food. And get this…the wine was served at room temperature. Let me say that again, my wine was served at room temperature! After over a year on Okinawa, I have only found one other local restaurant that serves red wine properly.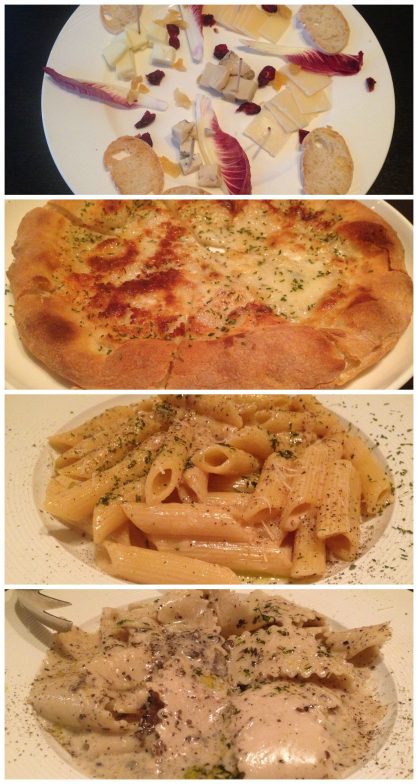 I would love to expound on how each bite of pasta melted in my mouth and made me feel like I had been transported to Italy, but my three boys are awake and I'm not really a food critic anyway. I just love good food, especially Italian.
A few final thoughts…the chef/owner, Pietro, was curious how we heard about his restaurant (about 90% of his customers are Japanese). After my wife told him how hard it was to find online, we asked if he would be up for having more American customers. His reply was a resounding "yes," and so we said we would tell others about his restaurant. But here's a tip:  get your translate app ready for the menu! I almost forgot…the reason no one answered the phone all week was because Pietro was on vacation in Italy with his family. On that note, I would bring my kids to Volare, but not on the weekend for dinner. Buon appetito!
Hours: 11:30 a.m. – 2:30 p.m. (last order) and 6:00 p.m. – 10:00 p.m. (last order). Recommend calling beforehand.
Phone: +81 98-963-7747
Payment: Yen or USD. No credit cards. My bill for the above was less than $50!
Address: 2 Chome-7-12 Akamine, Naha, Okinawa Prefecture 901-0154, Japan
Directions: Head South on Hwy 58 (towards the Naha Airport). Continue past the off ramp for the airport without exiting. Turn left on Hwy 221 (with the elevated railway). Turn left at the first light. Volare is on the left hand side before the light (second story).
Coordinates: 26.195247, 127.66142579999996
Website: https://volare.ti-da.net