WaGyu-Café Kapuka, Japanese beef in American Viliage, Chatan, Okinawa
by Jam Kirby Rimando
WaGyu-Café Kapuka in Chatan is located on the island of Okinawa and we stumbled on it, something I am quite happy with. We always dine at a new place as I and my husband make it a habit visiting new dining places here on the island in Okinawa, Japan.
Location
It definitely was a beautiful sight; the WaGyu-Café Kapuka is located in Chatan- the American village – opposite a beach which can be seen through a huge glass overlooking it. The lounges and seats with their meticulous arrangement provide visitors with a genuinely captivating environment while enjoying a meal. It was cold and windy, so we decided it was best to dine inside. Plants were everywhere – from ceilings to walls to further emphasize a natural feeling.
The Menu
A cursory look through their menu shows that they offer a variety of salads and soups. Also, they have beef, uncured ham, roast beef, green avocado salad and fried avocado egg. If those don't entice you maybe their entrée will.
Next, different kinds of WaGyu beef are served with rice, fresh bread – out of the oven and coffee. Furthermore, they serve brunch meals until 3 in the afternoon and you can choose from steak, roast beef, or fresh salads.
Finally, dessert comes with a plethora of choices and taking a pick is rather tricky. They have French toast with vanilla ice cream and fruits, mix fruits with pudding brulee, ice cake ice cream with red beans and black sugar sauce, organic coffee jelly with ice cream, and rice cake with green tea and vanilla ice cream. Also, there is an enviable selection of drinks to pick from. In addition, they have organic coffee, smoothies, sodas, beers, mojitos, wines, whiskeys, shochu and of course sake.
My husband ordered their brunch French toast while I got the French toast with vanilla ice cream and fruits and we were not disappointed. The food was delicious and lovely just as the place proved to be. You have to try it for yourself and enjoy the unique dining experience at WaGyu-Cafe Kapuka.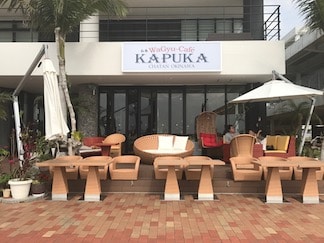 Location Name: WaGyu-Café Kapuka
Address: 904-0115 Okinawa Prefecture, Nakagami District, Chatan, Mihama
Phone number: +81 98-923-5010
Website: wagyu-café.com
Hours: Opens daily from 9:00 am – 10:00 pm
Payment: Accepts credit cards
Driving Directions: From the commissary gate of Camp Foster, take 58 north then turn left to proceed to American Village. From there, head to Hilton Hotel. WaGyu-Café Kapuka is located behind Hilton Hotel beach-side.