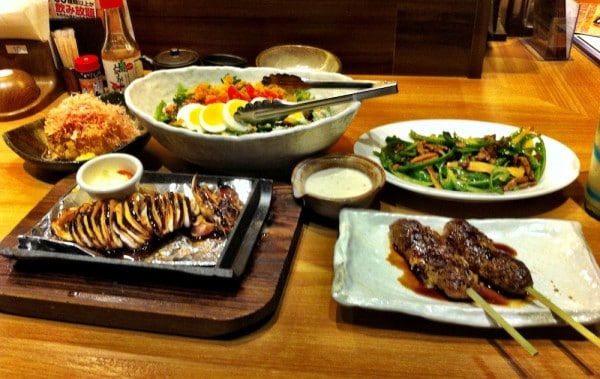 CONTRIBUTED BY QUENTIN RICHARDSON
This place is so good, I had to try it more than once. The massive menu of Japanese food will have you craving more! My best advice is to try a few things at a time with a large group of people, very similar to what the local patrons are doing along with a few rounds of drinks. The atmosphere and lighting is sort of dark and similar to what you find in a noisy bar, but nevertheless the service and food are astounding.
The first visit: Driving past this place frequently, I had to satisfy my curiosity. The building design and style made me believe this place was a nightclub (the Ameku location) because there were always crowds of locals casually hanging outside of the building, laughing and enjoying themselves. Being told that it was a restaurant instead came as a shock. My first impression gave me the feeling of being in a nightclub to to the low lighting, noise and smoke-filled air coming from the smoking section.
There are various types of seating depending on the size of your group, and you can see and hear very upbeat and cheery customers during most nights and weekend hours. The food IS SERVED EXACTLY HOW IT IS DISPLAYED IN THE MENU! So whatever you order will look like it was made to be shot and reviewed in a food magazine. The different tastes and quality overall was astounding. The only cons were the noise and smoke; they gave me a massive headache, so we left earlier than expected.
The second visit: Not too far from Kokusai street, there is another branch located on the second floor. Again, this place makes it seem like you are walking into a bar. This time, the air wasn't as smoke-filled and it wasn't as noisy…but it was full of customers. This time, I was able to take my sweet time and enjoy more selections.
The quality of food and service is excellent across the board, equal to that of its Ameku branch. I highly recommend taking a local friend so that they can explain to you some of the ingredients of the specialty dishes (I was on a date!)
Hours: 5:00 p.m. – 3:00 a.m.
Payment: Yen or major credit cards
Phone: 098-860-9494
Directions: (To the for the Ameku/Shintoshin location) Drive south on Highway 58 into Naha. As soon as you cross the bridge into Naha-shi, drive to the third traffic light (Uenoya intersection) and turn left. Watami is on the corner of this intersection. Parking is available before the light and immediately after the left turn off of Highway 58. Their address is 2-6-30 Ameku, Naha, Okinawa