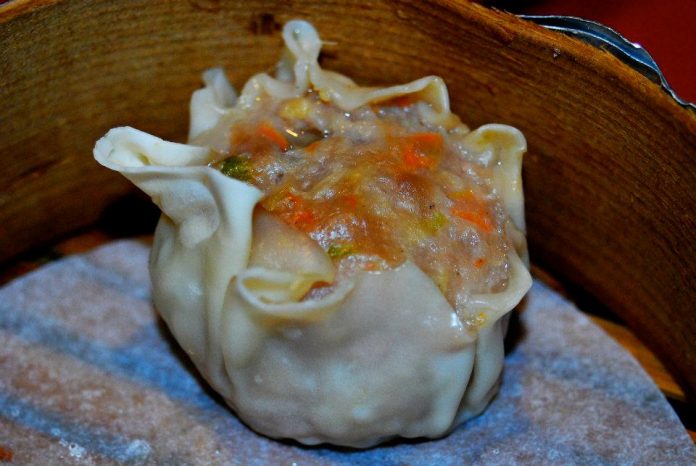 CONTRIBUTED BY JANNEL KETTENRING

Wen Bing Sign

Wen Bing Inside
A night out with a friend led to the discovery of a fantastic Taiwanese Cafe. Wen-Bing is located on the second floor of the small pink building facing the parking lot of Depot Island. The atmosphere was very relaxing. We had a great view of the American Village Ferris Wheel all lit up for the evening. The menu had a large selection with some English and a few pictures. We had a really hard time deciding what to get. They also have some pretty tea pots and cups for sell, some of which decorated the walls.

Wen Bing Chicken
My friend ended up ordering the chicken cutlet and some dumplings. It was the most wonderful chicken cutlet, full of flavor and falling off the bone, sitting on herbs with a sauce.

Wen Bing Dumpling
The dumplings were filled so full that the top was not closed and served with a dipping sauce.

Wen Bing Sweet Sour
The sweet and sour pork was beautiful with fantastic flavor. It had large chucks of pineapple, onion, carrots and green bell pepper, which made it very colorful. There was a choice between two different vinegars, I'm not sure how the flavor would change, but I must have picked well.

Wen Bing Entry
Payment:  They take yen and credit card
Hours:  1100-2130 daily
Phone:  098-936-9333
Directions: Take the 58 to American Village. It's in a small building inside of the parking to the right of Vessel Hotel by the water (in between the hotel and flea market area – to left of flea market/burger place, Brazilian restaurant).
Menu:  Click for larger view

Wen Bing Menu
EDITOR'S NOTE: This restaurant has moved.  It is still in American Village.  See map pin below for new spot.  Photos may vary from actual appearance.