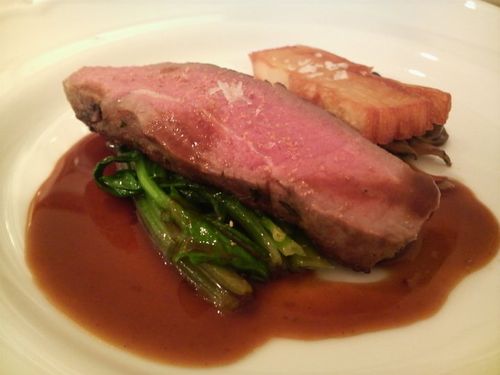 CONTRIBUTED BY JACKIE LEWIS
Living in Okinawa has afforded us many unique experiences. But after nearly three years in one place, we began to notice that, with respect to Okinawan food, we had been-there-done-that. We were visiting our favorite places repeatedly, and we had become 'regulars' at one or two restaurants in particular. So the question of where to go for something new and not necessarily local for this month's hot date had us googling for French restaurants on Okinawa, with a careful eye for authenticity. I occasionally enjoy the novelty of ethnic food prepared with Okinawa versions of traditional ingredients, but that was specifically not what I wanted for this date night.
White House boasts a few tables for two or four, in a very white, very intimate dining room; only two servers, and a chef and sous chef, seen but not heard, through the window behind the stocked bar. Seemingly there just for us. Our server brought the menu, just in time to distract us from the scene out the window (that of the ubiquitous flashing lights and taxi stand of, what else? a pachinko parlor) asking if we could speak Japanese. She had no trouble explaining the menu in English, though, and asked if we had any allergies or preferences for foods we don't like. We chose the larger of the two courses for 4800 yen each. She did tell us the chef's plans for the main item of each of the eight courses, but every plate was a surprise, and each item thoughtfully identified by the server as it arrived, a la Top Chef.
On this night, the chef prepared a smoked salmon salad, amuse bouche of octopus and potato in phyllo, a slice of duck breast on risotto, a fish entree, and a veal entree, cheese tray with nuts and dried fruits, a dessert of layered strawberries, cream and pastry and a bit of strawberry ice, edible pansy petals strewn on the plate, and a beautiful coffee service with a few miniature sweets.
The smaller course, for 3600 yen, allowed a choice of meat or fish for the main course. Both courses included authentic crusty French bread, and the wine list appeared extensive, but as it was written in katakana, I settled for simplicity with a house red at 550 yen a glass. A small 500ml bottle of the house wine was listed at 1550 yen.
Each course followed the one before slowly, yet just in time. The portions were quintessentially tiny, yet with eight courses in all, we left stuffed nearly two hours later. White House provides the distinct feel of an artist presenting his works especially for our enjoyment. The experience will be different every time, as no two works of art are alike.
The ingredients of this delectable meal, so fresh they were obviously procured locally, were certainly in keeping with the basic French-ness. It's one of those special places where the price takes into account the chef's expertise, the overall experience, and reflects the quality of the food more than the quantity.  Consider a meal at White House to be a once in a lifetime outing!
Hours:  Lunch Tuesday through Saturday 11:30 -14:00 (last order) dining room closes at 15:30; Dinner -Tuesday through Saturday 18:00 through 21:30 (last order);  Brunch Sunday 11:00 through 15:00 (last order)
Phone:  098-943-0789
Payment: Payment in Yen or Visa/Master Card
Address: 2-1-13 Ojana Ginowan City Okinawa
Google Maps Coordinates: 26.2631289, 127.74032420000003
Directions:   Take Hwy 58 south to Ojana, and turn left. Restaurant is up the hill on the left, across from a pachinko parlor.  Parking in front.