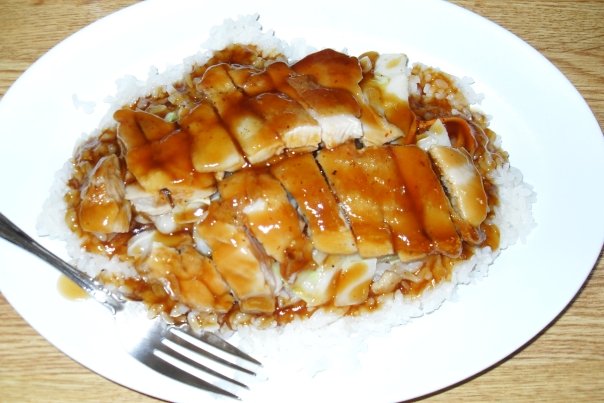 CONTRIBUTED BY DASHA GARIEPY
A lot has changed in Okinawa over the past twenty years. Kinville (the collection of streets outside Camp Hansen's front gate) could have been the poster child for "sleazy living". Now most of the bars are closed down, giving the area a ghost town feel. But there is one place that hasn't changed. It's owned and operated by the same family, the Fukuharas, and they are still serving our favorite yakisoba on the island.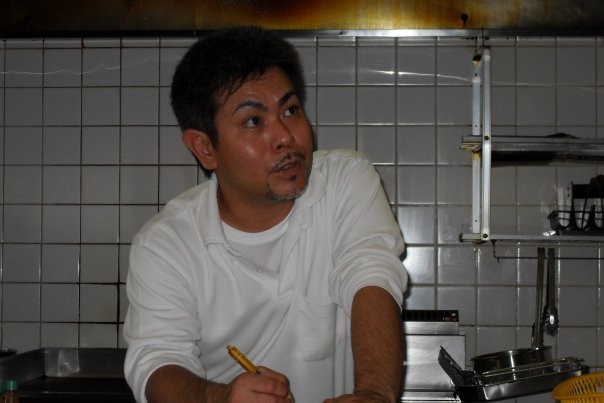 Fukuharasan's son was just a boy when Rob first met him. Now he mans the restaurant!
My husband introduced me to this restaurant back in '89. (Yes, we are that old.)  Before he took me here, this place qualified as "the other woman" in our relationship! That was before the days of cell phones. I didn't need one to reach him, however, because I knew he was either at work, at the beach, at the gym, or at White Kichen.
Over the intervening years, Rob's made dozens of trips to Oki. Before each trip he'd get so excited – if he'd been a dog his tail would have been wagging! He'd taunt me with a huge smile, saying "I get to go to White Kichen!"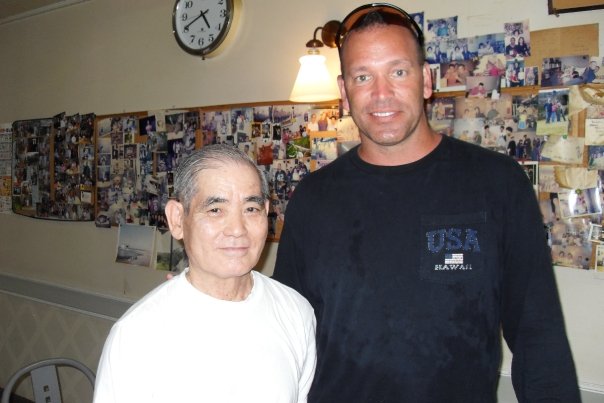 The tail wagger with Fukuraha-san senior
Sadly, we're retiring form the Marine Corps and leaving this beautiful island in a few short weeks. It seems only fitting that my last post for Okinawa Hai is the first place I ever ate on Okinawa.
Like most hole-in-the-wall places, White Kichen only has a few tables. One wall is plastered with photos taken by patrons over the years. Though they run a fan, and have a wall unit A/C it can get pretty hot inside. Their menu is very simple – basic things like yakisoba, yakitori, tacorice, etc. There's nothing basic about the flavor of their food, though. It's downright mouthwatering! See for yourself: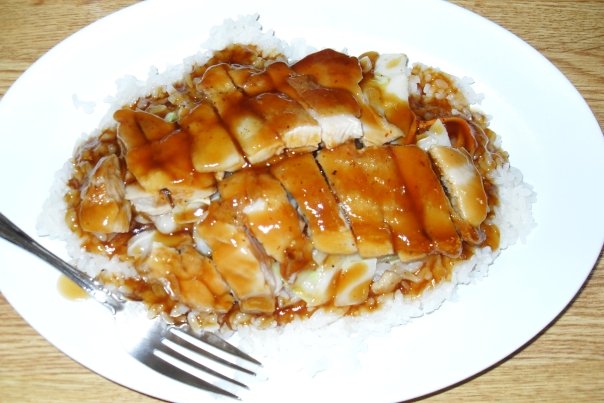 Teriyaki Chicken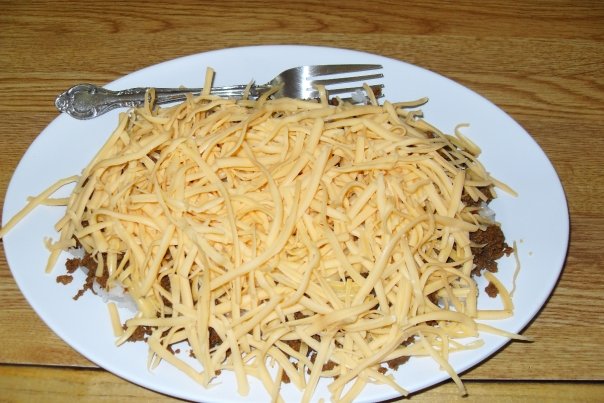 Taco Rice and Cheese (we ask for "motto" (more) cheese!)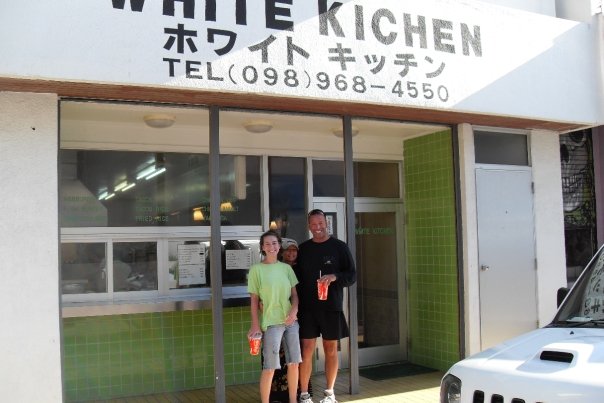 And you thought I made a typo in the title…

Visiting White Kichen and the twenty-years-worth of memory it holds for us is one of the things I'll miss most when we leave Okinawa.
---
White Kichen
Payment: Yen or Dollars OK.
Hours: 4:30ish to 10:00ish. Closed Mondays.
Address: 4249-1 Kin, Kin, Kunigami District
Google Maps Coordinates: 26.4533955, 127.916515
Directions: We always park on Camp Hansen in the big empty lot next to the front gate and walk. From the entrance to Kinville take the second street on the left. White Kichen is about the 6th business on the right.